A local's insider guide to Prague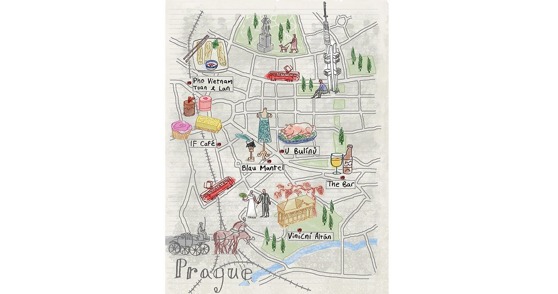 U Bulínů
Why part with £3 for a pint of Pilsner Urquell in some central tourist trap when you can pay less than half for a Kozel dark beer in this rustic pub, a half-hour walk from the Old Town, and join the jolly štamgasti (regulars)? It's Prague drinking at its weirdest and best. The original owners, the infamous Bulin family, supposedly suffered from a medical condition later named after them (bulinia), also known as 'growing horns'. True or not, the claim explains the peculiar photos on the walls.
Budečská 2; restauraceubulinu.cz
IF Café
This place makes the best miniature cakes in Prague. The Míša cake is a tribute to the beloved cheesecake-ice-cream brand from Communist times, before the recipe got ruined with cheap chocolate, palm oil and all the other hazards of the free-market economy. Try it — it's a sinful must.
Belgická 30; ifcafe.cz
Blau Mantel
Prague is barely touched by the vintage and upcycling trends, but a few shops have popped up and Blau Mantel is my pick. Not only do they offer a free glass of wine to shoppers, they also pick the right ratio of quirky and classy clothes, foreign and Czech. I recently bought a Vera Wang summer dress that makes my stomach look flat no matter how many Míša cakes I eat. Only £35, too!
Jana Masaryka 54
Viniční Altán
Among the vineyards of Havlíčkovy Sady park (Grébovka, as the locals call it), with fine views of the city, this wine pavilion is a great place to hang out in summer. Salsa events every Sunday, from 6pm, mean great people-watching. The Grébovka wine is nothing to write home to Bordeaux about, but most Moravian whites are perfectly drinkable at under £2.80 a glass.
Havlíčkovy Sady 1369; vinicni-altan.cz
Pho Vietnam Tuan & Lan
This casual, underground place, filled with aromas of beef, lime and coriander, makes great Vietnamese noodle soup. It was only a matter of time before it became the hangover-cure choice of hipster Vršovice. That said, it remains stubbornly closed on Sundays.
Anglická 15; photuanlan.com
The Bar
My favourite dive bar doesn't have an official name, but at least now it has a sign, 'Bar'. It's dimly lit and nobody knows the hours — Novák just opens when he feels like it, on Thursdays, Fridays and Saturdays, more or less. Try their cocktail specials with mango and basil, and don't show up before 11pm.
Krymská 21
Taxis
Locals get ripped off, too. I use Uber or Liftago. Both are the cheapest way to get home from a bad Tinder date — sorry, the airport. The trip in with them shouldn't cost more than £12 — airport cabs cost double that. That's eight Pilsners in savings.
SOURCE: INSIDER CITY GUIDES
By Will Tizard
www.thetimes.co.uk/travel/article/local-guide-prague/