An expat's guide to setting up their first home in Singapore
2016-09-04
« Back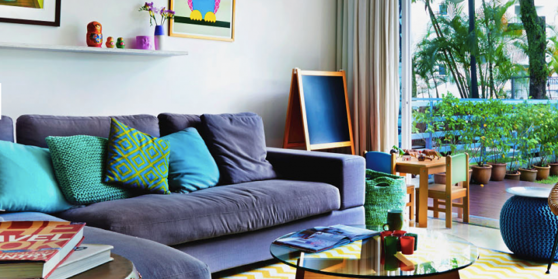 Start your expat life in Singapore with these handy tips! Image source: Make Room
You've signed on the dotted line and you're ready to move into your Singapore home! As you look around the space, you'll be creatively thinking about where you'll place your furniture and how you'll inject your own style into each room.
Where to start? Use this handy guide to setting yourself up with the basics.

Internet and cable television
SingTel, StarHub and M1 are the major internet, mobile and cable television service providers in Singapore. Your best bet is to choose one company to provide a package deal for all three components. You'll find outlets of these companies in most major shopping centres. Take along several forms of identification, including your Employment Pass or Dependent Pass to open an account. For a wider variety of entertainment options, you can purchase a Smart TV (internet enabled) so you can access Netflix and other streamed programming via your Wi-Fi. Apple TV also enables viewing via streaming. At one stage, many expats were using VPN services to access international content, but entertainment providers have since been placing restrictions on the use of VPN services. If you're having trouble setting up your home entertainment and connecting it to your computer or tablet, you can call Tekkie Help. They will come to your home to set everything up for you.
Electricity, water and garbage removal
You can pay for all three utilities via SP Services. Open an account by filling out an application form and attaching a copy of your NRIC or Employment Pass and Tenancy Agreement. You can set up automatic payment via GIRO, and you'll need to pay a refundable deposit of S$500 (may be more if you live in a landed property). Tariffs are revised quarterly. As of August 2016, electricity is 19.27 cents/kWh and water is 117 cents/CuM.
Gas
Many stoves are set up to run on gas bottles. If that's the case in your new home, you'll simply need to call the number on the bottle to order a replacement. This service is quick and costs approximately S$30 per refill. You may need to replace connections at yearly intervals. If your house has piped gas, you'll need to call City Gas to activate your gas connection.
Furniture
Didn't ship your furniture? You'll need to shop for the basics – pronto! First stop for expats with a bare home is usually Ikea. You can pick up many inexpensive pieces that you can then sell when it's time to move on. If you have a bit of time on your side, it's worth taking a look at all the great second hand furniture available in Singapore. With lots of expats coming and going at any given time, there's plenty of opportunities to pick up some interesting pieces in great condition. You can attend the Thursday evening auctions at Expat Auctions, scour for treasures at Junkies Corner (pictured below), pick up some unique finds at Hock Siong or look at online listings on sites like ebay, Carousell or Craigslist. Remember that the asking price is usually just a starting point, so make sure you do a bit of negotiating before paying up!
Spend an afternoon at the Tan Boon Liat Building and you'll leave with a head full of inspiration – and quite possibly a credit card full of charges! This imposing industrial-style building on Outram Road isn't exactly stylish on the outside, but once you start exploring, you'll find numerous stores with eclectic, inspiring stock. Check out FairPrice Antiques, Journey East, The Shophouse, Make Room, Artful House and Singapore Trading Post. A trip to Taylor B is also worth your time. This amazing megastore has several levels of furniture and decorative items. If mid-century is more your thing, head straight to Castlery for reproductions of 50's and 60's furniture.
Household Goods
If your home is listed as 'partially furnished', it will usually have a fridge, microwave and washing machine in place. However, if you do need to supply your own, you can head to Courts or Best Denki to pick up mid-range white goods at very reasonable prices. If you're coming from the United States, be aware that the Singapore voltage is 220V, not 110V. It's not cost effective to ship over your 110V appliances with you as they would need to be converted by a qualified electrician before use. As with furniture, you'll find that many expats offload their major appliances before repatriating, so it's worth looking out for some second-hand bargains! For kitchenware and cooking appliances, you can't go wrong with the basement level of Tangs. Real foodies have been known to lose an afternoon in exploration!
Need some hardware? You won't find the big box stores like Bunnings or Home Depot here in Singapore because most people simply call a handyman when they need some repairs done. You can find your hardware basics at HomeFix stores. You can also head to your nearest HDB complex – you should find a variety store with lots of bits and pieces for your home.
Lastly, you'll want to green up your space with some indoor and outdoor pot plants. If you have the space, you can also plant some herbs and vegetables. Simply head to the nurseries on Thomson Rd for a great variety of plants and gardening equipment. Far East Flora is one of the largest along that row. You can also pick up some fresh-cut flowers to make your new house a home. Welcome to Singapore!
SOURCE: PROPERTY GURO
BY: Chang Hui Chew
http://www.propertyguru.com.sg/property-management-news/2016/9/134548/an-expats-guide-to-setting-up-their-first-home-in-singapore