The Top 6 Luxury Afternoon Tea Spots In Kuala Lumpur
2016-09-03
« Back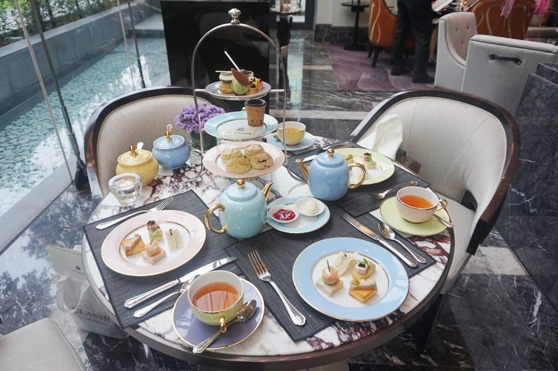 When Anna, the 7th Duchess of Bedford, started her tradition of afternoon tea in 1840, she probably didn't think that it would still be practiced almost two centuries later. The light meal, which was supposed to help her get through the day while waiting for a dinner normally served quite late, is now a popular and luxurious past time. This is not just in Europe; quite surprisingly, it is a huge hit in Asia as well.
When the British set sail to explore the far East, they brought their customs with them and that included the tradition of drinking tea while snacking on some scones. Proper etiquette: mandatory. Fast forward to 2016, and the afternoon tea tradition lives on in countries that were once British colonies, including Malaysia. Its capital city, Kuala Lumpur, is a hub for expats and a playground for people with a taste for all things fancy.
With its strong connection to British tradition and a promising Asian tea producer itself, Malaysia is filled with dining choices for this famed tradition. However, here's a list of the finest to get you started.
1. The St. Regis: for afternoon tea in their drawing room
The St. Regis in Kuala Lumpur has only been open for a couple of months but it is already a popular dining and events destination. The buzz is definitely well-deserved as this new hotel is living up to its reputation. Their afternoon tea is served in the Drawing Room, which features Colombian artist Fernando Botero's largest scuplture – The Botero Horse – as well as a high ceiling and glass wall that pass through two storeys.
The St. Regis uses teas from Singaporean brand TWG but what really sets their afternoon tea set apart is the food. The finger sandwiches that come in egg, foie gras, crab, and salmon are hard to say no to and the sweets are delectable. The scones are soft and have the perfect crumble, the kind of scone that would actually get a nod from the worst scone snobs.
2. Nobu: for their sky high Japanese afternoon tea
Japanese afternoon tea? Amazingly enough, it works – really well at that. The British, after all, can't claim to be the only tea authority as the Japanese have been enjoying it way longer than the British have. The earliest reference of the drink is from a 9th century Buddhist text.
In Japan, there's even a strict ceremony incorporated in making, serving, and drinking tea. So it's only natural for Chef Nobuyuki Matsuhisa's restaurant in KL to jump in on the afternoon tea trend, featuring both savory and sweet delights. This set is light and refreshing and a great way for the indecisive to sample some of Nobu's popular picks. The desserts, in true Japanese fashion, are not too overwhelming. The mochi and the green tea chocolate squares are a must-try.
3. The Ritz-Carlton: for their quintessential afternoon tea experience
After being in Kuala Lumpur for almost two decades, the Ritz went through a major overhaul for the better part of 2015 and early 2016. The former Lobby Lounge where the afternoon tea was served had a brooding, masculine charm with its dark and classic interiors. Once the renovations were over, a new and refurbished lobby lounge is now brighter with more sunlight creeping in and softer colours in its interiors.
The hotel's long-time tea partner Ronnefeldt, created a special blend for the Kuala Lumpur branch – a green Oolong Tie Guan Yin, served to Chinese royalty since the Tang dynasty. What sets this blend apart though is that it is steamed with milk, giving it a creamier texture and a unique fragrance. If that's not up your alley, they have 40 other Ronnefeldt choices that you can view in a trolley.
4. Newens Teahouse: for their iconic tarts
Flanked by Dior and Louis Vuitton on either side, it's hard to miss the Newen's Teahouse in Starhill Gallery – one of KL's swankiest shopping destinations. The only one of its kind outside the United Kingdom, the Kuala Lumpur branch boasts of also having the famed Maids of Honour tarts on their menu – the very same kind that King Henry VIII favored.
The tarts are indeed worth coming for as well as their extensive tea selection comprising over 60 kinds. What truly stands out, however, is their signature Starhill Jewel Tea that contains fancy Sencha based green tea, infused with aroma oils, mango, and citrus. It is basically Asia in a cup that even non-green tea lovers will enjoy.
5. The Shangri-La: for their coffee/tea and Chocolate Sunday afternoon buffet
In a move to be different, the Shangri-la makes Sundays quite special by holding the tradition a bit differently. A predominantly chocolate buffet is spread out for those with a sweet tooth which they can enjoy with a couple of savories. Coffee is also one of the main selling points for those who are looking for a stronger caffeine kick. Illy Coffee is prepared either by vacuum or cold drip. Seeing the coffee prepared is only half the fun.
There's also cheesecake, crêpes flambé, and even chocolate scones but it's the milk and white chocolate fountain that steals the show. Quite frankly, it can be too heavy and overwhelming in taste to mix all those sweets chocolate with strong coffee so fret not – tea is also available as a lighter option and to wash everything down.
6. The Majestic Hotel: for their afternoon tea in the Orchid Conservatory
This colonial jewel was built in the 1930s and was renovated and reopened in 2012. It is most known for its Orchid Conservatory that opens up as a bright, dining enclave for afternoon tea and special events. Food and tea connoisseur Arpita Bajaj recently noted great improvement in Majestic's afternoon tea offering after they switched their tea to Twinnings. The main attraction, however, are the orchids. There is a certain luxury that comes with having tea while surrounded by gorgeous blooms. The catch, however, is that it is almost always fully-booked so better make your reservation weeks in advance.
When going for afternoon tea, remember it's not all about picking a place with amazing ambiance; picking good company as well is paramount.
Great conversations, after all, are always important to complete the perfect afternoon tea experience.
SOURCE: FORBES
BY: Carolyn Ramoran-Malasig
http://www.forbes.com/sites/cmalasig/2016/08/31/where-to-have-afternoon-tea-in-kuala-lumpur-the-top-6-must-try-places/#56d1739b563b