10 of the coolest Friday brunches to look forward to in Dubai
2016-09-01
« Back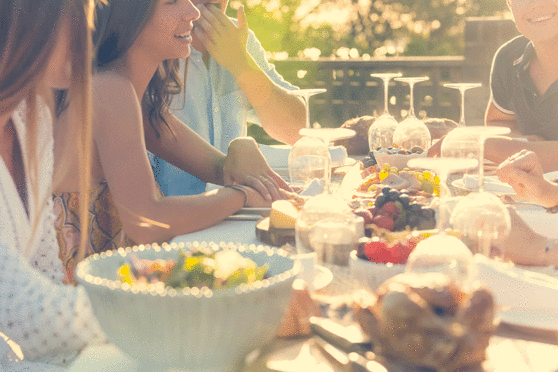 Now that we're nearing the end of summer, we know that brunch season picks back up again! We've put together a list of our favorite 10 brunches to try
1. The Waldorf Astoria Dubai's Secret Garden Brunch
At Mezzerie

Why
it's on our list Because it's a brunch, where the food is dictated by what's in season! Waldorf Astoria Dubai Palm Jumeirah will launch the Unforgettable Secret Garden Brunch on September 2. The new brunch concept will create a secret garden experience, allowing guests to escape the Dubai heat and enjoy seasonal ingredients with live entertainment in a relaxed atmosphere.
What you get
This brunch will feature a specially curated summer menu in an indoor garden setting. Some of the herbs, vegetables and flowers featured in the brunch will be coming straight from the hotel grounds.
Audience:
Great for sophisticated foodies and families. A place that will definitely impress your visitors.
Location
Waldorf Astoria Palm Jumeirah Dubai Cost Dh345 for the non-alcoholic package, Dh425 for the house beverage package, AED600 for the sparkling grape package and Dh725 for the French bubbly package every Friday. Timings 1pm to 4pm every Friday Phone04 8182222
2. The Jamaican Brunch
At Souk Al Manzil
Why
it's on our list Sometimes brunch needs to be just about the food. Ting Irie is one of these places! Downtown Dubai's latest eatery is so much fun and serves up amazing Jamaican fare. The fun loving, island dwellers's laid back attitude is infectious the second you walk in and listen to their 'get you in the zone' tunes. Note: the outlet only serves non-alcoholic beverages.
What you get
Unlimited Jamaican bites such as the signature jerk chicken and amazing sandwiches. You are encouraged to eat with your hands at this joint!
Location
Souk Al Manzil, Downtown Dubai Cost Dh195 for unlimited soft drinks Timings 12pm to 5pm every Friday Phone 04 5575601
Audience:
Great for a fun group of foodie friends.
3. The Rosso, Benihana and Horizon Friday Brunch
At Amwaj Rotana Hotel

Why
it's on our list Trying to decide what type of cuisine you're in the mood for is often the hardest part when choosing a brunch. This is where the brunch at Amwaj Rotana comes in. It combines Rossos, Benihana's and their main restaurant Horizon. The laid back, Mediterranean vibe of Rosso is the perfect place to pick your way through a host of Italian treats. While Benihanna's makes the freshest Asian food, including a sushi buffet and yummy Teppenyaki. As a bonus, if you're into your cheese then you won't want to miss the cheese table and accompanying chutneys. It is one of the best value brunches in Dubai.
What you get
Rosso keeps things simple. Benihanna's has a host of delicious flavours and Horizon will give you the international dishes that you just crave at brunch. You can even ask the hotel to arrange a private chauffer to drive you home after. There is also a separate family area where the little ones can watch cartoons, dance to the DJ and help themselves to a special kids buffet complete with pop corn.
Location
Amwaj Rotana, JBR Cost Dh235 including soft drinks; Dh355 including house beverages; Dh495 including house beverages and unlimited bubbly; Dh690 includes unlimited premium French bubbles along with butler service (this means you will be served at your table); 50% off for children aged between six and twelve; kids below 6 eat for free Timings 12.30pm to 4.30pm every Friday Phone 04 428 2000
Audience:
Great for families with young kids.
4. The Hollywood Brunch

At Delphine
Why
it's on our list Because it's understated and doesn't feel like a cross between a Boxing Day sale and an eating marathon. After all, this is a franchise of the same West Hollywood dining hotspot frequented by A-list celebrities. They can't afford to keep it anything but classy.
What you get
Its brunch offering is a healthy balance of an elegantly laid out buffet that features salads; cold cuts; a delectable seafood selection; and the almost mandatory cheese table, as well as an a la carte selection for mains. How does this work? You begin with the buffet and order your mains with your butler and they will bring it to you at your table freshly prepared and presented beautifully. The dessert section is part of the serve-yourself set-up.
Location
The H Hotel, Sheikh Zayed Road, Dubai Metro World Trade Center Station Cost Dh269 including soft drinks; Dh385 House Beverage and Dh599 for the bubbles package Timings 12.30pm to 4.30pm every Friday Phone 04 5018623
Audience:
Great for a young Dubai crowd that appreciates the finer things in life.
5. The 'Wow that's what I call Brunch'
At Toro Toro

Why
it's on our list Because it's one of the most lively and idulgent dining brunches in town and works on the fabulous sharing concept that many restaurants in Dubai now offer.
What you get
A selection of Latin American favourites including guacamole, a variety of ceviche dishes, delicious salads and Toro Toro's famous churrasco grill with premium cuts of lamb and beef and chicken.
Location
Grosvenor House, Dubai Marina Cost Dh350 with soft drinks; Dh500 including selected house beverages Timings 12.30pm to 4:00pm every Friday Phone 04 317 6000
Audience
Great for the trendy Dubai Marina crowd.
7. The Feed Me Friday Brunch

At the W Hotel
Why
it's on our list Every one is raving about the latest brunch at the W hotel. Level 7 offers seven different types of Medditeranian cuisine, as well as an entire room dedicated to dessert!
What you get
A legendary, rustic market style offering from all over the Mediterranean - Spain, Italy and Greece just to name a few. In this bustling social hotspot, gorgeously adorned with wood, steel and vintage art amid earthy tones that invites to share stories and an abundance of tasteful tapas presentations, freshly prepared servings from the crudo bar, rice and grain dishes, and meat bites from the rotisserie.
Location
The W Hotel, Al Habtoor City Cost Dh395 inclusive of soft drinks, Dh495 inclusive of specialty cocktails, grape, hops and selected house beverages Dh595 inclusive of free flowing bubbly, specialty cocktails, grape, hops and selected house beverages Timings 12.30pm to 4:00pm every Friday Phone 04 4366677
Audience
Great place for foodies and families and people with a sweet tooth.
8. The Share & Social Brunch
At Marina Social

Why
it's on our list Marina Social is one of our favorite restaurants in Dubai. The food is simple, unfussy and truly fantastic. The staff are friendly, helpful and totally aware of what they are doing.
What you get
A three course meal in a restaurant owned and run by Michelin starred chef Jason Atherton. The atmosphere is relaxed and fun and it's just a different brunch experience. The sourdough pizzas are definitely worth ordering.
Location
Intercontinental Dubai Marina Cost Dh315 for Soft Social (inclusive of soft beverages, Dh495 for House Social (inclusive of house beverages) Dh595 for Bubbly Social (inclusive of house beverages and bubbles) Timings 12.30pm t0 3.30pm every Friday Phone 04 4466664
Audience
: Great for a casual and sophisticated bunch.
9. The Ocean Brunch

At Sofitel the Palm
Why
it's on our list The Ocean Brunch is offering one of the most relaxing Friday Brunches. Located on one of Dubai's most sought after destination, the Palm Jumeirah, this brunch is perfect for beach lovers.
What you get
Diners can expect excusite fresh seafood in tasting portions, mouthwatering chocolate desserts and exciting molecular mixology brought right to the table. Menu highlights at the Ocean Brunch include a range of hot and cold starters such as,Scottish salmon ceviche with red caviar and lemon grass infused coconut cream, the favourite grilled scallops with creamy celeriac mousseline and sweetcorn emulsion or the mouthwatering Atlantic sea bass with basil flavoured violet potato and artichoke barigoule sauce. And the best part is, people who go to brunch can have access to the Pool and private beach before and after brunch, making this a totally tranquil Friday brunch experience.
Location
Sofitel the Palm on Palm Jumeirah Cost Dh350 inclusive of soft drinks and pool and beach access Dh495 inclusive of house beverages and pool and beach access Timings 12.30pm to 3:30pm every Friday Contact 04 4555656
Audience:
Great for beach bums and families.
10. The Disco Sushi Friday Brunch
At Okku
Why
it's on our list It wouldn't be brunch without some kind of Asian fusion party now would it? This multi award winning Japanese restaurant and Lounge features the Disco Sushi brunch, a Friday party! They added a twist on the brunch concept with a bespoke menu set against a backdrop of 80s/90s retro chic music and quirky style from the best party era. OKKU takes brunch to a new level.
What you get
The party starts with a cocktail reception where guests are spoilt with a selection of 'O Style' beverages, then they will have a vast array of delectable signature dishes, which are presented in 12 courses.
Location
H Hotel, Sheikh Zayed Road Cost Dh550 inclusive of sparkling beverages and Dh650 inclusive of bubbly every Friday Timings 12.30pm to 5:00pm every Friday Phone 04 5018777
Audience
Great for the hip party people with tons of energy to dance.
SOURCE: GULF NEWS
BY: Yousra Zaki, Guides Deputy Editor
http://m.gulfnews.com/guides/going-out/restaurants/10-of-the-coolest-friday-brunches-to-look-forward-to-in-dubai-1.1508135