See Stockholm spectacularly change through the seasons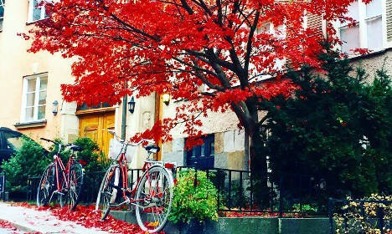 How do you manage a long-distance relationship separated by time zones? One expat couple, who met in Sweden before moving continents apart, found an answer in the form of photography – with spectacular results.
French food blogger and photographer Delphine Fortin met boyfriend David Brossard while both were living in Stockholm, but work soon meant that he had to move to Chicago, USA, while his partner stayed behind in Sweden.
With around 6,800km between them, the pair decided to create SK945 – a photo blog detailing their daily lives in the two cities. "We wanted to keep in touch during the months we would be living so far apart, and we thought sharing our daily routine would keep the two of us involved," Fortin told The Local. "David is totally in love with Stockholm, so it was a nice way to still be connected, while I would discover Chicago through the pictures."
The hundreds of images on the blog provide a striking visual illustration of how the Swedish capital changes throughout the seasons, from the clear skies of the summer, through to the bright colours of autumn and the frozen lakes covered with snow in the winter.
"It's actually a very nice way to pay attention to the small details of your daily life that you wouldn't notice otherwise," Fortin explained. "We both realized how lucky we were to live in such beautiful cities: one surrounded by nature, the other a very urban one tucked away by Lake Michigan."
The French photographer's favourite shot is one of the early stages of spring in Tantolunden park on the island of Södermalm – a cathartic moment of the year for Stockholm residents after months of cold, dark winter. "It's hard to pick a favourite picture but if I had to choose only one I'd go for Burst of Spring in Tantolunden," she said.
"I used to jog through the park and over Årsta Bridge, which was designed by Norman Foster. The lovely colourful stugor (Swedish cottages) never cease to amaze me." After almost a year of living on opposite sides of the Atlantic, Fortin finally relocated to Chicago in early August. Despite enjoying the slick look of the American city, she admits that she still misses her old home.
"Stockholm is an amazing city, it's absolutely beautiful at every time of the year – from the thick comforting blankets of snow in the winter to the summer with its ever-present ubiquitous nature," she noted. "Chicago is very different, and much more urban, but I'm fascinated by its remarkable architecture."
And it seems the blog may not have seen the last of the Swedish capital.
"A great adventure is starting for us here in Chicago together… before coming back to Stockholm one day!" she concludes.
SOURCE: The Local
http://www.thelocal.se/20160824/in-pics-see-stockholm-spectacularly-change-through-the-seasons