8 tourist destinations near Manila you can reach by bus
2016-08-24
« Back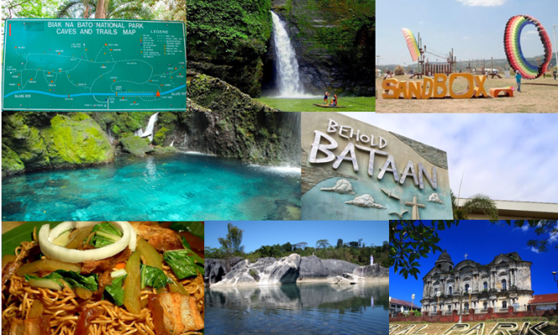 For the typical busy employee, one or two days of vacation are extremely important. However, many tourist destinations in the Philippines are a plane ride away from Manila. Well, not all. Here are some epic day trip destinations near manila you can reach by bus in just 2 to 3 hours:
1. Biak-na-Bato National Park, Bulacan
Located in San Miguel, the Biak-na-Bato National Park isn't only rich historically, but also ecologically. This is the spot where the first Philippine government was founded under Emilio Aguinaldo, and where many meetings of the Katipunan were held. These days, it's where families and barkadas converge to do some nature tripping. Most adventurers come here to climb Mt. Manalmon and its twin peak, Mt. Gola. But its tens of caves, including the Madlum and Bayukbok Caves, and the Madlum River and its giant rock formations are not to be missed either. It's considered by many to be an easy and scenic hike, perfect for those looking for some outdoor fun without difficulty.
2. Bakas River, Bulacan
Named for footprint-shaped rocks said to have belonged to mythical character Bernardo Carpio, this river in Barangay Matictic, Norzagaray is a favorite among locals. With its cool, fresh water, lush surroundings, and large limestone formations, it's not hard to see why. The giant rocks provide a perfect natural diving board into the refreshing water below. A few huts are available for rent along the river banks for daytrippers to stow their things, eat, and rest in the shade. Because it hasn't reached mainstream status yet, it's not as overrun with tourists on normal days, making it a convenient escape from the mad city life.
3. SandBox by Alviera, Pampanga
If you're looking for a little more thrill, this adventure park in Porac offers unique activities that will keep you coming back. Ever heard of a zip line roller coaster? SandBox has the first in the Philippines, and it's every bit as fun as it sounds. They also have the country's tallest swing, swinging at 10 meters above ground with a capacity of 3 people per ride. Speed demons can opt to go for an ATV ride along the Pasig-Potrero River. Other features included the Aerial Walk – a maze of ropes and nets that visitors have to traverse, the Adventure Tower, outdoor archery, mini golf, and a playground for kids.
4. Historical tour in Bataan
The city of Balanga in Bataan is one of the most significant in our history. A trip here will take you back in time to when it was under the Japanese occupation. Balanga is home to the Bataan World War II Museum. It is the site where the Americans surrendered to the Japanese in World War II, and houses memorabilia from the war. It also has a well-preserved torture chamber that the public can view. About half an hour away is another famous historical landmark: the Dambana ng Kagitingan, in the town of Pilar. It is another WWII memorial and museum sitting on Mt. Samat, where visitors can commemorate our brave soldiers while enjoying spectacular views.
5. Taal Heritage Town, Batangas
While Bataan's Las Casas Filipinas is a collection of relocated old houses from all over the country, all of Taal's Spanish houses are originally built where they still stand. Next to Vigan, it is perhaps the best preserved colonial architecture and heritage site in the Philippines. Many of these are also open to the public as museums, such as the Agoncillo Mansion, Casa Villavicencio –which has a secret room where revolutionaries used to meet and strategize, and the Goco Ancestral House. The Marcela Agoncillo Heritage House meanwhile was designated as a National Historical Landmark, since it is where one of our flag makers was born and raised. The Basilica of St. Martin de Tours and the Shrine of the Lady of Kaysasay are also worth a look for the impeccably preserved architecture.
6. Lucban food trip, Quezon
Lucban is undoubtedly best known for the Pahiyas Festival. On a regular day, however, Lucban isn't top of mind when thinking of day trip destinations near Manila. With the San Luis Obispo de Tolosa Parish at its heart, the surrounding town holds its unique charm. The narrow streets and Spanish colonial houses give it a very quaint old world vibe. But the true hidden gems of this town are its delicacies.
7. Pagsanjan Falls, Laguna
Interestingly enough, Pagsanjan Falls is known to locals as Magdapio Falls, and it's located in Cavinti, Laguna, a town beside Pagsanjan. Whatever its real name and location are, however, it remains as one of the most popular day trip destinations near Manila. The most popular way to get to the falls is by shooting the rapids on a guided banca from Pagsanjan. This method costs roughly P1250-1500 depending on the inclusions of your package. A more affordable and more challenging method is a steep hike from Pueblo El Salvador Nature Park, located in Barangay Tibatib, Cavinti. Both routes end in Magdapio Falls and allow tourists to swim in its surrounding pool and have a raft ride into the cave beyond the water.
8. Bukal Falls, Laguna
With both Pagsanjan and Majayjay Falls getting constantly overrun by tourists, Bukal Falls – also located in Majayjay, Laguna – is a breath of fresh air. Thanks to smaller crowds, Bukal Falls' waters are crystal clear, and its surroundings are still pristine. This is the reward for a 45-minute hike through the jungles (although the hike itself isn't difficult, just long). The falls have several pools where visitors can swim. If you're lucky you might even get a pool, if not the whole falls, to yourself making it an even more memorable experience. Unlike Pagsanjan and Majayjay, the hike here isn't lined with sari-sari stores to address the visitors' needs, so bring everything you need. Guides are required and will be provided upon registration at the Barangay Bukal Registration Hall.
SOURCE: FILIPINO TIMES. AE
http://filipinotimes.ae/news/2016/08/14/8-tourist-destinations-near-manila-you-can-reach-by-bus/