Breathtaking beach clubs Mallorca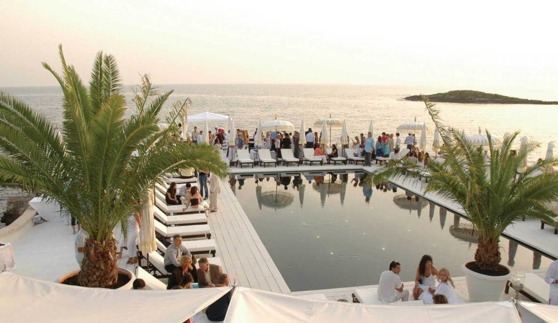 If your idea of paradise is basking under the sun whilst sipping on a freshly squeezed fruit juice and nibbling on tapas, before refreshing yourself in an infinity pool or the crystalline waters of the Mediterranean, then this is for you.
We have handpicked our favourite beach clubs on the island of Mallorca. All you need to do now is choose which day you want to relax with your toes in the sand and your hands on a chilled drink.
All-year luxury - Mood Beach Club
Located in the chic marina of Puerto Portals, Mood Beach Club is so much more than your typical beach hangout. Breathtaking sea views, comfy day beds around a private pool, fine Spanish and Asian fusion cuisine and a great cocktail bar make this beach club one of the best on the island. Two velvety towels and a welcome tray with fresh orange juice and water are included when you book a sun lounger, so that all you have to do is just sit down and relax. Why not kick it up a notch and enjoy one of their massages? Their restaurant and bar are open throughout the year, so you can even head there on those chilly winter evenings for a romantic dinner with a view.
Glamorous parties - Nikki Beach
A clear blue swimming pool surrounded by plush lounge beds on a gorgeous sundeck, the best international cuisine with exotic touches, delicious signature cocktails and high-class DJs... Nikki Beach is the perfect spot for a sophisticated day under the sun. Their parties are renowned all over the world, gathering Mallorca's rich and beautiful, no wonder this is the jet-setter's favourite beach club on the island! Check out our events calendar to find out when the next exclusive bash is taking place, don your best swimsuit and prepare for a day out you will not forget.
Oasis near Palma - Puro Beach Club
Situated close to Mallorca's capital, Puro Beach Club is a true haven of peace and tranquillity. Start your day sunbathing on one of their crisp white sun loungers, then refresh yourself in the pool, try out their famous Puro Burger for lunch - a combination of high-quality ground beef with tomato, lettuce, onion, bacon and cheese in a brioche bun served with coconut fries. Relax with a massage and finish up your day with a Raspberry Mojito Royal - a refreshing mix of berry flavoured vodka, lime, mint & champagne - while watching the sunset. Not a bad plan, eh?
Gourmet cuisine by the sea - Ponderosa Beach Club
One of the highest rated beach club restaurants in Mallorca is located at Ponderosa Beach Club, on Playa de Muro. Their 'KM0 Kitchen' concept means that most of the ingredients they use are sourced locally and based on seasonal availability. Specialities include their famous paella, named by some as the best on the island, fresh seafood and imaginative salads, all of which you can taste with your feet in the sand. Just book one of their shaded sun loungers and order a cocktail afterwards to help it all go down...
This is only a small selection of all the beach clubs that await you in Mallorca. Check out our hotel listings to book accommodation and start planning your relaxing Mediterranean trip.
Source: SEE MALLORCA
By: Ana Hernández
https://www.seemallorca.com/news/top-4-beach-clubs-in-mallorca-island-698649