Vienna, Austria: a year of imperial delights
2016-08-15
« Back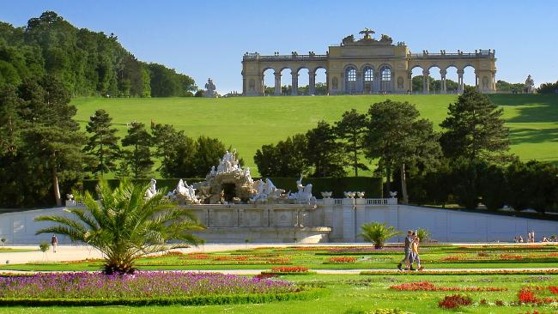 Strauss waltzes and horses, coffee houses and schnitzels, flowering parks and emerald gardens, apricots and asparagus ... These are a few of my favourite things and I have come to the right place. It is my third visit to Vienna and still it feels as if I am but scraping the icing of this ornate confection of a city.
It is summer and there are pop-up concerts, screenings and food stands in Rathausplatz square. Barbecues spring up in the Austrian capital, from the retro-inspired Volksgarten Pavillon, with a garden setting, smoky Asian specialties and DJ music, to alfresco gourmet grills at Clementine im Glashaus at Palais Coburg.
There are "beach bars" by the Danube Canal, including the giant Sand in the City at Lothringerstrasse 22, with sunbeds and dining tents, and ice cream and gelato bars do a roaring trade in zany flavours, such as fig and redcurrant from Leones; aloe vera, beetroot and ricotta from Schelato; or wasabi and matcha made with soya milk from Veganista.
ART OF THE MATTER
Imperial Vienna is the tourism theme in 2016, the centenary of Emperor Franz Joseph's death, and it is easy to construct a suitably royal program in a capital that celebrates its favourite ruler with such obvious reverence and enthusiasm. The Kunsthistorisches is marking 125 years since its grand opening on Franz Joseph's beloved boulevard, the Ringstrasse; this art history museum is an ideal place to start dipping into Austria's gilded past and the building itself is glorious — sweeping staircases, spacious salons, a triumphant showcase for art amassed over centuries by the Habsburg dynasty, including an unparalleled collection of Bruegels. More: khm.at.
HORSE WHISPERING
And so, third time lucky, my visit coincides with a performance at the 18th-century baroque galleried hall of the Spanish Riding School that also includes featured artists from the Vienna Philharmonic. Located on Michaelerplatz, in the 1st District's Imperial Palace quarter, the performance prices range from standing spots to royal boxes. A Tribute to Vienna evening shows featuring the Vienna Boys Choir (bookings essential) are on September 9, October 7 and 14, and December 9. Guided tours and seats to watch morning exercise routines are available most months. My guide for a tour around the Renaissance-era stables tells me the first female riders began training in 2008 and (she insists) those handsome Lippizan white stallions "speak" German. More: srs.at.
TO THE PALACE
There are 27 palaces in Vienna so take your (imperial) pick but the must-visit is Schoenbrunn, the 1441-room former summer residence of the Habsburgs and where the fabulously whiskered emperor Franz Joseph passed away in 1916, after 68 years on the throne. There's a commemorative exhibition, Franz Joseph: Man and Monarch (to November 27), at the palace, featuring temporary exhibition spaces and a clear emphasis on his private life as well as public achievements. His audience room, with rich marquetry and gold leaf, holds a surprisingly small desk (petitioners usually were dispatched after three minutes, says our guide) and next door is the chamber where he died in a narrow, hard-looking bed.
Rather thrillingly, you can even stay in the Scloss Schoenbrunn Grand Suite, crafted from a former royal apartment and the palace's only on-site accommodation, aside from tenanted studios and flats on the upper floors that have been converted from the rooms and dormitories of former household staff. Managed by Austria Trend Hotels, the two-bedroom suite opened in the east wing in 2014 and is kitted out in suitable splendour, with butler at heel, imperial damask, a replica freestanding bathtub of one favoured by Franz Joseph's wife, Empress Elisabeth (Sisi) of Bavaria, canopied four-poster beds and lofty views of the vast estate, its citrus plantings and parterres. You'll need about €700 ($1035) a night for a right royal stay, with bookings made as far in advance as feasible. More: schoenbrunn.at; austria-trend.at.
SISI WAS HERE:
To view Sisi's main quarters, head to her museum in the Imperial Apartments at the mid-city Hofburg Palace and see her private rooms, personal items such as a watercolour painting box and dressing table, and the controversial exercise devices she used to maintain her famously narrow 54cm waist. The shops of former imperial and royal court vendors are all within easy walking distance of the palace and at AE Koechert, at Neuer Markt 15, "Sisi's stars" are still fashioned according to court jeweller Alexander Emanuel Koechert's original design. The empress owned 27 of these 10-pointed diamond fancies, including those made by other court jewellers and some arranged with pearl centres, which she often wore pinned in her hair, but these days are more favoured by fashion princesses as brooches or pendant drops.
HOME AND HOSED
Vienna is home to myriad artisan boutiques and ateliers, including those of milliners and shoemakers. Brad Pitt and Madonna have acquired customised chapeaux from Muhlbauer Hutmanufaktur while Georgia May Jagger sports vintage creations from Miss Lilly's Hats. Florian Jewellery is a homegrown brand, as are Eva Blut (bags) and Schau-Schau Brillen (eyewear). The Chamber of Commerce and Industry champions the best local makers. It is the 10th Vienna Design Week from September 30-October 9 and Vienna Art Week from November 14-20; both events add extra pep to the city, recognising world-class couture and craft. Guided Vienna has good listings of all that's new and happening across fashion and design, including seasonal sales.
More: wienproducts.at; guided-vienna.com.
SMALL AND PERFECTLY FORMED
Two museums not quite as touted as the main players are Mozarthaus Vienna, celebrating its 10th birthday this year, and the Sigmund Freud Museum. The former incorporates the composer's apartment (Domgasse 5), where he lived from 1784-87, and features multimedia installations and occasional concerts. The latter is also a home-museum, in the psychoanalyst's one-time apartment and office (Berggasse 19), furnished and detailed as if he has just stepped out, perhaps to nearby Cafe Landtmann, opened in 1873, his favourite haunt and still the gathering place for writers, artists and theatrical types. The apple strudel could well be Vienna's best, swirled with alpine peaks of cream. (If travelling as a group, note that dinners for up to 12 can be arranged in the dining area of Freud's apartment.)
More: mozarthausvienna.at; freud-museum.at, landtmann.at.
SWEET DREAMS
In a city famous for its atmospheric coffeehouses, the choice is wide, with many contemporary cafes now part of the mix. "Emporiums with eateries" are all the go, including Das Moebel (Burggasse 10) where the tables and chairs, even the lamps and coat-stands, that customers use are for sale.
But most visitors opt for lunch or morning or afternoon teas at historic establishments with their bow-tied waiters and bentwood chairs, collectively accorded UNESCO Intangible Cultural Heritage listing in 2011, where no one is in a hurry and newspapers are freely provided. "Patrons consume time and space but only the coffee appears on the bill," concluded the UNESCO report.
The best include Cafe Sacher Wien, opposite the Opera House and connected to the famous Hotel Sacher; this series of scarlet-painted salons features tiny tables and waitresses in white pinafores. The principal reason to take coffee here is to order a slice of the original Sacher torte (chocolate cake lined with apricot jam), arguably one of the world's most famous (and most copied) delicacies. It was created in 1832 and the recipe is said to be stored in a vault.
Cafe Sperl is a low-key, high-ceilinged and very authentic cafe, in business since 1880; order Sperl torte (milk chocolate, vanilla, cinnamon and almond paste) and a melange (half espresso; half frothed milk). From my experience, just ordering a simple coffee will get you nowhere in Vienna. At one cafe, as I dither about, I am handed an illustrated leaflet titled Das Kaffee: ABC. Unhelpfully, at least for me, it is in German, although the Maria Theresia, served in a goblet, looks suitably grand.
Easiest to find (hardest to resist) is Cafe Demel, the centrally located former royal confectioner (Kohlmarkt 14). There's pavement seating beside a pedestrian plaza and a warren of upstairs rooms — all mirrors, marble-topped tables and chandeliers — but the real attraction here is the fantastically decorated downstairs shop. Without contest, this is where you buy the best souvenirs, from boxed chocolates and spun-sugar fancies to sweet bonbons and pretty packets of crystallised violets, a favourite of Sisi's, to delicately fizz and flavour your champagne.
BIG NIGHT OUT
My seat is up in the gods but not as far removed as the standing-room perches at a production of Verdi's Macbeth, directed by Australia's Simone Young, at the 1869-built Vienna State Opera. Unlike many of Europe's grand venues, the opera house opens most of the year, including for classical concerts. There is still a (loose) dress code and one backpacker in my queue is turned away because she's wearing shorts but, conversely, there are lots of frocked-up Viennese in the audience, some of whom I've seen earlier at the Bitzinger sausage stand on Albertinaplatz. It seems just right that basic tickets are affordable and even those who can clearly afford private boxes and best seats choose to eat a hot dog with their hands before the show and slather on their own suss (sweet) or scharf (spicy-hot) mustard. There are also 40-minute guided backstage tours, on the hour from 10am to 4pm in summer, with reduced timings during other seasons. This September, opera performances will be shown several times a week on a huge exterior video wall.
GREEN PEAC
The city numbers about 850 parks and green spaces with 100,000 trees lining the boulevards and 1.2 million flowers in summer. Who tallies up these things, I wonder. My guide, Alexa, just laughs when I ask her and, says, "The total is close enough!" In the Burggarten park, a former imperial garden on the Ringstrasse, the glass and steel-domed art-nouveau Palmenhaus (which looks like an elaborate exhibition pavilion but was built as Franz Joseph's greenhouse) offers good food in a conservatory setting or on a terrace, surrounded by palms and with a bright, buzzy atmosphere, especially for brunch and lunch. Alexa also proudly informs me that you can drink water from every tap in the capital, such is the purity of the natural spring water that is piped from the lower Austrian alps to Vienna, voted World's Most Liveable City in 2016 according to the Mercer Quality of Life Study — for a record, and undeniably well-deserved, seven years in a row.
Source: THE AUSTRALIAN
By Susan Kurosawa
http://www.theaustralian.com.au/life/travel/vienna-austria-a-year-of-imperial-delights/news-story/3849f57038356827a4adc37e5012fb6d