Spellbinding charm, fairytale beauty and dirt-cheap drinks: Why Tallinn is your next break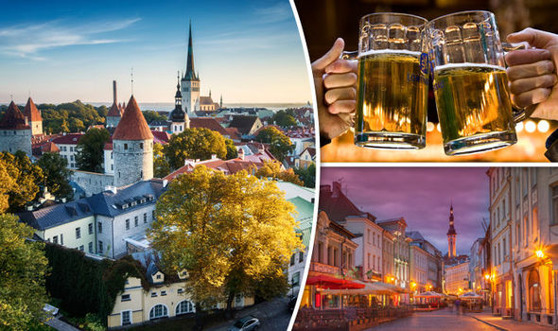 THIS enchanting European city is no longer an unlikely holiday destination.
Jutting out onto the Baltic Sea is the cultural hub and capital of Estonia. Once an ominous Soviet city, this medieval melting pot is now bubbling with vibrancy.
Tallinn has evolved its own unique modern-world charm while retaining the most alluring aspects of its coloured past. Estonia has been voted the best value destination in the world by Lonely Planet and one of the greenest countries on earth by the Environmental Performance Index.
As terror fears drive tourists away from traditional spots like France and Turkey, a fresh wave of European holidays is here. Estonia is a nation on the safe-list and Tallinn is the shiny jewel in its crown.
A first look at the city conjures up images of a fairytale. Horses trot over cobblestones enclosed by towering walls, while ancient church spires puncture the sky.
The magical charm reaches its peak in the historic centre Old Town. A UNESCO World Heritage site, the medieval area is immaculately preserved into two tiers. Upper town houses a castle and cathedral while the lower town sprawls out below.
Easily the beating heart of the city, Old Town will transport you to another world as you weave your way through its lanes and markets. The must-see Town Hall was built in 1404 and remains the only surviving Gothic town hall in Northern Europe.
St Olaf's Church is the best place to see the city from high above the ground - the iconic spire is the star of the skyline. If Old Town owns the charm of Tallinn, then Kadriorg stores its beauty. The picturesque subdistrict is home to Kadriorg Palace, built for Peter the Great in the 18th century. It now houses an Art Museum filled with masterpieces, with an equally artistic manicured garden outside.
For the best value food and drinks, head to Tartu Mnt where local bars and restaurants rule the roost. The area offers access to the Central Market, so you can load up on freshly baked bread and local delights. You'll pay just over £2 for a beer and as little as £5 for dinner in these more affordable parts of the city.
And getting around is easy thanks to the Tallinn Card - purchase one of these for access to buses, trams and bicycle hire as well as museums, tours and attractions. You can find return flights on sale for less than £50 and you won't have to splurge on accommodation. There's a decent range of hotels on offer depending on your level of luxury and comfort can be found at less than £50 per night.
Source: EXPRESS.CO.UK
By: Claudia Cuskelly
http://www.express.co.uk/travel/articles/695126/holiday-in-tallinn-estonia-why-city-is-next-european-holiday-destination