Lure of Lisbon: From its salty Atlantic setting to Moorish gateways
2016-08-14
« Back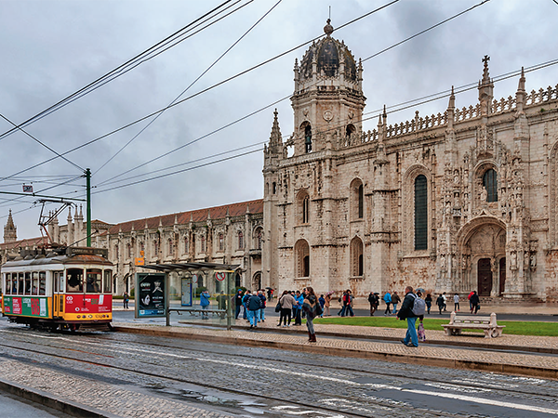 The tram clatters along Lisbon's cobbled streets, negotiating gentle gradients that punctuate the stunning Portuguese capital built on seven hills.
From my window seat, I soak in the 18th century Pombaline Baixa, the elegant downtown area rebuilt after a devastating earthquake flattened the city in 1755. Up a steep incline, and we slide into the old Alfama quarter, the tangle of medieval streets on the hill to the east.
As we nip up further, panoramic vistas open out before us - cerulean skies above, the river Tagus glittering below and tumbledown facades of brick-coloured townhouses peppering vertiginous slopes.
We are on Tram 28, a rickety vintage car that has been chugging its way through Lisbon's streets since 1928. The wooden carriage radiates the charm of a museum piece as it rattles along metallic tramlines.
Equipped with an audio guide to explain the sights we are taking in, the ride is a great way to burrow into the city's secrets. The embarkation point is Praca do Comercio, a waterfront square brimming with sidewalk cafes, atmospheric eateries, museums and camera-toting visitors.
Then it is off to the hills, before the 90-minute journey culminates amid the mosaic-studded and neoclassical splendour of Baixa.
A salty Atlantic setting, beautiful, tiled red-roofed houses, winding streets that drape themselves around quaint buildings, cafes redolent of coffee and cinnamon, cruise ships sailing off into the sunset, old-fashioned funiculars buzzing up to miradouros (viewpoints), Lisbon has you under its spell in a trice.
I wander the city's streets dumbstruck, marvelling at just how lovely it is. Though serviced by an efficient and inexpensive public transport system, Lisbon is ripe for exploration on foot, its sun-splattered streets extending a warm invitation to roam.
We average about 12 km a day on foot, the experience heightened by views of begonia blossoms lighting up balconies and street performers boggling our minds with their acts. On weekends, the city's roads are chock-full of doughty surf boarders making their way to the nearby beachy suburbs of Cascais and Estoril.
The frosty Atlantic shores offer Lisbonites a perfect playground to spike their adrenaline as well as tuck into seaside classics like garlicky ameijoas (clams) and the Portuguese national dish of bacalhau (a jumble of onions, chips, olives, parsley, egg and cod), washed down with ginjinha, Lisbon's storied cherry liqueur.
Because Lisbon is built on contiguous hills, finding a fantastic view is never a challenge. Particularly swoon-worthy are the Miradouro de Santa Luzia and the Moorish gateway Portas do Sol towering over rooftops and cascading down to the river, with the Panteao Nacional and the twin-spired Vincente de Fora looming in the distance.
At the imperial Belem waterfront, we are enchanted by its medieval monastery and river-fronting statues showcasing one of the most lavish colonial empires in history. Despite its magnificence, Lisbon's architecture is unimposing.
There are no imperial boulevards, putative monuments or vertigo-inducing skyscrapers to daunt you. What you get instead are bluetiled courtyards, elegant statues, and attractive squares.
Music wafts into the streets from bars/restaurants resonating with performances of fado, the brooding folk music themed around homesick sailors and Moorish poetic ballads.
Tarting Up the Past
Lisbon flourished most in the 15th and 16th centuries, when Vasco da Gama opened up trade routes to India and Asia, making the city Europe's hub.
However, when the earthquake flattened the city, killing 40,000 of Lisbon's then 2,70,000 inhabitants, it had to be rebuilt from scratch according to a strict grid plan. The upheaval notwithstanding, Lisbon still flaunts 15 World Heritage Sites today.
A red suspension bridge straddling the river mimics the one in San Francisco while Cristo Rei, a giant Jesus statue at the city's edge, transports one to Christ the Redeemer in Rio de Janeiro.
Walking along the city's backstreets, we stumble upon tiny, tiled bakeries crafting melt-in-the-mouth pasteis de nata - Portugal's iconic egg custard tart. The story goes that Portuguese nuns and monks made their apprentices whisk yolks of leftover eggs to make these desserts.
The delicious flake fest also offers welcome relief from the abundance of local salty seafood like percebes (gooseneck barnacles) or francesinha, an open sandwich made with linguica (garlicky, smoked sausage), roast meat and ham, topped with cheese and a fried egg.
We dine near the historic Sao Cristovao church on Portuguese classics - eggs and mushrooms, alheira sausage (a lush porkveal blend) as well as bacalhau. We proceed for a sunset cruise on the Tagus.
Champagne flutes in hand, we feast on the waterfront's attractions - Belem Tower, Cristo Rei, the Manueline architecture of the Jeronimos Monastery. When we disembark, the strains of a smooth fado fill the air and twinkly lights illuminate the riverfront. The perfect combo to make us fall in love with Lisbon all over again.
Source:
The Economic Times
By
Neeta Lal
http://economictimes.indiatimes.com/magazines/panache/lure-of-lisbon-from-its-salty-atlantic-setting-to-moorish-gateways/articleshow/53467983.cms