Budget travel options abound (Spectacular Slovakia - travel guide)
2016-08-13
« Back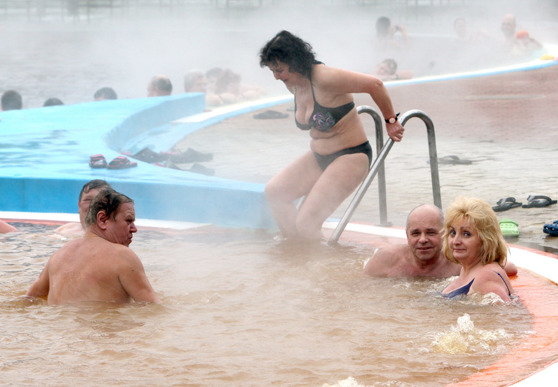 If you're in for a budget holiday in Slovakia, there are several ways to avoid the elevated prices in the top tourist spots at peak season.
In the most touristy regions of Slovakia, regional discount cards or passes are available for locals and tourists, entitling the holders to discounted prices on entrance fees and tourist attractions. There are also good deals on transport, dining and accommodation. More and more popular are packages which combine visits to several tourist attractions with train tickets.
City tourism
The Bratislava City Card offered by the Bratislava tourist office allows visitors free travel by public transport and discounts up to 50 percent at participating museums, galleries and restaurants. The card is valid for up to three days and costs €16. The card also includes a guided tour around the city. Booking is necessary (www.visitbratislava.com). Free tours of the Old Town and beyond leave twice daily (11:00 and 15:00) from beside the statue of Hviezdoslav in Hviezdoslavovo Square (www.befreetours.com).
The Košice Welcome Card can be purchased at the Košice Visitor Centre on Hlavná Street, or at the reception desk of the Hotel Košice, for €9 as a two-day card, or for €13 a three-day card. The main advantages of the Košice Welcome Card are free city transport and free entry to nine of the city's museums. Holders of the card pay half price in the local botanical garden, get a 20-percent discount at the local zoo, and a 10-percent discount for city theatre tickets.
Mountains and countryside
The Tatra Mountains' discount card is only issued by the accommodation providers participating in the project and requires that visitors spend at least one night in the Tatras. It costs €3-4 and carholders receive various discounts at wellnesses, restaurants, museums and many attractions in the region.
Tourists who stay in the Liptov region receive the Liptov Region Card from most accommodation providers free of charge. The card can then be used to get discounts for more than 50 different tourist services around the region like skiing facilities, aquaparks, restaurants or caves. The card has no expiration date, based on the philosophy that once you visit Liptov, you become a member of the club and are entitled to discounts whenever you return. The Oravapass card offers a variety of discounts for ski resorts, aquapark, wellness facilities, Orava Castle, and for the Zuberec open-air museum. It can be obtained from the accommodation providers participating in the project in the Orava region. A single card for €17 is valid for one person for the duration of their stay in the region, or a family card for €25, which offers the same discount to two adults and up to three children. The passes are valid for 12 months. Another pass, the Orava Holiday Card is a project of the Meander Thermal Park in Oravice. It can be purchased for €7.50 at the park or online and is valid for a day's entrance to the aquapark. The card holders are then entitled to a 20-percent discount from five other providers of tourist services, including a discount on the entrance fee for the Orava Castle and the Orava Forest Railway in Oravská Lesná.
In Horehronie, the Horehronie Region Card can be purchased from accommodation providers within the region. In the Horehronie Cluster towns and villages: Brezno, Braväcovo, Bystrá, Horná Lehota, Mýto pod Ďumbierom and Čierny Balog, as well as in hotels Stupka and Partizán, the card costs €2. In other places of the region, it can be purchased for €10. Only visitors spending at least one night in the region can buy the card. The card offers discounts up to 25-percent on skiing facilities in Ski Tále, Ski Mýto and one-way trip to Chopok - Jasná; 20-percent discounts on wellness centres in the surrounding area, and a 10-percent discount from the tickets for the Čiernohronská železnica historic railway, among other benefits.
Skiing
Skiing facilities band together to offer their packages at discounted prices.
In the Tatras, the Gopass chip card can be used in both the summer and winter seasons. It is an electronic card which enables its holders to purchase tickets for ski-lifts online for lower prices. Holders of the Gopass can skip the queues at slopes and go directly to the fast line at the entrances to cable cars and chair lifts.
Park snow Card offers skiers in Donovaly discounts on 3-day or 6-day skipasses, rental of ski and snowboard equipment, ski and snowboard schools or aquaparks.
Museums
On the first Sunday of every month all state museums and galleries offer free entry. Altogether this includes 37 attractions including the Museum of Transport in Bratislava, the Slovak Technical Museum in Košice, the Museum of the Slovak National Uprising in Banská Bystrica, the Slovak National Gallery and all its branches, the Slovak National Museum and its 18 specialised sites and castles like the Červený Kameň, Spiš, Bojnice or Betliar manor house among others.
Museums in the bigger cities offer a combined ticket which serves museums managed by the city hall. During city days, there are usually free entrances to selected tourist attractions and museums (Bratislava for Everyone – April; Day of Košice City – May).
Transport
Ryanair is the cheapest carrier flying to Bratislava's international airport, but also check out other low-cost airline flights to Vienna. It is less than an hour from Bratislava, with good transport links. When tourists travel for day trips to cities like Budapest, Krakow, Prague or Vienna, return tickets are much cheaper than two singles.
Taxi services are still cheap by Western standards, but some drivers may try to rip off foreigners by not turning on the meter and then claiming an outrageous total. Make sure the meter is running before the car gets moving.
It is often better to call for a taxi rather than get a taxi on the street side, which can be significantly more expensive. In bigger Slovak cities some taxi services also offer a unified ride rate within the city (in Bratislava it is €5 in other cities around €3).
Bargain tickets
When tourists opt to travel by train, it is possible to obtain bargain tickets which also serve as entrance ticket to aquaparks or are sold together with ski passes. The state-run railway company (slovakrail.sk) usually sells bargain tickets at ticket counters in rail stations. They combine train tickets with a visit to AquaCity Poprad or skipasses to resorts like Jasná (Low Tatras), Malinô Brdo (near Ružomberok), Vrátna (near Žilina) or others in the High Tatras. All holders of a train ticket to Oravský Podzámok are entitled to discounted tickets to Orava Castle.
Another option is thermalpasses offered by the private rail company RegioJet (regiojet.sk) which include return train trips to Bratislava and tickets to aquaparks in Dunajská Streda or Veľký Meder. During the summer season every Saturday and Sunday at 13:30 tourists in Bratislava can use a boat to visit Čunovo, home of the Danubiana Meulensteen Art Museum. The boat fare (€12 return ticket) also includes entrance to the gallery.
Food
Many restaurants offer a fixed daily menu (typically a soup and a main dish) for around €4 during lunch time. Growing more popular are all-you-can-eat restaurants. As lunch is usually the main dish for Slovak families, all-you-can-eat deals are often offered during the afternoon hours (between 11:00 and15:00). Grocery stores tend to open from 9:00 to 21:00, but the selected Tesco hypermarkets in Bratislava are open 24-hours. Another option is to order food online at potravinydomov.itesco.sk.
Source:
Spectacular Slovakia
http://spectator.sme.sk/c/20219234/budget-travel-options-abound-spectacular-slovakia-travel-guide.html