Reasons why Stockholm Pride is simply awesome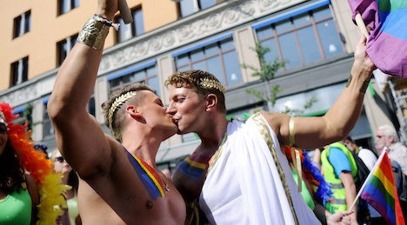 Stockholm's Pride festival culminates on Saturday with a parade – and more than a few parties. Here's why we think it's pretty amazing.
1. It is MASSIVE
An estimated 450,000 people turned out on the streets of Stockholm for the Pride Parade last year. Let's put that in context: Sweden's population is about 9.5 million, of whom 1.5 million live in the capital. In other words 5 percent of the entire population of the country came to watch. That's on top of the 45,000 people in the parade. That's a lot.
2. ...and it's not just for gays
Nor just for lesbians, transgender people, bisexuals, queers, or any of the other groups that make up the increasingly unwieldy acronyms used to describe the community. The crowds on the streets of Stockholm always seem to genuinely reflect Swedish society. Sweden's issuing Pride stamps, same-sex weddings are being held at the Royal Opera House. Sweden has bought into Pride in a big way.
3. Sweden's PM turned up two years before Justin Trudeau
Former PM Fredrik Reinfeldt marches in 2014. Photo: Annika af Klercker/TT
Canada's charismatic Prime Minister rightly won plaudits last month for marching in Toronto Pride last month. But Sweden's then-leader Fredrik Reinfeldt beat him to it by almost two years, when he marched in Stockholm's 2014 Parade. The current PM Stefan Löfven, then leader of the opposition, turned up too – and plans to be there on Saturday. We're still waiting for the royals to turn up, but Crown Princess Victoria has already given out prizes at the annual Gay Gala, so maybe it's just a matter of time?
4. Flags everywhere
Stockholm's small city centre means that it truly feels like Pride takes over the capital. The most visible sign of this is perhaps the flags, which fly from every single public bus, from the City Hall, from many foreign embassies and from most of the rooftops of the city centre. Practically the only ones not to fly them are the Royal Palace and government offices. So far.
5. The schlager, oh the schlager….
Why has Eurovision become the soundtrack for the gay world across Europe and beyond? Tacky music with memorable refrains, strange outfits and odd foreign accents has become inescapable at Pride events everywhere. In Sweden, however, they take it to another level. Spend a night in Pride Park and you'll see a constant stream of artists who last released a single in the Swedish Eurovision heats in 1987, but where the entire Pride audience feeds them the love. Cute.
6. The Swedes
They're angels, aren't they?
7. The parties!
Stockholm Pride isn't just about the politics, or about the schlager – it's also about the parties. And while the official entertainment takes place in 'Pride Park' (this year a sports ground in Östermalm), there's plenty more to do out on the town. From a party for women over thirty at the lovely Nalen dance hall in Norrmalm to the Circuit World Tour Party at the Ambassadeur club on Kungsgatan (complete with scantily clad male dancers) to the classic Sunday night on the boat Patricia, hosted by the legendary Babsan (above), there's something for every taste. Well, nearly every taste.
8. The politics
While Gay Pride used to be all about the politics, in liberal countries like Sweden the serious stuff has inevitably taken a bit of a back seat. But the organizers at Stockholm Pride aren't complacent. This year Pride was officially opened by Siavosh Derakhti, a campaigner against racism and antisemitism who has won awards for his work on both sides of the Atlantic.The program also includes seminars on subjects ranging from the esoteric to the very current. So if you want to talk about why video games are so heteronormative or hear about what President Donald Trump could mean for LGBT people, there's something for you (if your Swedish is up to it, that is).
9. Dykes. On bikes.
Our favourites. OK, Sweden doesn't have a monopoly here, but what Pride parade would be complete without them?
10. Stockholm
Because, just like its people, you simply can't beat it for beauty.
Stockholm Pride – facts:
Taking place now. Concludes on Saturday, July 30th, with a parade, official party and other activities across town.
Locations: across Stockholm, but the main area with stages, bars and stalls, is at 'Pride Park', otherwise known as the Östermalms IP sports ground.
Source:
THE LOCAL.SE
By:
James Savage
http://www.thelocal.se/20160729/reasons-why-stockholm-pride-is-simply-awesome