Why Miami-Dade has more visitor centers than any city in the U.S.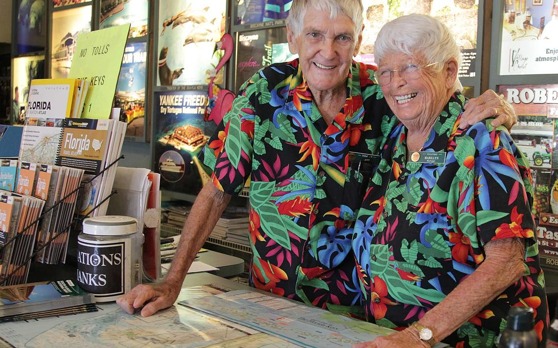 On a sweltering Friday afternoon in Little Havana, tourist Antonio Martin del Rio from Toledo, Spain, stumbled into a tiny, cube-shaped visitor center at the heart of the busy Cuban enclave. His mission: cigars.
"Where do I buy the best cigars? I have a request to bring back for someone," Martin del Rio said, calling cigars by their European Spanish name, puros. "This is the first time I come, I come from Spain. Give me a map — anything."
Martin del Rio was standing inside a Little Havana kaleidoscope, a 100-square-foot room papered in images that evoke the flavor of the popular five-block area — dominoes, Cuban coffee, a rooster adorned in the Cuban flag and cigars, of course — designed as a local compass for visitors from around the globe.
"You should stop by Ball & Chain," advised the center's manager, Miguel Ramos, while placing a brochure in Martin del Rio's hand, "where you can get the best mojitos in Little Havana."
"Now you're talking," the Spanish roof tile merchant said.
The interaction is like many that take place in the small space on Calle Ocho almost on a daily basis — and across 18 other neighborhood visitor centers across Miami.
Due in large part to the Miami area's cultural diversity, the metro area has more visitor centers than any other in the U.S., said Christine Sarkis, senior editor at travel advice website SmarterTravel. New York City, which also has cultural neighborhoods, only has four. San Francisco has two. Chicago has one.
"While one or two central visitor centers is a great idea, it doesn't necessarily reach visitors where they are, especially in a city like Miami, which isn't as centralized as a place like New York City," Sarkis said in an email. "This difference among cities is often just variation in strategy, funding and city layout — but we're big fans of the neighborhood-based visitor centers approach. It puts useful information (and often great discounts) within reach of more visitors; and each visitor center can set itself up as a place for people who happen to pass by rather than an office that visitors have to make a special trip to reach."
In Miami-Dade, the model has proved so popular that it has been growing. Through an initiative by the Greater Miami Convention & Visitors Bureau, which partners with local organizations to open the centers, five new welcome centers — including the space in Little Havana — have opened in the past two years alone. Others, such as a full-fledged gift shop and visitor center in Florida City, have been around for decades.
All are tucked under an investment from the tourism bureau to promote Miami's diverse neighborhoods. In return for the economic boost of keeping tourists around for longer and in places other than just South Beach, the bureau pays $3,000 to $5,000 to set up a new center and provide brochures, branding and signage.
And for some of the new neighborhoods on the visitor center roster, such as Overtown and Coconut Grove Village West, hosting a center means injecting the community with a sense of organization and purpose. For many of these centers, the purpose is a chance to change perceptions and lure travelers for a wholly local experience.
"Our return is definitely more of a qualitative return," said Rolando Aedo, chief marketing officer for the bureau. "We are engaging more parts of the community. I'm bringing more customers there, which means I'm bringing economic development. That means other merchants in that immediate area are benefiting more and more from the tourism dollars that flow into this community."
Pati Vargas, director of Viernes Culturales, the organization that runs the Little Havana center, estimates that 75 to 125 people stop by the visitor center every day. On a Friday in early July, 31 people — Canadians, Europeans and Americans — had stopped at the center looking for brochures, directions or recommendations within a two-hour period. Just outside, at least four tour buses unloaded passengers at the next-door souvenir shop during the same time.
Bill Fuller, the organization's president, said the April 2015 opening of the Little Havana center added much-needed cohesiveness to the neighborhood, which sees about 4 million visitors a year.
"One of the things we always saw for years was that we had all these visitors coming and they were always asking, 'Where do I go? What do I do? What is there to see? What are the boundaries?' " Fuller said. "We know that this is cultural tourism district, but some people walk right through here thinking they are going to find something even more magical. So we are guiding them and steering them."
The movement toward more welcome centers, even in a digital age that provides quick answers a tap away, is in line with a worldwide trend for more authentic travel experiences.
According to the annual travel survey Portrait of American Travelers, 57 percent of parents said they visited a kid-friendly attraction on vacation in 2015 because they learned about it at a visitor center — up from 45 percent in 2014. Of the 35 suggested responses for what travelers should do on vacation, visiting a welcome center ranked No. 16 last year. Picking up a printed visitor guide, a staple of Miami's centers, ranked No. 5.
About 46 percent of travelers in 2015 said they'd like more opportunities on vacation to connect with locals, while 55 percent said they don't want to feel like tourists while on a trip.
Welcome centers help better immerse travelers in the experience of living in a destination, not just visiting it, while connecting them to locals, said Steve Cohen, vice president of research and insights at MMGY Global, the hospitality marketing firm that conducts the survey.
"We are seeing much more people interested in learning about the places that they are going, and a lot more interest in specific offerings that cities have that are unique to that location," Cohen said. "[Visitor centers] are giving them another channel from which they can access information."
And most important, he said, a "human touch."
Surviving the digital age
For a quarter of a century, Michigan transplants Marillyn and Art Hagerty have been guiding travelers on their way to or from the Florida Keys, often with a smile or a word of praise for local attraction Everglades National Park.
The two are part of an all-senior volunteer staff that mans the Tropical Everglades Visitor Association welcome center in Florida City, a place that has survived changes in trends, natural disasters and an increasingly digital world. Its mission: Market South Miami-Dade as a destination on its own, not just a stop on the way to someplace else — and it has been doing that for nearly 30 years.
"The Everglades is our love," said Marillyn, 89, who started working at the visitor center with 96-year-old Art in 1990. "We get to be out there almost once a week, so I can tell everybody about what they can see and do."
The Hagerty snowbirds, who have been married for 70 years, use their love for the Everglades and for South Florida (they made the move to Florida City permanent three years ago) to better inform visitors on what there is to see on the mainland.
On a recent morning, Marillyn and Art worked their shift together.
"How are you doing?" asked a young woman visiting from Beaverton, Oregon.
"OK, well yeah, I live here in South Florida!" said Marillyn, who admits that talking to people is her favorite thing to do. Art is quieter, showing brochures and a map of the area at a nearby counter. Both wear short-sleeve button-downs in a tropical foliage print.
Marillyn gets many opportunities to interact with travelers at the Florida City welcome center, which saw about 140,000 visitors last year, said Brian Conesa, executive director of the center.
Like most centers that have survived this long, the Florida City center, open since 1988, has been supported by the local businesses and community it helps promote. It's how it stayed open when the tourism industry in mainland Florida's southernmost point was devastated by Hurricane Andrew in 1992.
"[After Hurricane Andrew] a lot of the businesses decided we need to keep the visitor center going," Conesa said. "In fact, I think we were only closed for two months at the time. We were helping workers find hotels, letting people know; we were acting really as a great information source."
Today, the center is still multipurpose.
"We deal with everything from hurricane evacuations to just about anything, car problems, you name it. But also, talking with someone," Conesa said. "What we do for tourism is — they come back every year, we are that face shaking that hand, and they're smiling, saying, 'Well, that wasn't so bad.' Even if they have time for two days here or three days here, well, now we are opening their eyes to future plans to come back."
The center runs primarily on memberships paid by surrounding businesses, which get prominent promotion on brochures and center displays. Unlike the Little Havana iteration, Florida City's visitor center is much larger, with a gift shop, and is run by 25 volunteers and Conesa.
Matthew Thibos, CEO of Everglades Alligator Farm, said the visitor center has referred about 1,400 people to the farm during the first half of the year and more than 20,000 people over the past five years. The farm keeps count through a coupon only sold at the visitor center. But Thibos guesses the true referral number is actually much higher.
While the popularity of online referral sites such as Yelp has taken a bite out of the number of referrals the center has produced in recent years, it still serves an important service outside tourism, Thibos said.
"A lot of the people that work there are retirees that really crave that interaction and want to showcase the area and the places that they love, and that's something, that's a really good outlet," Thibos said. "Not only is it an opportunity for them, but it's also a good opportunity for the local businesses that may not interact with each other to have common ground to find ways to pull resources together."
The community value of a visitor center is also recognized by the Miami-Dade County Tourist Development Council, under the county Department of Cultural Affairs, which funds five centers, including the one in Florida City. The others include the Visit Miami Beach Visitors Center at the Miami Beach Convention Center, the Tourist Hospitality Center near Lincoln Road, the LGBT Visitor Center on Miami Beach and the Key Biscayne Chamber Of Commerce & Visitors Center in Key Biscayne.
"We are no longer in Miami Beach and Miami; we have grown all over the place," said Stuart Blumberg, vice chair of the council. "Not everybody travels with a computer and goes on a website. You need to be able to talk to a person, and you can't talk to your computer."
Blumberg said the centers are funded through grants in the council's budget and must prove every year they have the criteria to keep operating. So far, they have. This year, the Key Biscayne center was awarded $15,000 in funding due to its smaller size, while the others received $20,000.
To stay competitive, Conesa said the Florida City center has worked to keep a presence in both the digital and print worlds. The center launched the 2.0 version of its Android-only South Florida Visitor Guide app. An iPhone version is coming up.
"The assumption is print is dead," Conesa said. But his brochures tell another story. He prints 200,000 copies of the centers' self-produced, South Miami-Dade specific brochure and — usually — 50,000 copies of the brochure that showcases local businesses.
Now he's increasing his print run to 75,000 business brochures, he said.
Why? He ran through a year's worth of brochures in nine months.
Redefining communities
The marriage of old and new communication forms is most apparent at the Coconut Grove Village West Visitor Center inside Kroma Art Gallery, where print brochures are placed alongside a digital local guide.
The digital concierge is a 4-foot-tall stand with a touch screen that allows travelers to search for particular attractions or restaurants. And when they like something, they can get the information sent to their smart phone or email. The guide is provided by the tourism bureau.
"We are the most cutting-edge visitor center," jokes J.S. Rashid, president and CEO of the organization that runs the center, the Collaborative Development Corporation. "We have that je ne sais quoi."
Source:
Miami Herald
By:
Chabeli Herrera
http://www.miamiherald.com/news/business/biz-monday/article92766942.html#storylink=cpy