Marbella's millionaire playground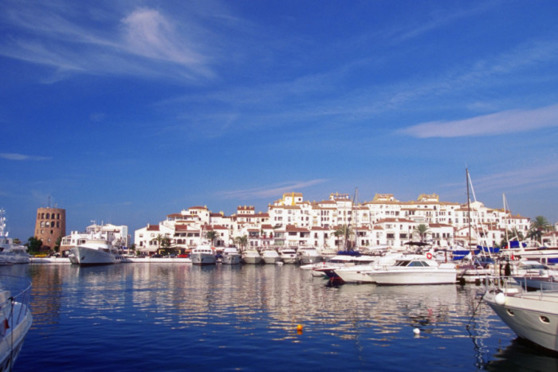 A swarm of excitable tourists have formed around a super-yacht moored at Puerto Banus.
One of the multiple decks is kitted out with two giant flatscreen TVs and six on-board spectators are flanked by waiting staff serving gold jeroboams of champagne.
Hundreds of spotlights illuminate the boat's ceiling like it's a modern art exhibit.
With Ferraris roaring past the glamorous marina every five minutes, it takes something extraordinarily luxurious to make people stop and stare here.
It's an intriguing lifestyle that's given rise to fly-on-the-wall TV show Life On Marbs, which follows a bunch of ex-pats living in this millionaires' playground.
We're whisked away from Malaga airport in a chauffeur-driven car for our own taster of super-luxe sunshine. The suited driver - impressive in 30 degree heat - is blase about picking up stars such as Lady Gaga, Paris Hilton and Enrique Iglesias for Marbella stopovers. "They perform and then they love to relax here," he says, noting that Gaga checks in to the Marbella Club Hotel.
Along with Hollywood stars, the 60-year-old hotel is famed for hosting European and Arab royalty. The palatial six-suite Villa del Mar private residence? Yours for an eye watering 15,000 euros a night.
Our own VIP experience begins at Ocean Club - a vision of white leather beds and cornflower blue parasols. We're led to a circular VIP pool bed (they start from 295 euros in low season) and are offered a bottle of Veuve Clicquot champagne.
But the pinnacle of Ocean Club luxury is the 'Super VIP' bed that seats an entourage of 12 with a waiter on tap to pour your three bottles of Dom Perignon.
"Marbella is often misunderstood," Ocean Club's VIP manager, Ana Lucia Alonso, tells me, topping up my glass. "Yes, there is glitz and glamour, but it is also an authentic town with wonderful restaurants and beautiful scenery."
Taking Ana's advice, the following night we leave our heels behind and head to the more subdued - but no less vibrant - Marbella Old Town, a quick 6km (20 euro) cab ride from Puerto Banus.
We drive down a pristine, palm tree-lined road, dubbed the Golden Mile. Home to some of the most opulent addresses in the Med, it links Puerto Banus and Marbella town and is pure property voyeurism. Currently a 10-bed villa sits on the market at 65 million euros.
The Old Town leaves behind the uber-yachts and superclubs and instead, focuses on quaint courtyard dining and narrow cobblestone streets.
On our last night, we sip champagne at the iconic Sinatra's Bar in the port, with line after line of polished white yachts as our vista. Invites begin to pour in for Puerto Banus's late clubs, such as Aqwa Mist, Funky Buddha and Cavalli Club. "
You can party there until 6am," one eager club promoter explains. "I'll give you wristbands, in case you change your mind..."
No cheap plastic festival bands here, but a collection of sparkling wrist-wear resembling jewellery. In Puerto Banus, even the disposable is desirable.
Lisa Haynes was a guest of Ocean Club (www.oceanclub.es).The black and gold annual closing party takes place on September 26 with tickets 200 euros (£145) per person.
Double rooms at the Gran Hotel Guadalpin Banus (www.granhotelguadalpin.com) start from 150 euros (£110) per night, with breakfast.
British Airways flies from London City to Malaga up to six times a week from £58 one way. Visit www.ba.com
Source:
Newsletter.co.uk
By:
Lisa Haynes
http://www.newsletter.co.uk/lifestyle/travel/marbella-s-millionaire-playground-1-7511603