L.A. Beach Guide: Insider Tips, Where to Go and What to Avoid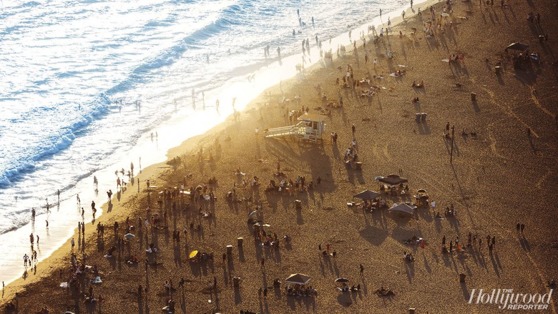 In L.A., sands are shifting fast around the coveted coastline enclaves where the wealthy and powerful live and play, as THR reveals the latest luxury amenities, insider tips, shark news (yes, there are more) and which — ewww — polluted pockets to avoid.
In Los Angeles, sand season is nearly year-round, and oceanfront owners guard and covet their patches of bliss. The denizens of Marina del Rey (where several talent agency vets have set up house) consider themselves lucky, as the lack of parking aids in maintaining privacy. Malibu residents Barbra Streisand, Tom Hanks and Rob Reiner recently tried to block Whole Foods from opening in their neck of the coast — and lost in a ruling that Reiner said "strips the Malibu voters of their ability to have any say over future development." Newest Santa Barbara neighbor Gwyneth Paltrow dropped $4.9 million on a 2.4-acre teardown this spring, joining a Hollywood horde that includes James Cameron, Oprah Winfrey, Kevin Costner and David Crosby, who all wish to "get out of Dodge or get more space," says investor and resident Michael Braverman. Regardless if your beach of choice is Marina Del Rey, Venice or all of the above, THR's ultimate insider's guide tracks the latest luxury amenities, reveals secret trails and takeout tips, advises what to do about stingrays and tsunamis, and provides a health index on which dirty waters to avoid, courtesy of Heal the Bay — which Julia Louis-Dreyfus credits with cleaning up Santa Monica: "The water is cleaner, the dolphins have returned, and there's less plastic crap washed up along the shore."
Malibu
Malibu is so unique because it's only 30 minutes from a large city but offers a totally different energy. In French it's called dépaysé, meaning you're being taken out of your world," says Joe's Jeans founder Joe Dahan, a resident. This inherent escapist attitude is part of what makes Malibu such a mecca for celebrities, from Matthew McConaughey, Robert Redford and Oracle billionaire Larry Ellison to Jennifer Aniston, Dr. Dre. and year-round resident Pamela Anderson (Joel Silver recently put his house on the market for a whopping $57.5 million). The iconic 27-mile coastline that snakes along Pacific Coast Highway provides second (or so) homes to power couples Leslie Moonves and Julie Chen and Will Smith and Jada Pinkett Smith, and Julia Roberts and Danny Moder recently spent $6.84 million to buy a second Malibu estate across the street from their current Point Dume manse.
HISTORY
Since the 1920s, when businessman Frederick Rindge's widow, May, owned all of Malibu and rented a mile of beach to Hollywood stars — dubbing it the Malibu Movie Colony — it has been an exclusive retreat for boldfacers. Now simply Malibu Colony, it is where Jane Fonda hosted an all-night party (The Byrds played at dawn), Clara Bow and Barbara Stanwyck hung out, Charlie Chaplin, Douglas Fairbanks and Mary Pickford played tennis and Neil Diamond, Tom Hanks and Tupac Shakur resided. Today's lack of hotel-room inventory renders Malibu's beaches even more exclusive, but not all is idyllic in paradise: During recent years, the Billionaires' Beach crew's protracted war to keep their milelong Carbon Beach private featured David Geffen putting false-front garage doors on his PCH-facing wall, complete with false signage, to ward off tourists. (Neighbors include Ellison, who owns nearly a dozen properties including rentals, Eli Broad and Jeffrey Katzenberg.) A new access point opened to the public in July 2015, but there is a proverbial line in the sand, says Malibu Beach Inn GM Gregory Day: "Wet sand is public; dry [but often rocky] sand is private." Little Dume, where Sean Penn and Cindy Crawford own homes, requires a key to enter, adding a half-million dollars to property values. More recently, U2's The Edge battled the Sierra Club and won the right to build multiple mansions on a Malibu hilltop. Barbra Streisand, Rob Reiner and Hanks banded together in a fleetingly successful attempt to block a Whole Foods from opening but were overruled in December, prompting Reiner to lament that the ruling "strips the Malibu voters of their ability to have any say over future development."
Venice
Venice is cool because it's Venice — a small village built from a dream by visionary Abbot Kinney," says Matthew Modine, star of Netflix's Stranger Things, of the tobacco millionaire who conceived of the now-hip area (oceanfront property prices at $2,400 a square foot) as a tribute to Venice, Italy — canals and all. Adds The Agency partner David Solomon of the neighborhood sandwiched between Santa Monica and Marina Del Rey: "Venice was a rough place, but now it's bringing in creative types open to a less cookie-cutter neighborhood." They include Robert Downey Jr., John Slattery, Tim Robbins, Maria Bello and Fiona Apple.
HISTORY
In 1905, Kinney's seaside resort vision with its seven canals came to be, and just five years later, Mary Pickford and Billy Quirk filmed Short Shot, which set off a swell of movie production that led to local businesses threatening to ban the industry because of interference. By 1929, the original canals were all paved over, but the neighborhood had become popular with stars who purchased summer cottages and threw parties: Carole Lombard hosted one at the pier's Fun House, with Cary Grant among the guests. After World War II, it was the backdrop for Grease, American Gigolo and Speed. Post-gentrification, Silicon Beach startups began moving in with the opening of Google's massive Venice headquarters, then migrated inland and south as rents skyrocketed (though larger companies like Snapchat stayed put). In September 2012, Joel Silver dropped $7.6 million on the dilapidated former U.S. post office on Windward Circle; legal issues, taxes and liens have kept the project tied up for years. Last year, a woman inspired by the #freethenipple campaign attempted to end the ban on female toplessness at the beach. The neighborhood council passed a motion to allow it, but the city of Los Angeles hasn't yet made a legal ruling.
DO CHECK OUT
This summer saw the debut of Beach Now, the area's first on-demand beach concierge service, which offers packages consisting of umbrellas with lounge chairs, towels, bluetooth speakers and Wi-Fi hotspots (booked through the service's app or VeniceBeachNow.com; cabanas will be available in the fall). Concierges assist with parking, reservations and rentals, and a picnic basket offers organic and vegan options from gastropub Bank of Venice. Do-it-yourselfers can go to the recently reopened Rose Cafe — where patrons include the Edge, Tea Leoni and Robbins — for a summer-special Rose beach tote, which includes a canvas bag and beachball alongside choices of salads, sandwiches or entrees, crudite and cheese and desserts (220 Rose Ave.).
Santa Barbara
"Montecito and Santa Barbara definitely have a Hollywood element, but it's not in your face," says investor and resident Michael Braverman. "Over the years, the Hollywood element has come up to get out of Dodge or for more space." Oprah Winfrey (whose gated 42 acres sit high on East Valley Road) is perhaps the most famous resident of the pristine enclave 95 miles northwest of L.A. Gwyneth Paltrow recently spent $4.9 million on a 2.4-acre compound with two 1980s teardowns, making her neighbors with James Cameron, Ivan Reitman, Kevin Costner, Alphabet executive chairman Eric Schmidt and musicians Jack Johnson, David Crosby and Beach Boy Mike Love.
HISTORY
From 1910 to 1922, Santa Barbara was the "Hollywood of the North" thanks to Flying A Studios, the epicenter of the silent-film industry where many Westerns were produced. Since then, native sons and daughters have included Katy Perry, Edie Sedgwick and Joely Richardson, while the Reagans, Julia Child, Charlie Chaplin, Kirk Douglas, Jane Fonda, Ellen DeGeneres and Jennifer Lopez are illustrious past residents. Battles over the beach at Hollister Ranch — 8½ miles of beachfront where the 100-acre plots are impossible to snag — involve surfer Kelly Slater and The Endless Summer's Bruce Brown fighting a 1976 state law mandating public access and suing to block a trail and public road into dunes, lagoons and tide pools. The Grove's Rick Caruso is set to transform the Miramar, purchased in 2007 for $50 million from Four Seasons Biltmore Hotel owner Ty Warner (hotelier Ian Schrager was the previous short-lived owner who closed the hotel in 2000). Slated to re-open in 2018, the soon-to-be Rosewood resort will have seen a decade of conflict with commissions and neighbors. "We are building the only five-star beach resort in Southern California where you can open the door and step onto the sand," says Caruso, who grew up visiting Miramar as a kid. Expect bungalows and a members-only club among the five-star amenities.
DO CHECK OUT
The new Coral Reef Bar at Tydes restaurant in Four Seasons Resort The Biltmore (it "supports 300 species of colorful fish and live coral," says hotel GM Karen Earp) is the most sought-after table in town, open to members and guests (1260 Channel Drive). Also part of the Biltmore is the Coral Casino, of which designer Heidi Merrick (who dresses Drew Barrymore and Jessica Alba, and whose dad, Al Merrick, is a legendary surfboard shaper from the area), says: "If you can find a way into the Coral Casino, you must. It's the best cross between Old Hollywood and Santa Barbara glamour. When I was a little girl, all the fancy grandmas would take us for lunch by the pool." The posh members-only club is steps from Butterfly Beach, also a part of the Biltmore. In the '50s, Lana Turner lounged at the Coral Casino pool; now it's where Sotheby's Lisa Loiacono and fiance, actor Christopher Lloyd, admire the view: "We love to sit at the edge facing the Pacific and watch dolphins, sea lions, paddleboarders, surfers and sailboats go by." Butterfly Beach itself, a sunny cove protected by the Channel Islands, is perhaps one of the most idyllic bits of coastline in Southern California. "It's like walking into a painting," says Merrick. Adds Earp: "There is no place more magical than Butterfly Beach during the annual spring whale migration, which passes close to shore."
Santa Monica
When former Elektra A&R head Jay Philbin (who repped Bruce Springsteen) moved to the beach in Santa Monica as an infant during the late 1940s, the city "was the home of the newly wed and the nearly dead," says the lifelong resident. The 3.5-mile stretch of deep sand has been a tony, family-friendly haven for Brian Grazer and Dennis Quaid. Says jewelry designer Jennifer Meyer (wife of Tobey Maguire and daughter of NBCUniversal's Ron Meyer), "Santa Monica has it all: mountains, ocean, palm trees, amazing restaurants and adorable shops. I've been frequenting these spots since I was a child, and they embody everything I love about Los Angeles." Adds director Samuel Bayer: "I'm raising a family, and I dig it. Everyone needs a refuge, and that's what I've found in Santa Monica." Price per square foot is up to nearly $3,000 for an Ocean Avenue condo, but a teardown, like a house on an 11,000-square-foot lot previously owned by Samuel Goldwyn, was listed recently for $14 million, with a per-square-foot cost of $1,273.
HISTORY
In 1929, William Randolph Hearst began building a sandside getaway for his mistress Marion Davies on the Gold Coast, as Palisades Beach Road is still known. (It was also once referred to as Rolls-Royce Row for the chauffeured luxury cars that lined the street on Sunday mornings.) Neighbors included Cary Grant, Irving Thalberg, J. Paul Getty and Mae West. "It was a playground for young Hollywood," says Philbin. Davies' 118-room estate subsequently fell into disrepair for decades, but thanks to a pledge by Wallis Annenberg, a guesthouse and the pool were transformed in 2009 into the Annenberg Community Beach House, a popular public destination (locals advise arriving just before it opens; 415 Pacific Coast Highway).
Down the street, Peter Lawford (after Louis B. Mayer) owned the "Kennedy Western White House," in front of which the president landed his helicopter on the beach ("It was like God showing up," says Philbin) to hang with Frank Sinatra and, reportedly, Marilyn Monroe. "There's a really great Bert Stern photo session of Marilyn down by the water, right in front of Lawford's house," says Philbin. It's also where the last known photograph of John Lennon and Paul McCartney was taken, during the late musician's "Lost Weekend" in '74 when he rented the house, leaving Yoko Ono in New York.
The strip's private establishments include the Jonathan Beach Club, which only began allowing women, Jews and African-Americans as members during the late '80s after the California Coastal Commission demanded it change policy to expand onto state land. Recent drama over a fence Carson Daly purportedly built on his former Ocean Way property before selling it to ex-Snapchat COO Emily White has led to both being sued by Santa Monica Petroleum, which claims the barrier is on its land.
Marina Del Rey
Larry Hanna/Cafe del Rey
"It's a mix of people — a real hybrid between entertainment industry, surfers and just regular people," says interior designer Bradley Bayou, who owns a weekend house with his partner, WME veteran Mark Itkin. "It's the closest beach to town with no people, because they can't park. It's like your own private beach." Water traffic aside — the unincorporated district hosts the country's largest manmade small-craft marina, which is home port to some 6,500 boats — the parking situation encourages such privacy-seeking residents as Ice Cube, who bought Jean-Claude Van Damme's canal-front home for $7.25 million in May, Ricki Lake and former William Morris CEO Walter Zifkin. Don Cheadle is flipping an eco-friendly house he purchased in 2014, listed for $2.45 million.
HISTORY
Aviator and filmmaker Howard Hughes constructed Hughes Airport in the Marina after relocating his tool company to more than 1,000 acres of the Ballona Wetlands in 1940. Fifty years later, environmentalists thwarted Steven Spielberg's plans to build a 47-acre studio campus for DreamWorks there. When Chelsea Handler was making a name for herself on E!, she lived with her now-ex, NBC Broadcasting chairman Ted Harbert, in a plush penthouse (she's now in Bel Air). Compared to its neighbors up the coast, the peninsula has always stayed relatively under the radar, a hidden gem. "I know of a few [industry players], but they'd shoot me in the head if I told you they lived there," says Bayou. "They go because they don't have to tell people they're there."
DO CHECK OUT
Rachel McAdams enjoys the contemporary Californian restaurant Salt (13534 Bali Way), which opened in 2015 inside the revamped Marina del Rey Hotel. Another dinner hotspot is Bayou's pick for steak: chef Josiah Citrin's Charcoal Venice, which opened in late 2015 (425 Washington Blvd.). And the Ritz-Carlton (4375 Admiralty Way), which completed extensive renovations in February and launched poolside cabana rentals this summer, is a frequent filming location that has hosted Johnny Depp and Halle Berry (It's also where Snoop Dogg was married in 1997).
Manhattan Beach
Southwest of Los Angeles, three miles south of LAX, on the southerly end of Santa Monica Bay lies the tiny, prototypical beach town of Manhattan Beach. Even with its small footprint — just 2.1 miles of pristine beachfront — it's become a sought-after address. "Manhattan Beach does, I think, have a little flashy scene — you see the athletes living there," says The Agency partner David Solomon. Training facilities for the Lakers, Kings and Clippers are nearby in El Segundo. Zooey Deschanel, Vince Vaughn, Owen Wilson, Ticketmaster president Jared Smith and Mad Men writers Andre and Maria Jacquemetton are a few of the Hollywood types who call the South Bay's affluent, family-friendly neighborhood home. Athletes include tennis stars Maria Sharapova and Victoria Azarenka, Mia Hamm, basketball player Steve Nash and the Kings' Dustin Brown. Despite a few beachfront properties on the market asking astronomical numbers of $7,000 per square foot ($12 million to $14 million total), The Agency director Michael Grady, a native, says the homes on the Manhattan Strand are currently running between $3,000 and $4,000 per square foot, while those on the 100 block with views run in the $2,000 to $2,500 range.
HISTORY
Manhattan Beach was founded in 1912, and was mostly made up of sand dunes used by Hollywood studios in the '20s and '30s to film desert scenes. Around the same time, excess sand was sold and shipped to Waikiki to improve the Hawaiian island's rocky beaches. In the '30s, Errol Flynn owned a home in the quiet South Bay beach town. Together with Hermosa and Redondo Beaches, which lie directly to the south, Showtime vp entertainment relations Frank Marchesini says: "There is a certain camaraderie you have with the people who have to make the commute up to work, especially if you work in the entertainment business. You feel like you get out of the Hollywood bubble." A lot of the Kings' hockey players live on the north side, he says, but down south in Hermosa, Quentin Tarantino once worked at a video store, John Wayne had a place, and Miles Davis, Dave Brubeck and Chet Baker all played at the Lighthouse Cafe, which is still open on Pier Avenue.
DO CHECK OUT
High-end dinner destinations Manhattan Beach Post (1142 Manhattan Ave.), Fishing with Dynamite (1148 Manhattan Ave.) and Strand House (a go-to sunset viewing spot; 117 Manhattan Beach Blvd.) have opened in recent years along with the boutique Shade Hotel (1221 N. Valley Dr.; there's another opening soon in Redondo).
Are There More Sharks This Year? 6 Burning Beach Questions Answered
With a female swimmer bitten by a supposed great white shark during Memorial Day weekend in Corona del Mar, followed by a reported attack on a fisherman's boat in Santa Cruz and spottings off the L.A. coast in recent years, SoCal has been on high shark alert. The Pelagic Shark Research Foundation's Sean Van Sommeran chalks up the perception of increased sightings to social media, camera phones, GoPros and drones, but the region's foremost shark expert, California State University, Long Beach's Chris Lowe, says: "Yes, there has been an increase in the past 15 years." He cites Ventura, Santa Monica Bay, Huntington Beach and Dana Point as hotspots: "We don't really know [why], but it is interesting to note that there are deep-water canyons that lead to shore at these locations." But both experts believe that most of the sharks found close to shore are juvenile — too young to cause any real danger and only biting if provoked — while adult great white sharks are found mostly offshore, around Catalina and the Channel Islands. In terms of safety, common sense prevails: Always swim in pairs, stay near lifeguard towers and heed warnings. The crowd-sourced app Dorsal, which recently soft-launched in the U.S., reports 92 shark sightings in California for this year alone.
L.A.'s Ugly Jim Crow History: When Beaches Were Segregated
Cristyne Lawson
During Jim Crow — until about 1960 — L.A.'s beaches were segregated. "It was more by practice because California had civil rights laws from the 1890s that said public resources were open to all," says Alison Rose Jefferson, a third-generation Angeleno and UC Santa Barbara historian. Bruce's Beach, founded by Charles and Willa Bruce in 1912 on two blocks a Manhattan Beach deed had set aside for African-Americans to purchase, was SoCal's first black resort. By the early '20s, though, the Ku Klux Klan had incited residents and "through eminent domain took the land to make a park — but didn't build it for 60 years," says Jefferson.
In 1922, African-American investors bought land at the end of Pico Boulevard to develop into an amusement and resort facility, but 600 Santa Monica residents showed up to protest at the city council, which passed an ordinance barring anything bigger than a house on the property. (The city's black population was about 300, out of a total of 15,300.) Of course, says Jefferson, "a few years later they let white folks build all those beach clubs, including Casa del Mar and the Waverly Club, all before 1930." Shutters on the Beach now sits on that contested land; the private Jonathan Beach Club only began allowing women, Jews and African-American members in the late '80s.
Source:
The Hollywood Reporter and Billboard
http://www.hollywoodreporter.com/lists/beaches-los-angeles-ultimate-insiders-916991/item/malibu-la-beach-guide-916987