3 day trips you should take from London: from Cambridge to Brighton
2016-08-09
« Back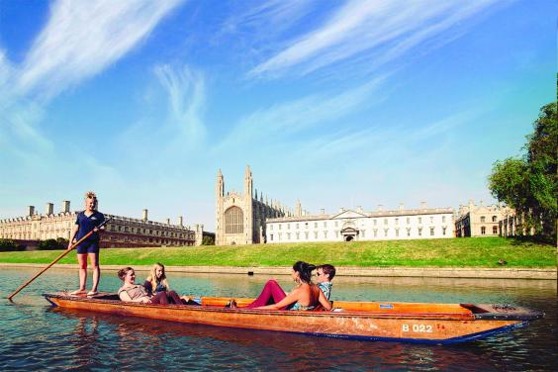 Used up all of your annual leave? Feeling summer creep away?
Not to worry - we've got Londoners covered. Here are our top three UK destinations you can escape to in under an hour and a half.
1. Cambridge
Slow the pace in the historic city of Cambridge.
How Long?
King's Cross to Cambridge Station in 46 minutes.
Lunch:
Keep things simple at Bread & Meat. A two-minute walk from the famous King's College Chapel, this quaint lunch destination is straight-forward and delicious. It's a popular place, though, so turn up for an early or late lunch to avoid queues.
Tip:
Make time to hop next door to Cambridge's most famous pub, The Eagle. Look for the plaques by the entrance to find out why.
Afternoon:
Most of Cambridge's iconic sights can only be truly appreciated from the river. Head to Scudamore's Punting to arrange a chauffeured river tour of Cambridge's world-famous colleges.
Dinner:
For larger budgets, Midsummer House is the restaurant of choice. Run by two-starred Michelin chef Daniel Clifford, this restaurant was named the 2nd best restaurant in the world by Trip Advisor in 2014.
The restaurant is set on the edge of Midsummer common, a park in the centre of the city which still operates grazing laws, so don't be alarmed if you spot a wandering cow or two.
For a wallet-friendly dinner, head to The Old Bicycle Shop on Regent Street. Before it was a restaurant, the site was home to England's oldest bike shop (it is rumoured that Charles Darwin bought his bike here).
Evening:
Enjoy far-reaching views across the city at the Varsity rooftop cocktail bar. Situated at the top of a luxury spa hotel and restaurant, this cocktail bar offers an unrivalled combination of quality drinks and unspoilt vistas.
Rooftop cocktail bar at Varsity Hotel (Varsity Hotel)
2. Birmingham
Often left quaking in London's shadow, the UK's second city needn't be overlooked.
How Long?
London Euston to Birmingham New Street in an hour and 25 minutes.
Lunch:
If visiting after the 9th August, go to The Warehouse Cafe (they're on holiday until then). This vegetarian cafe in trendy Digbeth has reached cult status in Birmingham so be sure to book ahead. A good alternative would be to head to Cafe Opus along the canal.
Afternoon:
A true art house cinema, soak up the history in the oldest working cinema in the country. The Electric first opened its doors in 1909 and has been running films (almost) ever since.
The oldest working cinema in Britain, The Electric (The Electric)
The city has an excellent and large art gallery in the central Chamberlain Square, but the real jewel is found a little outside of the centre at Birmingham University's Barber Institute of Fine Arts.
Birmingham University has a train station on campus, so it's certainly easy to get to. Have a wander through University Square on your way to the gallery – the tower (affectionately named 'Old Joe') is the tallest free standing clock tower in the world and was allegedly the inspiration for J.R.R Tolkein's Eye of Sauron.
Dinner:
You can't go to Birmingham and not have a curry, and Lasan does the best. With the restaurant being named as Gordon Ramsay's 'Best Local Restaurant' and chef Aktar Islam's win on Great British Menu, Lasan's modern menu is not to be missed.
If you can make it down on a Friday, the Digbeth Dining Club is well worth a visit. Voted the best Street Food Event in 2013 and 2014, this is the place to go if you're looking for something livelier.
Evening:
Try award-winning The Lost & Found for post-dinner cocktails. Built around a fictional Victorian explorer and bontanist - Hettie G. Watson - this sprawling cocktail bar is full of surprises and secret, cosy corners.
Tip:
Look out for Hettie's "secret emporium": a bar hidden behind a bookcase
Bar behind the bookcase, Lost & Found (The Lost & Found)
3. Brighton
Cleanse your city lungs with some seaside air.
How long?
London Victoria to Brighton Station in 56 minutes.
Lunch:
Surely it has to be fish and chips! Bardsley's is generally considered to be the best, though sadly it is not on the seafront. It's just a ten-minute stroll from the train station, though, so hop off the train from London and satisfy your seafood cravings.
Afternoon:
If you head off from Bardsley's in the direction of the coast, you'll hit the main sights on your way. First up will be the iconic Brighton Pavilion, a beautiful wedding cake of a building set in park surroundings. Find a shaded corner and snooze off your lunch.
Once you've regained consciousness, cross over the road to the Laines for a wander around Brighton's quirky boutique shops.
Zetter Group to open its first hotel outside of London in Manchester
Finally – you know what's coming – the beach! Release your inner child and seek out Boho Gelato (just off the beach) for ice cream then head to Brighton Pier for some seaside nostalgia.
Dinner:
Food for Friends has had a lot of recognition since opening. This is a vegetarian restaurant which has strived to make its dishes as sophisticated and flavourful as any other leading non-vegetarian restaurant. Meat lovers, give it a go – you won't miss the meat.
Evening:
Tucked away down a little street off the main promenade is The Potting Parlour. Specialising in quality cocktails, this watering hole has become a favourite among the locals.
Source:
Evening Standard
By:
Gabby martin
http://www.standard.co.uk/lifestyle/travel/3-day-trips-you-should-take-from-london-from-cambridge-to-brighton-a3313141.html#gallery