5 tips to make the most out of your business trip in Bangkok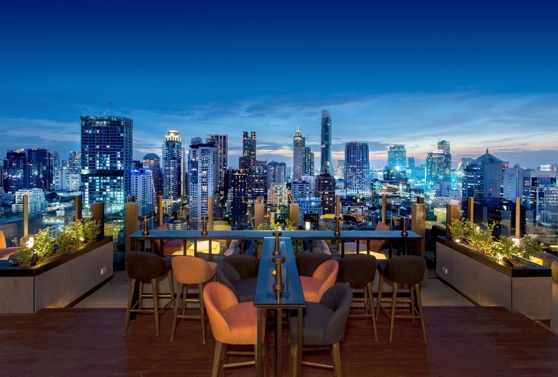 Tight schedules, early morning calls, and back-to-back meetings can suck the fun out of work trips.
While it is true that such trips are intended for a professional purpose, there's no harm in taking some time to explore a little bit of the city- especially if the city you are in is eclectic Bangkok.
After all, it helps with some "market research"!
Here are some tips by experts on how business travellers can wind down in Bangkok without venturing too far away from the city centre.
1. Take a breather at one of the many parks and green spaces
Strategically scattered in between towering skyscrapers and mega malls are pockets of landscaped greenery providing fresh air and open spaces. Get an energising start to the day with a jog at Benjasiri Park, or relax with an evening stroll at Lumpini Park, Bangkok's largest park that spans over half a million square metres. Lumpini Park offers a rare open public space in the middle of the traffic-heavy city, and it even contains an artificial lake where visitors can rent boats.
2. Find a rooftop watering hole to cool off from the heat
Who doesn't love a tipple after a hard day's work? For excellent views of the city skyline, head over to Maya Restaurant and Bar on the 29th floor of Holiday Inn Bangkok Sukhmvit. The bar is also next to a rooftop pool - perfect for those who want to cool off. There is also a new rooftop bar on the 26th floor of Hotel Indigo Bangkok at Wireless Road. The bar features a retractable roof, live music, and signature concoctions by award-winning Italian mixologist Francesco Moretti.
3. Travel in the sky
If your company doesn't provide transport for your trip, hop onto the BTS Skytrain. Bangkok is infamous for its frequent traffic congestions and travelling by the Skytrain can sometimes be much faster than a car ride. As long as your hotel is within walking distance to a BTS station, you can easily commute to many places in the city. Skytrains run frequently through modern and well-marked stations such as Chit Lom, which is located right at the doorstep of InterContinental Bangkok and Holiday Inn Bangkok. It also stops right outside popular shopping malls like Siam Paragon and Terminal 21.
4. Get cultured
Bangkok may be a cosmopolitan city, but it is also home to many old shrines and temples, especially in the Sukhumvit district. If you enjoy immersing yourself in the local culture and only have a couple of hours to spare, pay a visit to the Erawan Shrine or the Bangkok Art and Culture Centre for a taste of Thai culture and heritage. Consider taking a free river boat ride which runs daily from Saphan Taksin BTS station, conveniently located just a stop away from Holiday Inn Silom. The boat will drop you off at Asiatique The Riverfront, Bangkok's largest open air mall, for a night of shopping by the Chao Phraya River.
5. Eat your heart out
Even if you don't have enough time to do all of the above, you should never miss out on Bangkok's street food! There are street food bazaars and push cart stalls at almost every 500m in the city. The best part of indulging in street food is its affordability. Street food can also be enjoyed on the go, so busy professionals don't have to worry about lingering and wasting precious time. While it is likely that you will see a cluster of street food hawkers right outside your hotel, the most famous food street in Bangkok is at Silom Road where you can find anything from coconut ice cream to traditional Gai Bing (grilled chicken skewers).
Source: Asia One
By: debwong@sph.com.sg
http://travel.asiaone.com/travel/destinations/5-tips-make-most-out-your-business-trip-bangkok