Expatriates want to see out their days in the UAE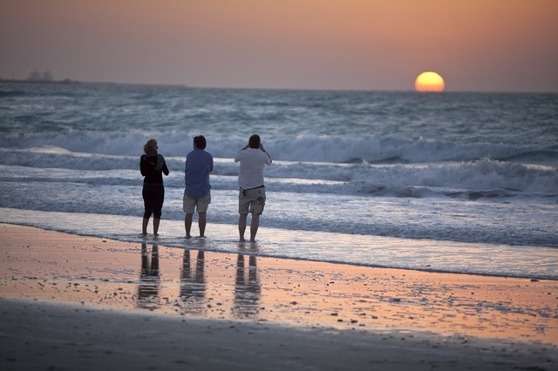 ABU DHABI
// Expatriates are seeking changes to let them live out their days in the UAE, and believe the Government should review their retirement age.
Many who have spent most of their working lives in the country dream of retiring here. They would like to see restrictions eased to allow expats, who make up about 85 per cent of the population, to obtain a residency visa after turning 65. Abu Dhabi resident Liz Beneski said she would be thrilled to stay after she finished working.
"I will be shattered if they don't change the rules," said Ms Beneski, 48, an American. "My clock is ticking and I moved here to stay for life. carefully chose my life in the UAE for many reasons but mainly because the growing healthcare sector, tourism attractions and modernity of design."
The marketing and communications director for the Beach Rotana Abu Dhabi would also like expat workers to be given the freedom to work for longer.
The retirement age for expats is 60 years, although the Ministry of Labour accepts requests for work permits for people over that age, up to 65. The retirement age for Emiratis is 49.
"I wish the Government would reconsider its age limits on employment," said Ms Beneski. "It would be my dream to be able to work until mid or late 60s, then retire and remain welcome."
Al Ghadeer resident Anita Nasr agreed. "It's early yet for me to start worrying about retirement but after 17 years in the UAE as a hard-working, law-abiding resident, it would be nice to know I didn't have to leave the minute I stopped working," she said. "Like many Lebanese, my long-term plans have to include a Plan B in case the situation there deteriorates further. Knowing there's an option close to home would be a great relief."
Sarah Flowerday said life after retirement was a constant concern. "I want to stay and this is something that worries me a lot," said the Brit, the global vice president of a manufacturing company. "I've been here nine years now and have 20 left before I retire, and I honestly want this to change for us. "I hope I don't have to leave and I hope I'll be here for the next 20 years until I do retire."
After 41 years in the country, Manzer Qayyum wanted to consider the UAE a home for life. "More than a want for me, it is a need to retire here," said Mr Qayyum, 55. "I am from Pakistan and my wife is Indian. This is the place we got married and both our sons are working here. "We have all our friends here and it is going to be very difficult to adjust if we ever go back. "If the government here can make the visa rule easy for people who have lived here for decades and help with medical care, this would be the ideal place for us to retire.
Purvi Gokani Rupareliya, 37, owner of the Beautiful Henna Centre in Abu Dhabi, said she would also like to stay longer if the rules of residency and retirement were easier.
Pakistani financial controller A M, 26, hoped the rules would change.
"It should be the same like in the West or in Europe," he said. "If you spend five years or so you get permanent residence or nationality. "Here you don't get either. At a minimum, permanent residence should be there for those who spend more than 10 years here."
Published:
http://www.thenational.ae/uae/government/expatriates-want-to-see-out-their-days-in-the-uae