Denis Suarez: "To play at Barça and live in Barcelona is perfect"
2016-07-27
« Back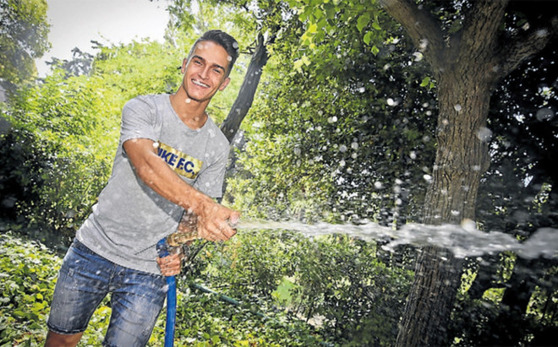 I would imagine a good Galician should always have the region's excellent food in mind?
I really like to go to different restaurants when I am on holiday, but aside from that, in the summer, I go with my girlfriend looking for tranquility. I like to travel and spend time at home, in Galicia, with my family and friends.
Is eating good seafood the best possible lunch to enjoy during the summer?
Without doubt!
Is going to the beach one of your favourite habits during this time?
Yes, we have many good beaches in Galicia.
When you go to the beach, do you prefer to sunbathe or do water-based activities?
I like to do a bit of everything. I think the best formula is to balance the tranquility of resting on the beach, with the option of doing activities, such as going on motor boats, which is really good.
Aside from the beach, what else do you like to do to enjoy your free weeks?
Well to be calm and disconnect. To spend time with friends is a good way of doing this.
How does a professional disconnect in a world where football is so popular and the sports media so intense?
The truth is that I am not so focused on the day-to-day news or press stories during the summer. I isolate myself a little more from what is being said.
When you are not updated on football news, do you like to follow other types of news?
Yes, to be updated on what is going on in general news interests me.
Does politics attract you or are you one of the many who prefers to ignore it? For example, did you vote at the last elections?
Yes it interests me. On June 26, I went to vote in the general elections, but I don't consider myself a big follower of these issues.
How do you see Spanish society? I don't know if what the youth is going through concerns you, for the experiences that your friends may have had?
Fortunately, my friends are fine as they study or work. I am happy for their situation as it is not always easy to forge ahead.
Do you like the fact that the president of the government (Mariano Rajoy) is Galician like you?
Well...yes and no...whoever is in office, what I want is for them to do well. But neither do I want to enter much into these topics.
Do you manage to have conversations with your friends that do not focus on football?
That is tough to manage. They like to talk about football a lot. More so when there is a European Championship being held, like this month. We like to discuss the games, the plays...it is normal because we are all big fans.
Does technology form part of your life, as with all youngsters of your age?
It is the reality of the current world. Technology is developing more and more. As time passes, more things are being released and you can experiment more. It is something that attracts me.
Do you have many whatsapp groups on your mobile?
I have some, but not too many. I like to be calm.
Are you one of those who silences these groups, or one who likes to comment constantly?
I think it is better to silence them. Particularly at night. There are some friends who don't stop! That is when it is time to rest and not be distracted by the phone.
Does social media have a danger of creating addiction in youngsters?
It is like everything. In the end, if you get hooked a lot, it can generate addiction, but that is not my case. As you can see, I like tranquility above all else.
Can you live calmly in Barcelona or is it impossible amongst so many people?
I love the city of Barcelona. For me it is the best city to live in Spain. I got to know it from my time at Barça B and I enjoyed it a lot. The combination of playing for Barça and living in this city is perfect.
So it is very different to Manchester, which you know from playing at Manchester City as a youngster?
(Smiles) Yes, it's nothing like it.
What place would you recommend to me to lose myself on a free day in Barcelona?
I like to stroll around the Barceloneta area. It is a very varied place, with a diverse group of people, many foreigners and they don't know you a lot. I think Barceloneta is great. You can have a walk around and relax. It has everything.
Are you one of those celebrities that disguises themselves to go into the street or do you go as you are?
I don't have a problem, I wear my normal clothes.
We have spoken about Barcelona, but can you tell me a corner of Galicia to lose myself?
The Cies Islands.
Published;
http://www.sport-english.com/en/news/barca/denis-suarez-play-barca-and-live-barcelona-perfect-5274071