Average Abu Dhabi housing rents fall for first time in three years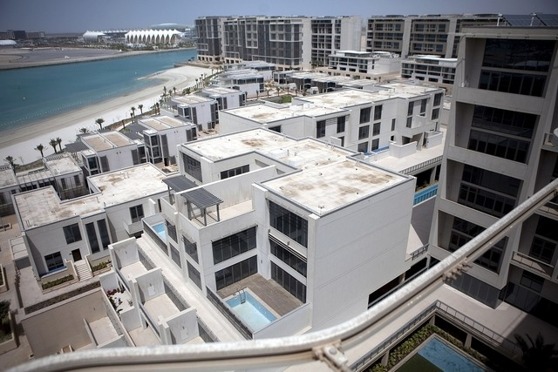 Average housing rents in Abu Dhabi have fallen for the first time in three years, driven by thousands of job cuts and an increase in the cost of living.
The first signs of long expected falls in housing rents in Abu Dhabi started to appear in the second quarter, according to new reports from property brokers JLL and CBRE.
JLL found that average prime rents for two-bedroom apartments in the capital fell 2 per cent in the second quarter to Dh160,000, compared with the first quarter, as a fall in oil price impacted the emirate.
"While supply remains stable, the reduction in demand has now started to cause vacancy rates to nudge upwards, indicating we have now reached a tipping point with rents declining for the first time in three years," said David Dudley, head of JLL's Abu Dhabi office.
According to JLL, news in May that state-owned oil company Adnoc was planning to cut 5,000 jobs by the end of the year, and staff cuts at other government companies, is pushing the city's population not to grow as quickly as expected and leaving apartments empty.
With more expats and their families expected to leave as their tenancies expire at the end of the academic year and further rationalisation expected in the aftermath of recent mergers between lenders NBAD and FGB and state-owned investment firms Mubadala and Ipic, JLL forecast that rents are likely to fall further in the third quarter of the year.
"We expect the impact of these job cuts and reduced incomes to become more pronounced over the summer, as some people look to either leave or downsize," said Mr Dudley. "This will push vacancy rates up further and cause rents to decline at a time-lag."
CBRE also reported a 2 per cent decline in apartment rents in the second quarter, compared with the previous quarter, and added that villa rents in the capital also fell by an average of 1 per cent.
CBRE said that most demand was coming from tenants looking for cheaper apartments – something which is currently being exacerbated by a drop in disposable incomes in the city.
It said that a reduction in employment allowances and benefits, the removal of fuel and water subsidies and a new 3 per cent municipality fee on Abu Dhabi expat rentals is forcing some tenants to downsize to smaller, cheaper apartments.
"With economic challenges expected to continue in the short term, we anticipate further deflation of high end/ luxury rates as reduced corporate demand creates a more tenant led market," said Matthew Green, head of research in CBRE's Dubai office.
With just 14,500 new homes expected to come to the market over the next two-and-a-half years – equating to about 5 per cent of the current housing stock – most of which will be aimed at the upper end of the market, rents for more afford­able homes were likely to remain fairly flat, Mr Green said.
"With limited stock against current requirements, rental rates for affordable units have remained steady with minimal fluctuation recorded against the general slowdown observed in the upper segments," he added.
Some brokers in Abu Dhabi have been reporting rent declines since the start of the year. According to Asteco, rents for flats across Abu Dhabi fell by 2 per cent during the first quarter compared with the previous quarter, with the biggest drops concentrated on Reem Island.
But others say that these reports are heavily weighted towards new tenancies rather than renewals.
"Given the numbers we are talking about relative to the overall size of the market, this is expected to be a soft correction rather than a sharp decline," Mr Dudley added.
"While we commend the government's prudent approach to re-prioritising spending in the current period of low oil prices, we hope that the tap is not turned off for too long or Abu Dhabi will lose the momentum it has built and we could enter a more damaging downward spiral. The extent to which a down turn can be mitigated depends on the return of domestic government spending in spite of a reduction in oil revenues."
Published:
http://www.thenational.ae/business/property/average-abu-dhabi-housing-rents-fall-for-first-time-in-three-years