Cruise to Malaga, Spain: Old-time charm with a modern twist
2016-07-24
« Back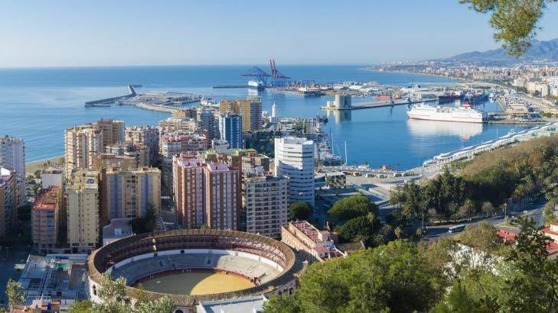 There are few better moments in cruising than when you swipe your ship card through security and disembark into a new port of call. It's early morning, and I've hurried through breakfast aboard Viking Star, ready for a day's exploration. A coach transfer makes the first part easy, hauling us upwards above Malaga to Gibralfaro fortress, the city's crumbling crown of Moorish walls. Viking Star lies below in the harbour, a toy ship in a blue Mediterranean bathtub. Malaga is all yellow walls and red roofs, the bullring below a giant ring hemmed in by apartment blocks. I imagine living there, with its weekend sights of dust and blood and roaring crowds.

This is only our second port of call on a Viking Ocean Cruises journey that will take me around Europe's edge from Barcelona all the way to Bergen. We're in Andalusia, the sun-baked southern region that provides most of the stereotypes foreigners associate with Spain: bullfighting, flamenco, tapas. Many passengers have rightly headed inland to Granada, last Islamic bastion to hold out against the Spanish Reconquest, and flamboyant with gorgeous palaces. But I've been there before, and Malaga has its Moorish legacy too. Our guided tour heads to the 11th-century Alcazaba fortress, where fountains splash in courtyards and geometry zigzags over arched windows, an Alhambra in miniature. Malaga is older even than this, with a history of settlement that goes back nearly three millennia. Phoenicians and Roman rubble pokes through its pavements on occasion, preserved under glass to the curious gaze of passers-by.

My morning Viking tour is a useful introduction to Malaga's history and chief sights, but I'm gleeful at having the remainder of the day to explore on my own. Malaga is no Granada, but the working-class city surprises me with its loveliness. It's easy to be seduced by its pedestrian shopping streets, well-groomed beaches and nonchalant air. It has gastro-bars and rooftop cocktails lounges that offer an effervescent, 21st-century twist atop its ancient heritage. It has the dynamism I felt in our embarkation port of Barcelona yesterday, but none of its suffocating tourist crowds. Of late, Malaga has been positioning itself as a cultural centre: an old tobacco factory has been transformed into a repository of Russian art, and a branch of the Centre Pompidou recently opened in a multi-coloured glass cube on the waterfront, so close to our docked ship that a walk there would scarcely work off a single breakfast croissant.

I have no time for all of these; a cruise is always an exercise in difficult (if pleasurable) choices. I slurp a cold Cruzcampo beer in a square and decide on the Museo Picasso, reputed to be one of Europe's best small art galleries. It traces the evolution of the great painter from his birth here in Malaga through his long career, and holds some 200 Picasso paintings, drawings and ceramics from the family's own collection.

The Little One-Armed Lady could be the title of a Picasso painting, but is actually the affectionate local nickname for the city's cathedral, whose second tower was never built. I find it near the museum, a mad lumpen muddle with Gothic foundations, Renaissance walls and a riotous baroque interior decoration. Women squat beneath its wrought-iron gates, selling embroidered linen.

I like that cruises sometimes bring me to places I mightn't otherwise consider. I'd always imagined Malaga was just the airport gateway to the hooray-holiday Costa del Sol, overrun with concrete and fish-and-chip shops. Instead, I find a very Spanish city whose intimate old town is a charmer of tangled alleyways and squares around central Calle Larios, paved in marble and lined by sophisticated coffee-shops and boutiques. Souvenir stores are a cut above the norm – glazed ceramics, painted fans – while other shops display designer beachwear and Danish furniture.

I buy a paper cone of sugared almonds and walk down shaded streets where buskers strum melancholy tunes, then laze over the city's classic summer drink, zumo y tinto, a refreshing mixture of red wine, orange juice and sparkling water. Maybe I could live here, I think, in this perpetual sunshine, leaning off my balcony to gaze at people below; slinking out after dark for tapas in a tavern where hams hang from the rafters and the olives pop with chilli.

By three o'clock I'm beginning to shuffle slowly back towards the harbour, and find another treat. Paseo del Parque must be one of Europe's oddest parks: part highway, part social gathering place, part green space. Mexican fan palms sway as if practising flamenco, bamboo looms, ducks quack in ponds. At the far end of the promenade a roundabout loops around a statue of the Marquis of Larios, who first mooted the idea of a botanical garden right in the heart of the city. The Malagans appear to have taken him literally: lush foliage erupts around bus stops and newspaper kiosks as traffic grumbles. Office workers slump on benches, ties askew.

Across the road, locals and visitors alike perambulate along the marina. Like much of the city centre in the last decade, it too has been rebuilt and reimagined, shaded by an undulating white canopy that brings urban chic to what were once just rundown warehouses. Now people slurp on scarlet ice-cream ziggurats and sit in cafes over dishes of fried fish and purple-shelled cockles in garlic and parsley sauce.

I head on tired legs towards the looming bulk of Viking Star. There are few better moments in cruising than when you swipe your ship card through security and are enfolded back into the pleasures of your ship. My cabin will be freshly tidied, my afternoon tea awaits in the Wintergarden, my dinner will appear with perfect ease. And then we'll sail onwards, heading west, with more discoveries just over the horizon.

TRIP NOTES
MORE INFORMATION
vikingcruises.com.au

CRUISING THERE
Viking Ocean Cruises' 15-day Passage through Western Europe between Barcelona in Spain and Bergen in Norway visits five countries and the ports of Malaga, Cadiz, Lisbon, Leixoes (Porto), A Coruna, Cherbourg, Le Havre, Southampton and Haugesund. There are also three days at sea, great for relaxing and enjoying Viking Sea's on-board amenities.
Next departure dates are April 16, 2017, on Viking Sea and April 22, 2017, on near-identical sister ship Viking Star. Prices from $8649 per person including meals, meal-time drinks, guided shore excursion at each port, port charges and Wi-Fi.
Brian Johnston travelled courtesy of Viking Cruises.