Marktgasse Hotel, Zürich - review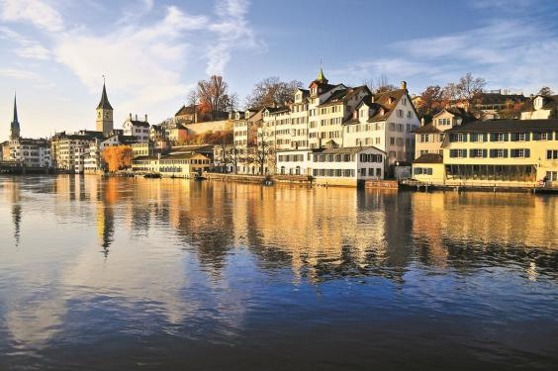 n a city where history meets style you will find it hard to better the Marktgasse, tucked away on a cobbled street corner just a stone's throw from the beautiful and bustling bank of the city's Limmat River.
Where is it? Slap bang in the middle of Zurich, a ten-minute stroll from the station which, in turn, is just a ten minute train hop from the airport.
Style: Boutique with a dash of industrial minimalism. Formerly one of Zurich's oldest inns, two listed buildings dating back to the late 13th century have been sensitively restored into a chic yet comfortably relaxed hotel that opened at the end of 2015. Many of the original features have been preserved but still look at ease alongside their contemporary neighbours.
Lausanne: where to stay, eat and drink
Practical lives alongside quirky – open spaces for business meetings, landings featuring water stations with jugs and glasses, and the reception (found on the first floor) has a wall devoted to 24/7 tea and coffee facilities that even George Clooney would use.
Facilities: The hotel has a salon and library boasting a large collection of books on art, culture cuisine and travel. For those in search of pampering, the Fitnesspark Hamam Munstergasse is but a two minute stroll away and affords Marktgasse guests the full spectrum of personal training, yoga, pilates and spa treatments.
The exterior of the hotel with its al fresco seating
Extra-curricular: Be careful of the trams, they're everywhere including one which houses a Chinese restaurant - ideal for chopstick commuting. And talking of everywhere, try counting the number of jewellery (watches, obviously) and chocolate shops. It runs to hundreds. Elsewhere the city is awash with restaurants and bars, either gracing the banks of the river, or skulking in the maize of cobbled alleyways and squares.
Dishes on offer at the Baltho restaurant
Food & Drink: The two ends of the day couldn't be more different. Breakfast is a "kid in a sweet store" experience in Delish, a bright and buzzy deli type café in a street corner location with displays of sumptuous food that shout out "come in and eat me". From fruits and yoghurts, to pastries and cakes, cheeses and hams, bacon and eggs, you could start at one end of the display and just keep going. At night, the mood changes to the Baltho Bar – dark, wooden and intimate. There are cocktails a-plenty, light Swiss beers and wines to tempt most palates. Here you can study the menu for the adjoining restaurant. Modern with an open kitchen, it boasts a "deliberately pared down menu". For that read "limited", but nevertheless top quality.
Which room? There are several room types, from suites (one with a rooftop terrace affording stunning views across the city) to "generous, cosy and single". The fabulous Art Deco bathroom with twin sinks, a "perfect" shower and luxurious bed ticked all the boxes - the slanting floor a quirk to get used to. Strangely, after an evening in the bar, it seemed to be levelling out.
The Junior Suite's enviable rooftop terrace
Best for: City lovers – it's in the heart of beautiful, buzzy Zurich and so easy to get to.
Any downsides? It's not cheap, but hey, this is Switzerland, it doesn't do cheap.
When to go: Whenever you can. If the sun's out a walk by the river to Lake Zurich is unbeatable. In the rain? There's always a watch or some chocolate to buy.
Published:
http://www.standard.co.uk/lifestyle/travel/marktgasse-hotel-z-rich-review-a3301576.html#gallery