Benidorm Festival means November takes off!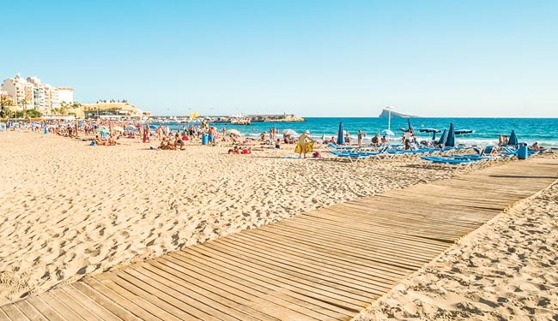 Jet2.com has added an extra 12,500 Alicante seats this November compared to last year, and the popularity of Benidorm Festival is a major driver behind this capacity increase. When you look at the festival in more detail, it's not hard to see why either.
The Festival takes place every November, from the Friday of the second weekend until the following Wednesday. Benidorm honours its two patron saints, the 'Virgen del Sufragio' and 'San Jaime Apóstol' in style over this period.
During the festival, Benidorm is well and truly alive with street parties, open air theatre, musical events, sporting contests and religious events. The celebrations end on the Wednesday evening with a magnificent parade of decorated floats, followed by a huge firework display from Playa de Poniente.
This year the festivities take place from Friday 11th November to Wednesday 16th November – and on Thursday 17th November "British Fancy Dress Day" takes place too. This tradition started over 20 years ago when Sinatras Club offered a free drink to anyone in fancy dress. Nowadays around 30,000 people parade through the streets in fancy dress costumes.
This shows just how much is happening in traditional sun destinations such as Benidorm throughout the year, not just in summer. It is why Jet2holidays has over 60 hotels operating in Benidorm over the winter. It is why Jet2.com has added 30% more Alicante seats this November – and has more than one million seats heading to winter sun destinations during winter 2016/17 – a huge 60% increase on last year.
If you want to find out more about Jet2holidays to Benidorm, or Jet2.com flights to Alicante, just visit the following links:
https://www.jet2holidays.com/spain/costa-blanca/benidorm
http://www.jet2.com/flights/spain/alicante
Published:
http://www.jet2.com/News/Benidorm_Festival_means_November_takes_off/