Top 8 adventure sports to do in Mallorca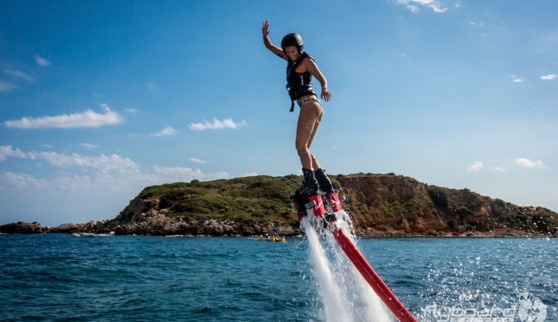 n recent years, visitors to Mallorca have discovered the island's potential for adventure sports. With a wide range of landscapes to choose from, including stunning crystalline waters, rocky cliffs and steep mountain trails, this Mediterranean paradise will satisfy even the most extreme adrenaline junkies.
There are a whole collection of adventure activities to experience in Mallorca, which can be tailored to suit all levels and ages. Here are a few of our favourites.
Flyboarding
Walking on water is a miracle no more! With flyboarding you can hover over the Mediterranean thanks to the help of a jetpack attached to your back. Propelling you vertically with the power of two water jets coming out of your boots, this relatively new sport is becoming increasingly popular. Get ready to practice your best superhero moves while you fly over the sea. There are lots of watersports companies offering flyboarding on the island, you just need to bring your swimsuit.
Mountain Biking
Road cyclists discovered the allure of Mallorca's winding mountain roads a long time ago, and nowadays even professionals flock to the island to train on the Serra de Tramuntana. However, it's also a great place for mountain bikers, thanks to its hundreds of kilometres of rocky trails that will take you through some of the most beautiful mountain and countryside landscapes, with breathtaking views over the Mediterranean. Mallorca's well-stocked cycling shops and knowledgeable local guides are a bonus.
Diving
The island of Mallorca is home to some of the most diverse marine habitats in Europe, mainly thanks to the extensive posidonia oceanica prairies that hide under its turquoise waters. These are best explored with scuba diving equipment, which can be provided by the many diving centres that dot the island's coastline and which will take you to Mallorca's protected marine areas to discover its beautiful underwater worlds.
Canyoning
Wading through fast flowing rivers, sliding over rocks into waterfalls and leaping off terrifyingly high ledges into deep plunge pools are all part of the canyoning adventure. You'll get kitted out with a wetsuit and boots before following your guide into the waterways of Serra de Tramuntana, where there are world famous gorges such as Sa Fosca or Gorg Blau. You can make it as thrilling or as tame as you like, with all jumps and slides being optional, just contact one of the adventure companies offering canyoning in Mallorca.
Jet Skiing
Jump on a jet ski and cruise across the sea at high speed -or low, whatever you decide. Jet skiing allows you access to hidden white-sand coves in Mallorca, and provides a different perspective from which to admire the island's coastline. For a great way to enjoy a day out in the sun, contact one of the watersports companies offering jet skiing.
Rock Climbing
Mallorca has an international reputation as a rock climbing hotspot, and the sport is well established on the island with plenty of routes spread all around its mountainous and cliffy terrain. There is something for everyone, from slabby walls to challenging overhangs. But it's probably deep water soloing that brings most of the climbers to Mallorca. Considered one of the purest forms of rock climbing, tackling the island's limestone cliffs with only the Mediterranean sea to break your fall is a guaranteed thrilling experience. Check out our top picks for companies offering climbing in Mallorca.
Windsurfing
Feel the Mediterranean breeze on your hair and the splash of cool water on your face while you sail around Mallorca's coastline. Windsurfing is a challenging but rewarding watersport that will give you a good adrenaline rush... and you can always stop at one of the island's sandy beaches for a well-deserved break. Ask the local adventure companies how you can try windsurfing in Mallorca.
Coasteering
We finish our list with one of the most complete watersports out there. Coasteering involves swimming, jumping, climbing, scrambling, diving and can even include paddling. A great way to explore all the nooks and crannies of Mallorca's spectacular coastal cliffs, coasteering is offered by local activity companies on the island and can be practiced by the whole family.
For other adventure sports in and around Mallorca check out our activity companies listings, and our selection of watersports.
Published :
https://www.seemallorca.com/news/top-8-adventure-sports-to-do-in-mallorca-mallorca-island-697814