Introducing, the Philippines
2016-07-20
« Back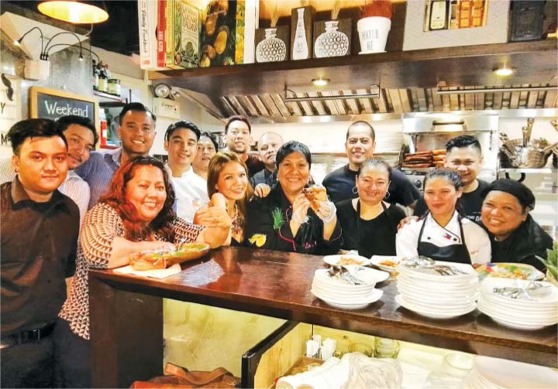 It was an eight-course dinner designed to cater to the homesick Filipino expat as much as it was to convert the uninitiated to our no-frills cuisine: Pork chicharon for starters; chicken wings inasal, beef tapa, ginataang alimasag, sisig, inihaw na pusit, pinakbet for the mains, and served with flourish and brought all the way from the Philippines, the star of the show, Dedet de la Fuente's Pepita Lechon with Truffle Rice.
Welcome to Cross Cultures: A Filipino Feast in Hong Kong /mb.com.ph
Cheryl Tiu, who just arrived in Manila last Friday after the triumphant two-day dinner event held at 42nd Davis Street in Hong Kong's Kennedy Town, says she couldn't be happier with the reception. "It was outstanding," she beams. "I have received nothing but praises, so I'm over the moon. If my guests and chefs are happy, and I'm able to introduce a little bit of the Philippines and paint a beautiful picture of it, then I'm happy as well."
The lifestyle journalist has made it her personal mission to make food a cultural ambassador, introducing a country by way of its cuisine, and she has been at it since September, when she first staged an Ethiopian dinner event to introduce African cuisine in the Philippines through Cross Cultures.
"When I was in Ethiopia earlier in June last year, I received messages like 'What on earth are you doing there—charity work?' 'Please come home in one piece, I heard there's war there.' 'Is there even food there?' 'Isn't it famine over there?' And I realized there were so many misconceptions about the place because it was so far away. Ethiopia is one of the fastest growing countries in the world, it is so safe, people are so kind and polite; and not only is there food there, but it is so, so delicious!" she recounts. "I wanted bring it to the Philippines and share this experience with Filipinos since we don't have a proper Ethiopian restaurant here. So I got in touch with Eat Ethio, an Ethiopian food movement by Helina Tesega (currently based out of Hong Kong), and invited them to come to the Philippines."
Cheryl has since hosted some of the greatest chefs in Manila in her effort to introduce Filipinos to strange cuisines from places like Kenya, and acquaint them with Peru's, Thailand's, Mexico's, Japan's, and always, the Philippines'.
You've brought a lot of great chefs here, but it's the first time you brought Filipino cuisine outside the country! What made you decide to pick HK as your first destination?
If in the Philippines I want to introduce new flavors and cultures from overseas, I also want to do the reverse—which is to promote the Philippines—by way of our cuisine—overseas.
Hong Kong was our first event outside of the Philippines. It was so important for me to do it here because it is one of the most important capital cities in Asia, with a dynamic food and beverage scene—but lacking in Philippine cuisine! I had heard so many things about previous Filipino restaurants in Hong Kong not working out because the reception to the food wasn't so great, and I wanted to prove that we could do otherwise—that Filipino food can be delicious, visually appealing, and well-received and placed in this food-obsessed city.
This particular Cross Cultures event was extra special to me because I specifically wanted to work with Filipino chefs who were living in Hong Kong. I wanted to show that behind a lot of the top restaurants in Hong Kong (and even the world) are Filipinos—and shine the spotlight on them for once, and likewise turn around any misconceptions there might be about Filipinos in Hong Kong, with this event.
42nd Davis, Linguini Fini, and Rocco's Pizzeria all serve Western/Italian cuisine—but for two nights, they banded together to serve their brand of Filipino food.
I decided to bring in Pepita's Kitchen from Manila as a special guest also to offer Hong Kong something that's not from there, like a little treat. Dedet de la Fuente has reinvented the lechon by stuffing it with truffle rice, and it is phenomenal. Plus Dedet has a beautiful heart, and I truly support what she does, and her advocacy, Project Wheelchair, which gives the gift of mobility to the handicapped through the form of wheelchairs.
How did you choose which chefs and dishes were presented during your two-day affair?
I really wanted to work with Filipinos living in Hong Kong, and the one I interacted with frequently was 28-year-old Jimlie "Jay" Catapang, who was head chef of Linguini Fini. I bounced this idea to him and he was game, so I asked permission from the owner of the restaurant, who was also familiar and supported Cross Cultures from its infancy, if I could "borrow" his head chef for two days, and he said yes.
Jay then introduced me to Roy San Antonio, who put Jay under his wing when he was a child, and taught him how to cook Italian food in Hong Kong. Turns out Roy San Antonio and his business partner and co-chef Roy Ocampo had just opened 42nd Davis in the up-and-coming Kennedy Town last year. And I said, it's perfect! It's Filipino-owned, we should support it. I met with them and explained what I was trying to do and they were game. They then pulled in Jerome Santos of Rocco's Pizzeria in Tsim Sha Tsui, and then Jay recommended award-winning mixologist Joe Villanueva, who's been living in Hong Kong for many years. And our all-Filipino cast was formed. They were so amazing to work with, so receptive to feedback, willing to learn and always do better, so pleasant—and so passionate about cooking and promoting the Philippines through their food—this was the first time they cooked Filipino food publicly, too. It was amazing, and I really wanted to pull them out from behind the scenes and shine the light on them.
Even the partners I handpicked to work with on this event are all tied to the Philippines: I-Remit, which is the largest non-bank, Filipino-owned remittance company, has a presence in Hong Kong to support Filipinos living there; Destileria Limtuaco is making incredible Philippine inspired liqueurs out of our local produce like Paradise Mango Rum, Manille de Calamansi, and Amadeo Coffee; Manila Chocolatier makes gorgeous pralines with Philippine flavors—we had specialty Cross Cultures pralines, which were white chocolate with sampaguita-infused dark chocolate ganache, and milk chocolate with ube ganache; and our partner hotel Mini Hotel, which has branches in Central and Causeway Bay—a lot of people don't know but the hotel is owned by the Lucio Tan family! So there's a Philippine connection 360 degrees.
What were some challenges you went through?
Distance was one, as I needed to coordinate everything from another country—I had three trips to Hong Kong prior to this event to settle everything.
What were some of the highlights of the event for you?
Being able to introduce Filipino food to Hong Kong—and have them truly, truly enjoy it. Some of them have not had it before; some have had it during trips to the Philippines but didn't enjoy it so much; some were missing home and had been itching to find good Filipino food in Hong Kong. So far, I have not heard a single negative feedback, except why was it only two days, haha! They loved the food, thought everything was delicious—both the drinks and cocktails, which we made with Philippine liqueurs from Destileria Limtuaco. An executive told me it was the best Filipino food he has ever had, and their passion in cooking was very evident. A notable food personality said she fell in love with Filipino food that evening. Another noted PR personality said he wished Hong Kong had this event every week. The reception has been incredible.
Could you please tell us who attended the event, both Filipino and foreign guests?
It was a good mix of local Hong Kong, and expats living in Hong Kong—British, American, Korean, Vietnamese, South African, Ethiopian, Irish, etc.—and of course also Filipinos living in Hong Kong. They came from different industries—finance, banking, media, F&B, public relations, education, architecture, etc.—but all who share a love for food, and a willingness to experience Filipino food.
What's your long term vision for Cross Cultures?
Cross Cultures is 11 months old now (our first event was in September 2015). I will continue to introduce different cultures through chefs/restaurants to the Philippines, and likewise, bring the Philippines overseas through our food and drink, and, with hope, get more people to fall in love with our country and cultures, first beginning with our food.
Where will be the next destination for Cross Cultures?
When I posted about Hong Kong, a lot of people in Singapore reacted—and said, I should bring Cross Cultures there! Thailand has also reached out, and a couple of other countries and continents further out in the world. We want to showcase our Filipino talent globally, and I hope to make that happen.
Published:
http://www.mb.com.ph/introducing-the-philippines/#YyQS3ylCwExmK7Qc.99