Filipino expats optimistic on new president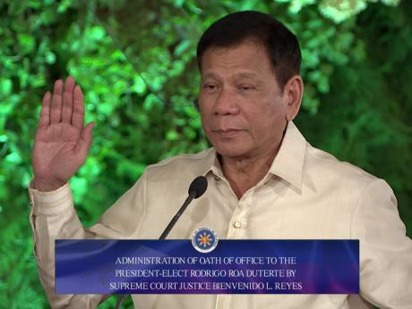 On eve of Duterte's swearing in, expats list their concerns they want him to address as priority
Dubai: As the Philippines ushers in a new President on Thursday (June 30), Filipinos in Dubai hope the new government would include their immediate concerns as overseas workers in the priority programmes for the first six months.
Rodrigo Duterte will be officially sworn in the 16th President of the Philippines on Thursday afternoon at the Malacanang Palace in Manila. Duterte won by a landslide with more than 16 million votes in the May elections. He also secured massive votes from Filipinos worldwide, including in the UAE where he got 84 per cent of the votes.
Duterte won the hearts of millions of people for his an anti-crime, anti-drugs platform coupled with his more than two decades of public service as mayor of the of Davao City.
He promised to curb government corruption and eliminate crime and drugs in his first three to six months in office but later retracted and promised to suppress them instead.
For overseas Filipino workers (OFWs) in the UAE, corruption and the perennial problems at the Ninoy Aquino International Airport in Manila top the list of their pressing issues that they want to be addressed immediately.
"I would like President Duterte to stem the "tanim-bala" (bullet-planting) extortion scheme at the airport that victimises people, even OFWs. Corrupt personnel also forcibly open many luggage and parcels to steal valuables," Marcel Correa, a housewife, told Gulf News.
Correa also said having a public hospital dedicated to OFWs and their relatives would also be helpful.
For Joshua Caidic, rampant corruption outside the airport terminals is also alarming.
"Once you arrive at the airport, almost everyone tries to fleece you. Porters charge us exorbitant fees and airport taxi drivers charge us using dollar rates, there are many colorum (slang for illegal public land transport) taxis that scam us," the Filipino supervisor said.
But Caidic also said the issue on deploying household service workers or maids is his utmost concern.
"As an overseas worker, we hope President Duterte would ensure the protection of maids who are being sent to the Middle East. Many of them seek refuge at embassies because their rights are abused," Caidic said.
Marlon Balmores, a storekeeper in Dubai, said the endless traffic gridlocks in densely populated cities should be addressed right away since they affect business growth.
Apart from Duterte, Leni Robredo will be sworn in Vice-President on Thursday.
Published :
http://gulfnews.com/news/uae/society/filipino-expats-optimistic-on-new-president-1.1854734