Youth celebrate human rights in Copenhagen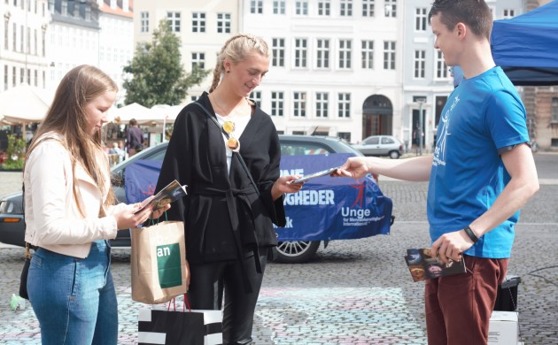 Young volunteers from the Danish non-profit organisation Youth for Human Rights (YHR) gathered on Sunday at the old market square Gammeltorv in central Copenhagen to celebrate Mandela Day.
The annual international day was launched in 2009 in recognition of the South African revolutionary and it is celebrated on the date of Nelson Mandela's birthday, July 18.
Inspired by Mandela's famous quote that "education is the most powerful weapon which you can use to change the world", the volunteers gave away free booklets about the 30 basic human rights.
Meanwhile, a Danish singer-songwriters duo, Louise Dubiel and Søren Pedersen, sang their songs and read the list of basic human rights out loud.
"I really enjoy seeing an activity like this, as with all that is happening in the world today, there is so much need for people who are interested in doing something for others," noted a passerby.
YHR Denmark was established 10 years ago and the organisation promotes human rights education throughout the country by means of art, music, dance and theater.
Published :
http://cphpost.dk/news/youth-celebrate-human-rights-in-copenhagen.html