Spain: Alicante's grape production is estimated to fall by 25%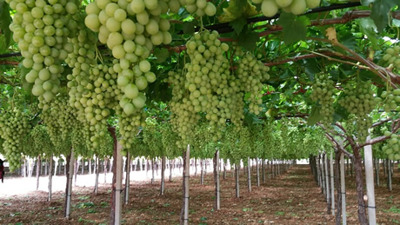 Producers have started collecting table grapes in some plots of Medio Vinalopo while others are currently performing the traditional bagging of the clusters.
This year's grapes will have a good size and excellent quality, although estimates are there will be a 25% decline in intermediate crop varieties over the previous year, i.e. from 70 million kilos last year to an estimated 52 million this year. Yet more bad news for the sector, which has been affected by a fivefold increase in production costs due to the shortage and poor quality of the water available, and the appearance of a plague of mildew fungus that has affected early varieties, which delayed the bagging of clusters for two weeks.
This setback forced producers to increase their spending on fertilizers to neutralize the negative effects of irrigation and the appearance of the fungus caused by the moisture and below average temperatures recorded in June. This situation has had a negative effect on the grapes, especially on the Ideal and Red Globe early varieties.
The president of Asaja Novelda, Pedro Rubira, estimated that the production levels of the 2016/2017 campaign would be 25% lower than in the previous campaign. "This decrease in production is due to the extreme drought that has affected us for three years, which has caused dehydration and stressed some strains that, in the previous season, resulted in smaller grain-sized grapes and reduced clusters," he said.
Nevertheless, producers from Medio Vinalopo are optimistic and believe that this campaign will be good. They also expect that the slight decrease in production and the excellent quality and flavor of their product, especially of the Aledo grape, will boost prices so that they can obtain a profit margin despite the increase in costs.
Published:
http://www.freshplaza.com/article/160475/Spain-Alicantes-grape-production-is-estimated-to-fall-by-25-procent