Abu Dhabi Summer Season is back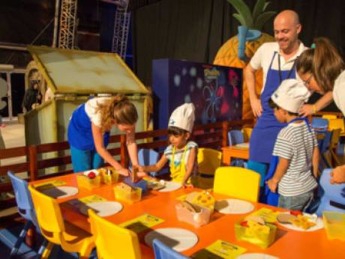 Abu Dhabi:
Abu Dhabi Summer Season is back again with an array of entertainment shows lined up across the emirate featuring theatre performances, comedy acts, concerts, and circus shows.
Abu Dhabi Summer Season, which started on July 7 and ends on September 11, is an annual emirate-wide entertainment and event programme. The diverse programmes of international shows, shopping promotions, prize draws, and hotel offers presented by Abu Dhabi Tourism and Culture Authority, TCA Abu Dhabi, are being held across Abu Dhabi city, Al Ain and the Western Region. They entertain stay-at-home UAE residents and encourage regional and international visitors to spend their summer in Abu Dhabi.
The following are some of the main events planned during summer:
Family Fun
Family Fun is taking place at Yas Island's du Forum from July 14 to August 6, and will feature gaming, cooking, sports and fashion shows.
Young gaming enthusiasts will be able to show their skills and take part in several gaming tournaments that will run from July 28 to August 6.
For older people, a series of sports and culinary shows are taking from place July 14 to July 23, including sports activities such as daily cricket, martial arts training, and a 10-day full body training programme.
Dora the Explorer, Spongebob Squarepants, and Shaun the Sheep stage shows
Children will be able to see their favourite television characters come to life as they perform on stage at Al Ain Mall from July 27 to July 30, and the Western Region from August 10 to August 13.
The shows will feature an entertaining form of story telling that will involve singing and dancing.
The teen's district
From August 18 to September 17 the du Forum will feature the district, an area that has been designed for young people. The district will hold several events and programmes to do with entertainment, digital media, health and science, and sustainability, among many others. The district will be divided into different areas each with its own specific theme.
Peter Pan theatre show
Al Raha Theatre will be the venue to watch Peter Pan's live adventure from August 31 to September 3. The show will feature at least 50 stage actors, dancers, stunts people, acrobats and illusionists telling the story of Peter Pan.
The show also includes compositions by Grammy Award winning composer Matt Drunkler.
Full schedule of shows, dates, and tickets are available through Abu Dhabi Summer Season's official website:
www.abudhabisummerseason.ae
Published :
http://gulfnews.com/news/uae/leisure/abu-dhabi-summer-season-is-back-1.1864473