From Athens to Zurich: Pensioner completing 26 marathons across the world in alphabetical order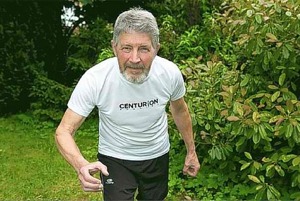 A pensioner is close to completing a task of running 26 marathons in different countries – in alphabetical order.
Keith Simpson, 67, has already run 572 exhausting miles but is determined not to stop in a bid to finish the W, X, Y and Z of his mission.
Retired teacher, Mr Simpson, an athlete with Riddlesdown Parkrun, never thought he'd complete a marathon until his running-fanatic daughter Catherine convinced him to pledge to the A to Z challenge, starting in Athens.
Mr Simpson said: "I'd ran a few half marathons before but running was only as a hobby.
"A few years after I retired I pledged to do something out of my comfort zone.
"I didn't like running or walking and then being unfit. I wanted to be healthier."
He is now almost three years into his challenge, with four more countries to visit before he can say he has completed the 26 marathons.
And Mr Simpson, a father-of-three and former physics teacher at Caterham School, said his age has not held him back.
"I know runners my age who are doing centurion races (100 miles) so it's not unusual," said Mr Simpson, from Caterham.
"If they can do it, I can do it.
"I know people that are in the same age group who have difficulty running for the bus.
"Sometimes when I run for the bus if I'm late I think the driver looks at me like 'god he should not been running for a bus at his age'. I am quite careful about what I eat, but when you're running it doesn't matter. I was never overweight anyway but I've lost about 5kg."
Mr Simpson, who sometimes travels to the runs with his wife, Marion, has battled both winds and sweltering heat in the challenge that has pushed him beyond what he expected.
His personal best is three hours and 51 minutes but he always aims for the four-hour mark.
"In Jamaica I was running in 30 degree heat with nothing but the sun in the sky, beating down on me," he said. "I try to keep running but when it's that warm it is hard and I walk a bit.
"My favourite was the Midnight Sun run in Tromso."
space
The last leg of his journey will be in Warsaw, in Poland, in September, then onto Xiamen, in China, and Yangon, in Myanmar, in January.
Zurich will be his last 26-mile marathon in April 2017.
Keith is fundraising for communication impairments charity Afasic. To donate visit uk.virginmoneygiving.com/KeithSimpson26
Marathons Keith Simpson has completed
Athens Classic Marathon, Greece
Bermuda Marathon, Bermuda
Cyprus Marathon, Cyprus
Dusseldorf Marathon, Germany
Edinburgh Marathon, Scotland
Marathon du Finistere La Transleonarde ,France
Guernsey Marathon, Guernsey
Hageland Marathon, Belgium
Istanbul Marathon, Turkey
Jerusalem Marathon, Israel
Kharkiv International Marathon, Ukraine
Lima Marathon, Peru
The Midnight Sun Marathon, Norway
Novi Sad Night Marathon, Serbia
Ostravsky Marathon, Czech Republic
Podgorica Marathon, Montenegro
Queenstown Marathon, New Zealand
Reggae Marathon, Jamaica
Seville Marathon, Spain
Treviso Marathon, Italy
Utrecht Marathon, Netherlands
Victoria Falls Marathon, Zimbabwe
The four Mr Simpson hopes to complete by April 2017
Warsaw Marathon, Poland
Xiamen Marathon, China
Yangon Marathon, Myanmar
Zurich Marathon, Switzerland
Published:
http://www.croydonadvertiser.co.uk/four-marathons-for-keith-to-complete-running-total/story-29511850-detail/story.html#yPy6rf8tQJxIyo51.99