Alpine Days fest begins in Lake Zurich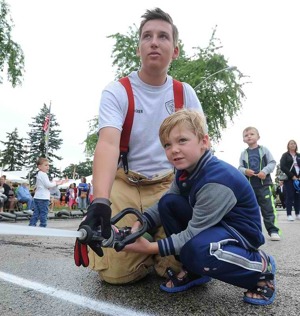 The Lake Zurich Lions Alpine Days festival is underway in Lions Park with a variety of fun activities scheduled throughout the weekend.
On Friday, the firefighter water fights kicked off the event at 5:30 p.m., with the rides, entertainment and food booths opening at 6 p.m. Vintage rock and blues band EVO II took the stage, followed by country music band Hillbilly Rockstarz.
The fest runs from noon to midnight on Saturday, July 16, with business water fights starting at 12:30 p.m. Face N Time, 7th Heaven and ARRA are the bands on tap.
The Alpine Days parade will step off at 11:30 a.m. on Sunday, July 17, with the fest ending around 9 p.m. Sunday's entertainment includes Dave DiNaso Traveling Reptiles, Out of Storage and Sonic 7.
Published:
http://www.dailyherald.com/article/20160715/news/160719268/