Expat Tales: The 'rich diversity' of Kuala Lumpur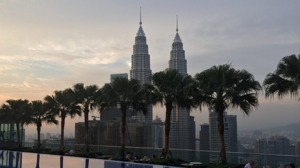 A fascination with Southeast Asia saw Aucklander Dan Bidois make the move to Kuala Lumpur, Malaysia.
What inspired your move to Kuala Lumpur?
After living in France for three years, I wanted to move to a more dynamic region of the world and I had always been interested in understanding Southeast Asia at a deeper level. I also wanted to move a little closer to home as well.
What do you do there?
I'm a strategy advisor to the Malaysian government.
Kiwi expats: What's your tale?
Share your stories, photos and videos.
What are the greatest advantages to living there?
Malaysia has a rich diversity of cultures, foods and languages so there is always something new to learn. The cost of living as an expat is much lower than New Zealand. It's sunny and warm all year round, and KL itself is well connected to other countries and cities and is a stone's throw away from dozens of tropical islands in the region.
Disadvantages?
The traffic can be really bad (think Auckland's rush hour times 10), the humidity and heat can place limitations on what you can do outdoors and adjusting to very different cultural and social norms from a western culture like New Zealand can be challenging at times.
How expensive is it compared to New Zealand? How much is a beer?
Living in KL as an expat is much cheaper than living in New Zealand, although the one exception is alcohol which is roughly the same price as in New Zealand since it is taxed at 100 per cent.
SUPPLIED
Dan Bidois moved to KL after spending three years working in Paris and two years studying in the United States.
What do you do in your spare time?
It's super cheap to fly with AirAsia, so there are a lot of opportunities to explore Malaysia's beaches (Langkawi, Perhentian, Redang and Penang islands are the best), mountains (Malaysia is home to the tallest mountain in Southeast Asia, Mount Kinabalu) and wildlife. And of course, it's super easy to visit other countries in the region as well.
What's the local delicacy and would you recommend eating it?
Malaysia's national dish is Nasi Lemak, which is chicken and rice cooked in coconut milk and served with local side dishes.
Easiest way to get around?
Uber and AirAsia.
SUPPLIED
Malaysia is famous for its delicious cuisine.
What's the shopping like?
There's more range and it's much cheaper than New Zealand
Ad Feedback
Best after-dark activity?
Eating!
Best time of year to visit?
All year round.
What are the top three things you recommend for visitors?
1. Visit Kuala Lumpur City Centre and Petronas Twin Towers.
2. Climb Mount Kinabalu in Sabah.
3. Scuba dive in Redang Island.
Besides family and friends, what do you miss most about home?
I miss the smallest of things about New Zealand life, like jogging along Tamaki Drive in Auckland, eating fresh NZ snapper and fejoas and watching the odd Warriors NRL match from time to time.
How easy is it for you to get back to New Zealand?
AirAsia is now flying to Auckland via the Gold Coast for less than $600 round trip.
For Kiwis looking to move there, which industries are seeking fresh talent?
If you're an unconventional Kiwi looking at making the move to Asia, you should spend time researching the various cities in the region as the expat experience can vary widely, and also think about how to enter this region whether it be as a student, a transfer from your NZ job or possibly as an entrepreneur establishing or expanding your business in Asia.
If you're a Kiwi business looking to expand into Asia or Malaysia specifically, you should make sure you 1) do sufficient market research upfront in order to understand the local markets here as consumers can be very different compared to traditional western-style consumers, 2) strongly consider partnering with a local firm or person in order to navigate the complex relationships and practices surrounding business in Asia, and 3) fully leverage the New Zealand expat community in the region.
Published:
http://www.stuff.co.nz/travel/kiwi-traveller/81351243/Expat-Tales-The-rich-diversity-of-Kuala-Lumpur