Best tourism cities of world: Chiang Mai #2 & Bangkok #14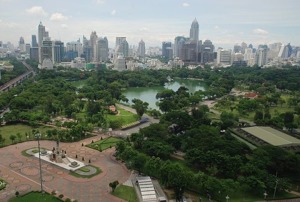 Chiang Mai & Bangkok make 15 World's Best Cities of Travel + Leisure magazine. Palawan, Cebu & Boracay best islands, Luang Prabang puts in good showing.
TOURISM
Best tourism cities in the world: Chiang Mai #2 & Bangkok #14
7/07/2016
Online Reporters
Travel + Leisure magazine had their readers rank the cities of the world to determine the best urban centers in the world
Chiang Mai and Bangkok made the magazines list of the 15 World's Best Cities for 2016.
Northern Thailand city Chiang Mai ranked second with a score of 91.25.
Bangkok ranked 14th scoring 88.96. Last year Bangkok ranked sixth out of 10 and Chiang Mai didn't even make the list.
Other ASEAN cities that made the list included newcomer Luang Prabang in Laos at fifth (89.85) and Cambodia's Siem Reap, home to the ancient ruins of Angkor Wat, at 13th (88.961), down from third last year.
The winning city overall was US city Charleston, South Carolina, with a score of 91.66, up from second last year and taking over from Japan's Kyoto (89.75), winner in 2014 and 2015. Other cities on the list include Rome (11th) and Florence (4th), South Africa's Cape Town (10th), Spain's Barcelona (8th) and Mexico's San Miguel de Allende (3rd).
Some cities always make the list such as longstanding cultural centers Florence, Italy and Kyoto, Japan.
HOW WERE THE CITIES CHOSEN?
The city rankings are part of the magazine's annual World's Best Awards, which also includes islands, spas, airlines, and cruise lines.
Travel + Leisure magazine observes: " When we travel to an urban center, we're often looking for the whole package — history, culture, exciting cuisine, modernity, antiquity, and everything in between. It sounds like a tall order, but the world's best cities offer these attributes and more."
Readers are asked to "share their opinions on the top cities, islands, cruise lines, spas, airlines, and more. Readers ranked cities on their sights and landmarks, culture, cuisine, friendliness, shopping, and overall value."
ASEAN CITIES ON THE RISE
Chiang Mai also topped the list of their 10 Best Cities in Asia rankings, followed by Luang Prabang, Kyoto, Siem Reap, Bangkok, Vietnam's Hoi An, Bali's Ubud, India's Udaipur, Tokyo, and Tibet's Lhasa.
The magazine said: "Chiang Mai might not be Thailand's largest city, but it's first in our readers' hearts -- probably because it's much more manageable. It has a busy downtown with restaurants and must-see markets, but quiet resorts are a quick drive away.
"The cities of Southeast Asia [ASEAN] are on the rise. Urban centres in the region, such as Bangkok; Siem Reap, Cambodia; and Luang Prabang, Laos -- hailed for their affordable and delectable dining, historical sites, warm locals, and exciting culture -- made up more than half of our list of Best Cities in Asia list this year. There's never been a better time to go to Asia."
PHILIPPINES TOPPED BEST ISLAND RANKINGS
Again, Thailand did not feature among the top 15 islands, but the Philippines took the top two places with Palawan and Boracay, and sixth place with Cebu.
The Philippines did not even feature on last year's list.
"The Philippines are having a moment," the magazine said.
"Palawan first received the coveted No.1 spot in 2013, and it's little surprise that the island is back at the top. Visitors are greeted with mountains rising out of impossibly turquoise waters, where shipwrecks and reefs make for prime scuba diving and snorkelling," it added.
Other islands in the top 15 include New Zealand's Waiheke (4th), Greece's Santorini (5th), and Indonesia's popular Bali at 15th.
Sixth place for best island Cebu's famous Sinulog festival is featured in musical videos below:
Published:
http://www.bangkokpost.com/learning/advanced/1030902/best-tourism-cities-of-world-chiang-mai-2-bangkok-14