Abu Dhabi expat hopes to use ancestral skills training on desert journey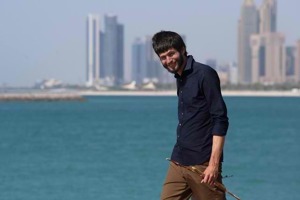 ABU DHABI /
/ From weaving and making fire using sticks to blacksmithing and pottery, Mike Metzger is well acquainted with ancestral skills.
The 31-year-old American pastry chef also knows how to tan hides and make stone tools such as knives, axes, chisels and arrowheads.
"I spent almost my entire life studying these skills, whether through books or festivals," said the former art teacher, who moved to Abu Dhabi last year.
He plans on putting those skills to use when he begins his journey across the desert from the UAE to Yemen using only traditional means in a trip ending in early December.
"I have a love for nature and the lost traditions that are vanishing," he said. "All of these ancient traditions and old skills do borderline magic and it's such a lost part of human society."
He is hoping to find a navigator and sponsor for the month-long journey, after purchasing his first camel from Al Ain.
"I have a Yemeni adventurer joining me and he's been travelling the world by camel for 30 years," said Mr Metzger.
"To survive, I plan on harvesting wild edible ­desert plants and hunting for ­certain insects and small game, including rabbits, lizards and locusts."
The agriculture and botany graduate, originally from Massachusetts, has a history of using traditional skills for such journeys, including two sailing trips using only celestial navigation.
"There's a special tool called a sextant, or an astrolabe, which determines the altitude of the Sun or other celestial bodies," he said.
"The first trip was an open ocean voyage from Australia to Indonesia and I navigated the whole thing using only the Sun."
The second journey was 13 days from south India to Salalah in Oman.
"I was only five miles off the position of the GPS on the last day. If electronics stop working, we would have still reached land with my navigation."
He hoped to find bedouins to help him with their skills on his Tribal Stars journey, which will end in the north-east corner of Yemen – near where Oman, Yemen and Saudi Arabia meet, in the Rub Al Khali – in a small village called Thamud.
"It's a spiritual journey because now there are borders and regulations a lot of these tribes got cut off," he said. "So we need to get permission from the UAE, Saudi and Yemen."
Desert experts anticipated a few challenges along the way.
"You will have to cross the UAE border to Oman for more than 800 kilometres or a bit closer through the Saudi border to reach the Yemen border, and the journey might take you more than a month," said Amer Braik, Anantara ­Hotels's director of activities and cultural awareness.
"You have to find your own ­resources, you will run out of water and food at some stage as you might not be able to supply yourself for more than a week or 10 days. It will not be easy to get used to the camel in the first few days – your back and legs will be very sore at the beginning."
Reaching Yemen requires crossing the Rub Al Khali, or the Empty Quarter.
"It is the largest sand desert and one of the biggest dunes in the world is between the UAE, Saudi Arabia, Oman and Yemen," Mr Braik said.
"This desert can be described as one of the hardest in the world for the lack of ­vegetation, wildlife and water, so basically it's a life-threatening experience to cross it on such a distance."
Khalid Al Balooshi, a 40-year-old Emirati who has ridden from Al Ain to Abu Dhabi by camel twice, said the journey will require a lot of walking.
"Nobody stays on a camel more than 30 minutes," he said.
But Mr Metzger is hopeful.
"What motivates me is the experience of getting to travel using only what nature has provided to guide you along your way and your life."
Published:
http://www.thenational.ae/uae/heritage/abu-dhabi-expat-hopes-to-use-ancestral-skills-training-on-desert-journey