Sample Spain's net gains: Fresh taste of Alicante's sun-soaked tennis grounds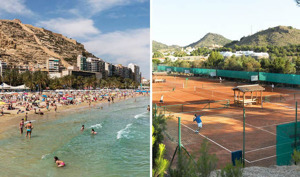 Thud – a serve is battered in my direction, kicking up off the uneven clay turf. Oof – my reply tamely nestles into the net. "Right, next champion's on!" comes the shout as I slink away. British stars such as Andy Murray, Tim Henman, Johanna Konta, Laura Robson and the late Elena Baltacha have all trained here – so it should have come as no surprise to me that the court was watered and dusted before our group's climactic tie-break finale.

However, while winning is always important, at La Manga Club the ultimate aim is to improve while having fun playing tennis. Cut in from La Manga, a coastal strip dotted with high-rise buildings that translates as "the sleeve", La Manga Club is a gated community that nudges 10,000 inhabitants in the peak summer months.

Three times the size of Monaco, this sporting haven is the official winter training base for the Lawn Tennis Association (LTA) and has close links with the Davis Cupwinning Great Britain team. Tennis is the flagship sport with 28 courts, a bustling academy and a friendly beginners-welcome approach. But the coaching is what stands out here.

Englishman Rose and his Spanish understudy Antonio teamed up to take my understanding of the game on to a level I wasn't aware was possible. In between your usual warm-up drills and competitive matches, Rose dished out moments of top-level insight. I learned how controlling my breathing helped manage shot power, exhaling when hitting the ball.

How timing my footwork and stepping into shots improved placement – a key to dealing with clay. And how finding your natural backhand (hint: most people are two-handed) is far more effective than running around to your forehand. These might seem like simple tips but for your average "don't even own a racket" player like myself you can genuinely feel the difference.

Away from tennis, golf, football, cricket, cycling, rugby and swimming are also in the resort's portfolio. La Manga Club has three golf courses, North, South and West, and is a favourite of Liverpool legend Kenny Dalglish, who owns a property and hosts his charity golf event here. Newcastle United utilised the eight football pitches available for a mid-season training camp in March, while the newlyinstalled high-performance sports centre will undoubtedly attract more top-class European sides this summer.

But whether you work up a sweat hitting on clay, playing a leisurely 18 holes or just chilling out by the pool, the resort doubles as a playground for adults and has all bases covered. And food is one area that doesn't let up, thanks to director of operations Adrian's keen eye for progress.

The half-Spaniard half-Brit takes care of everything non-sport related and takes us to Asia, a restaurant that blends Thai, Indonesian and Vietnamese styles, in the mini town on site. Tapas is the order of the day at La Bodega and seafood paella, which originates from Valencia three hours north, comes big and tasty at La Cala, an ideal lunch spot nestled on a rocky outpost right by the sea at Cala del Barco.

We're based at the Principe Felipe Hotel, which offers easy access to the tennis courts, golf courses and restaurants in the resort. The 18th hole of the South course finishes by the hotel pool, building for a climactic putt in front of the fans lounging at alfresco restaurant Sol y Sombra. If you have time, adding on a weekend in nearby Alicante is a bonus.

One hour's drive from La Manga Club, this undervalued city and port on the Costa Blanca has a lively nightlife and plenty of sandy beaches. There's Alicante's Old Town where you'll find Sol y Sombra, an intimate Spanish eatery where you can enjoy a vino tinto while warming up on cured house chorizo and tuna burgers before picking from seven types of seafood paella.

Work off last night's excesses by climbing Alicante's Santa Barbara Castle to open up stunning wraparound views of the city. After allowing yourself to get the lift back down to sea level, top up your tan across the road at Postiguet beach. Then wander over to the marina and up the pace with a speedboat trip. Alicante's chilled vibes complement La Manga Club's energy, an ideal sporty combination.

GETTING THERE: La Manga Club (dialling from the UK: 00 34 968 175 577/lamangaclub.com) offers seven nights at Principe Felipe Hotel from £578pp (two sharing), B&B. Price includes ten hours of tennis tuition. Monarch (0333 003 0700/monarch.co.uk) offers return flights from various UK airports to Alicante from £120. Alicante tourism: alicante.com

Published: http://www.express.co.uk/travel/activity/685280/Sample-Spain-net-gains-Fresh-taste-Alicante-sun-soaked-tennis-grounds