A truly Spanish experience in Madrid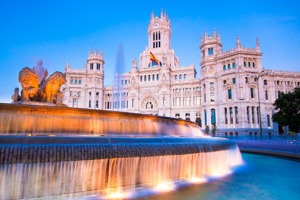 One of the world's top destinations, Madrid is a magnet for travelers from around the world. It is a vibrant city, full of energy and exciting atmosphere. This is where I fell in love with everything Spanish – the culture, the food, the people, everything.
There are a lot of good spots in the city to enjoy Spain's exciting attractions. This is the place where you can find rich historical treasures and vivacious culture and enjoy the spirit of the urban lifestyle.
Based on my previous trip, these are some of the best things to do while you're in the city.
Take a historical stroll down the city
Embrace the intricate art and architecture in the most breath-taking museums in the country. One of Madrid's not to be missed museums is Prado Museum, which displays a broad array of famous masterpieces. In just a short walk, continue to Thyssen-Bornemisza Museum & Reina Sofia. Also make sure to visit and take a tour inside the Royal Palace of Madrid. I was in awe at the beauty of the architecture while walking inside the magnificent palace.
Relax in the beautiful gardens
Near the city's main museums, there are a lot of green gardens to chill out and refill your energy. Enjoy a good read in the garden or just enjoy the view and breathe the fresh air. My personal favorite is Parque Del Buen Retiro with its scenic lake, rowing boat and a beautiful Crystal Palace inside the garden, which is often used to show various exhibitions of modern art.
Lively attractions
Madrid is the capital of flamenco. You can't visit the city without seeing the live performance of Spain's most iconic dance. Enjoy the dance while eating your dinner. You can take some classes too, you know.
Madrid's nightlife never stops. Continue to Barrio de Salamanca, one of the hottest areas in the city. You can find glamorous local places, bars with live music, best clubs and pubs.
Shopping
his city offers a great variety of shops for all budgets. Visit Las Rozas Village, a luxury factory outlet, if you wish to shop designer brands on sale. I personally love to stroll around the Gran Via to hunt down affordable Spanish brands that are not available in Indonesia. The street is also a heaven for all literary lovers.
Feed your senses
Madrid is a paradise for food lovers. Grab delicious Spanish pastry churros con chocolate at the local favorite chocolate café in Madrid, San Gines. Continue to find a huge range of local cuisine around Plaza Mayor and Puerta del Sol while enjoying the street performers competing in the open area.
Near the area, visit Mercado de San Miguel. It's a center for culinary culture. This place allows you to taste samples of traditional and contemporary cuisine before deciding to choose your favorite.
A 20-something denizen of the fashion industry, now following her passion by developing her own business and, when she finds the time, traveling Indonesia and the world. Find her on Instagram
Published:
http://www.thejakartapost.com/travel/2016/06/20/a-truly-spanish-experience-in-madrid.html