Life In Berlin: Pitching Up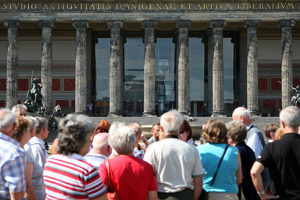 A tour group outside the Altes Museum in 2012. Aspiring entrepreneur Steven Boylan, who is looking for investors for his business tailored around tour guides, is just one of many entrepreneurs in Berlin seeking help on starting a new business.
Entrepreneurs think a lot about what they would say if they ever found themselves in an elevator with an investor. Given that Berlin receives more startup investment than any other European city, including London, many Berlin startups seek the help of coaches to craft the perfect elevator pitch.
"I'm Reema Singhal and I help businesses, specifically entrepreneurs, find the right story, the right identity for their business."
Today Reema is coaching Steven Boylan:
"I'm CEO and co-founder of a company called VRail technologies."
Basically, Stephen's startup sells virtual reality technology to tour guides, which already brings us to the first problem: A lot of people aren't really familiar with virtual reality. So Steven struggles to find the words to explain the concept.
"So how would you start?" he asks Singhal. "Would you say like...it's kind of like...well, what if you could offer a different experience...no go back..."
And things get tangled because his company can do so much, he wants to mention everything all at once.
"We offer online marketing, consultancy, 3D design, we actually offer a product..."
Reema tells him to stop and focus.
"You're jumping too much from one to the other," she tells him.
She makes him concentrate on the target audience: the tour guides.
"Let's think about the experience," she continues. "What is the experience that he will get? Not his customers, what is the experience that he will get?"
Then Steven begins to hit his stride:
"History doesn't change, however our experience of it can. 'Time rift' tours..."
Reema gets him to focus on communicating what's in it for the audience.
"Each person you're approaching, go with the 'so what' approach," she tells him. "So if you're telling him it's virtual reality he's obviously going to think: 'So what?' Then fill out a benefit for him."
Reema gives him strict coach-like feedback.
"Don't go for these common words, " she says, "don't say that, you're confusing the people...no, no, no..."
So after 45 minutes, Steven is ready to present his new, sleek, 30 second elevator pitch.
"Most tour guides tell the same story, most tour guides take tourists to the same spot, most tour guides in Berlin do this one thing and it's because history doesn't change," he begins. "However, we can change the way your guests experience history. 'Time rift' tours offers you the chance to take your guests on a journey through time, not just physical locations. This is something they won't experience anywhere else, it's something they won't have experienced in the past, and it's something that will make them remember your company for a long time."
Stephen says he's going to keep working on it, but for now he feels confident enough to step into any elevator and get his big break.
Published: http://www.nprberlin.de/post/life-berlin-pitching