Will Brexit Harm Gibraltar And Spanish Expats?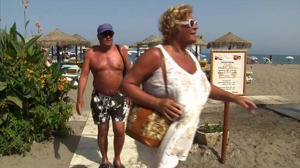 Gibraltar has been an enclave of Britishness in the Mediterranean for more than 300 years, but the Out vote in the referendum has caused shockwaves through the community.
After a jubilant night on the Rock where over 95% of people voted Remain, Gibraltarians are now facing the prospect of increased controls at the border, a weaker pound, and an attempt by the Spanish to retake at least partial sovereignty of the 2.6 square mile British overseas territory.
Shortly after the UK-wide result was announced, Spain's acting foreign minister said he thought "the formula of co-sovereignty - to be clear - the Spanish flag on the Rock - is much closer than before".
On the main shopping street, sporting British high street favourites including M&S, Topshop and even a BHS franchise, the mood was one of dismay.
"It's going to be worrying for a while - I think the change, the unknown is quite scary," said Karen, who works in the tourism industry. "Gib will bounce back, but we shouldn't have to do this."
But the mood is somewhat different across the border in Spain.
Nestled between Marbella and Malaga, the sunshine and sangria is plentiful in Torremolinos and most of the expats here seem largely unconcerned about the Out vote.
Despite the looming possibility of high healthcare bills, fewer euros for their pounds and more expensive flights, the Brits who have based themselves along the seaside do not think much will change.
"I didn't think for one minute it would happen - but we've got no immediate concerns overnight," says one Brit who owns a bar on the beach
Janine works in a cafe, and although she's worried what the result will now mean for her and her family, she didn't vote in the referendum - like many of the Brits we met along the strip.
For the tourists enjoying the sun and the expats relishing a break from the rat race, the drama playing out across the UK and Westminster seems very far away from the holiday mood here.
But soon the party might be over, as rights to live and work freely could disappear.
Published:
http://news.sky.com/story/1717263/will-brexit-harm-gibraltar-and-spanish-expats