Clear-blue sea, stunning views and beachfront restaurants: Discover Mallorca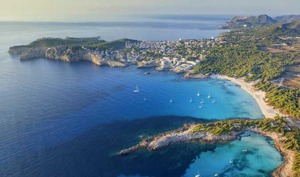 The largest of the Balearic islands has long been a popular holiday destination, but there are still plenty of quiet spots and hidden gems to uncover. Our writer explores.
As our car winds up craggy cliff tops that plunge into the crystal-clear Mediterranean Sea, surrounded by lush, scented pine forests, I realise that I'm about to discover somewhere truly special. On the other side of this hill lies Mallorca's best kept secret: Barceló Formentor.
Located on a gorgeous peninsular on the northern-most tip of the island, in Pollença, it's privy to stunning, panoramic views of Formentor bay and falls within the Sierra de Tramuntana, which was declared a UNESCO World Heritage Site in 2011.
With its tranquil, colourful gardens and white sandy bay, it's easy to see why the family-owned hotel has been a favourite among the rich and famous (Grace Kelly, Audrey Hepburn and Winston Churchill have all stayed here) since it was built in the 1920s. It's practically drenched in Gatsby-style glamour, with 1920s-inspired décor throughout; there's even a grand piano which is played softly as you dine.
In fact, as I sip on my cooling welcome cocktail in the imposing foyer, I'm told that classical music is what the hotel is world-famous for. Every year, Barceló Formentor host the Sunset Classics open-air concert, where the crème de la crème of classical musicians come together to perform as the sun sets over Formentor bay.
This year, the concert runs from July to October and will see performances from the likes of three-time Grammy Award-winning violinist, Hilary Hahn, and rising star, Juan Pérez Floristán.
The Formentor headland is also renowned for mountain biking, cycling and trekking with its mixed terrain, rolling hills and limited traffic. You'll struggle to find a cycle route that doesn't have jaw-dropping views around every corner.
On the beach, Playa de Formentor, guests can also enjoy water sports aplenty, from sailing and canoeing to kayaking and parasailing – you can even hire a sailboat for sunset trips. And golf enthusiasts will be pleased to know that the hotel is within easy reach of the island's best golf courses; Alcanada and Pollença.
There's plenty to do here, but also lots of ways to do nothing. The majority of my time was spent lounging on my extremely comfortable Balinese bed on the beach, enjoying the Med's cool breeze. For all-out comfort, upgrade to one of the hotel's private cabanas, complete with bed, bathroom and Jacuzzi – here you can even have your own private massage. Choose from traditional Thai or Swedish (both are equally dreamy).
With three beachfront restaurants serving up Italian, Mediterranean and buffet options, foodies will be spoilt for choice, too. There's Platja Mar, which specialises in Mediterranean fish and meat dishes (the seafood paella is to die for), El Colomer with international buffet meals for breakfast and dinner, and El Pi for classical and creative à la carte meals in the evening overlooking the pool. Once you are full, head to the piano bar for cocktails.
If you can tear yourself away from the food and the sun loungers, it's well worth a visit to the nearby old town of Alcudia. The centre is surrounded by a medieval wall, which shields well-preserved houses dating back to the 13th Century, and we pottered around one afternoon exploring the many boutiques, jewellery and sweet shops.
Also not far from Barceló Formentor is the Es Guinyent Estate – an olive vineyard where the Solivellas family grows the island's famous extra virgin olive oil. We paid a visit to take a tour of the vineyard and to taste the produce, and were told how the Mediterranean Sea breeze, together with Mallorca's sunny climate, balances the intensity and flavour of the oil. You'll find bottles of the Solivellas olive oil and balsamic vinegar on the tables at Barceló Formentor's restaurants – add a basket of bread and you're in heaven.
When the days are done, the luxury continues with huge rooms complete with beds that seem to swallow you up and gorgeous sea-and-garden views, which you can take in from the comfort of your own private sun terrace.
It's sitting on this terrace, looking out at the ocean and enjoying the cool Mediterranean breeze, that I try to decide what has been the most enjoyable part of my stay; the amazing food served at the restaurants, the relaxing massages or getting out and about, exploring this gorgeous part of Mallorca.
But the highlight by far has been the backdrop: the sparkling aquamarine water, the craggy coastline and the white sandy bay. There's nothing quite like it.
Published:
http://www.express.co.uk/travel/beach/682231/Best-things-to-do-in-Mallorca-Spain