Barcelona is easy to love as a tourist, but what's it like to live there?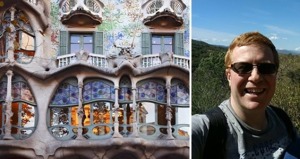 Barcelona is an easy place to fall in love with. If you have visited you will have enjoyed the amazing weather, great food and a vibrant city just a two-hour flight from Ireland. Start to live here and you get to appreciate the world-class healthcare and transportation systems. The mostly unspoiled countryside is full of cycling trails, and ski slopes are just a two-hour drive away. The local soccer team is fairly decent too.
Like everywhere else, living Barcelona has its downsides too, of course. The economy is still struggling, salaries are low and in general, the work culture is much more hierarchical and old-fashioned than in Ireland. Living in a dense city means easy access to shops and restaurants, but it also means small apartments and a lack of green spaces.
The inefficient bureaucracy and low standards of customer service are frustrating, and there are few places in the world where you need to learn two local languages (Spanish and Catalan) before you can truly fit in.
As an expat it's all too easy to become fixated on the negatives, but if you intend to stay in any place for the long term I think you have to make a conscious effort to focus on the many good aspects and tune out the few bad ones.
I've been here for more than seven years now and for me the good far outweighs the bad. My wife and I have a beautiful, smiley, happy baby boy and I've been lucky to find a job with a really interesting company, building an online citizen participation platform. The weather is still amazing and the food is still great.
As my wife is from Barcelona, I have local friends as well as expat friends. It's nice to have that mix; having local friends is important in order to feel part of the city and get immersed in the culture, but it's also important to have friends from other places, who are in a similar situation and understand where you are coming from as an outsider.
I feel very connected to Ireland and visit often, although the logistics have become a lot more complex since our baby was born. Like most Irish expats nowadays I keep up to date on everything that is going on, checking in on The Irish Times online several times a day.
I wasn't able to make it #hometovote last year but I felt all the emotions of that glorious day in Dublin Castle as the results came in. I know people have doubts about having expats vote in Dáil elections but I believe we should have a voice in Seanad and presidential elections. Those institutions are separate from day-to-day politics and should reflect the Irish people in the broadest sense.
The economic crisis took its toll on the Irish community in Barcelona but now things are beginning to recover, myself and some other Irish people living here have set up a new website to get the social scene going again. If you are living in Barcelona, come join us at irishinbarcelona.com.
So what does Barcelona mean to me? Athenry will always be my real home, and I don't think anywhere else could replace that feeling of identity and belonging I get when I go back there. I spent several years in Dublin but it always felt temporary. Yet, as I write this article, I realise that right now I can't imagine living anywhere else other than Barcelona; maybe that's a good definition of home.
Published:
http://www.irishtimes.com/life-and-style/generation-emigration/barcelona-is-easy-to-love-as-a-tourist-but-what-s-it-like-to-live-there-1.2691994