Reduced working hours means quality time for expats
2016-06-17
« Back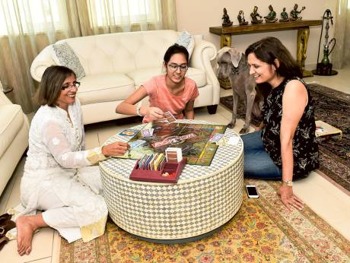 Ramadan working schedules afford many non-fasting expatriates to catch up on various things
Dubai: As Ramadan ushers in an altered lifestyle for those observing the fast, and working hours are reduced, it leads to a shift in rhythm for even those who are not fasting. A seven-hour working day means people arrive home earlier than normal and have time on their hands to catch up on various things. The working hours for private sector employees in the UAE are reduced by two during Ramadan, a circular issued by the Ministry of Human Resources and Emiratisation said last month.
Gulf News spoke to non-fasting residents from different faiths to know how they utilise the extra time in Ramadan.
Laetitia Pardo-Triantafyllopoulous
Director of sales and marketing at the Dukes Hotel, Palm Jumeirah, Pardo-Triantafyllopoulous said the reduced working hours in Ramadan provide her with more quality time. "We are enjoying the reduced working hours during Ramadan as we get more quality time with our two boys, Yannis, 7, and Dimitris, 2," she said.
"This is important especially since both my husband Christo and I are employed in the hospitality sector which is a very demanding industry," said Pardo, who is a French national while husband Triantfyllopoulous is Greek. Both follow the Catholic faith.
Regular work timings for them are 8am to 6.30pm. However, during Ramadan, they report to work at 9am and return home by 3pm. "This gives us more time to do additional things as a family [compared to the earlier schedule of] running home when the kids are already in bed. We can play outside, go to the swimming pool and especially for our eldest son, be able enjoy the Euro 2016 on TV. We have also found time to plan upcoming family holidays and get into the kitchen and cook dinner together," said Pardo.
Katherine Amanda and Ramin Yazdani
American nationals who follow the Bahai faith, the Yazdanis enjoy the extended family time they get during Ramadan. "My husband, Ramin, is an engineer and [on regular days] leaves for work by 7am and returns home by 6pm. However, he so looks forward to the 9am to 3pm reduced work hours during Ramadan that he has decided not to take his annual leave now although I am travelling. He says he will take his leave after Ramadan," said Amanda.
The Yazdanis, who have two grown-up children, say they love socialising. "But this is possible only on weekends in other months. However, when Ramin comes home at 3pm these days, we find time to have our meals together, grab an hour of rest and go out in the evening to meet friends and family," says Amanda.
The Yazdanis also have a committed practice of having a family lunch on Fridays as they have many relatives in the UAE and during Ramadan, that occasion turns more joyous.
"We are grateful for how well this country treats expatriates and we enjoy the atmosphere of tolerance in the UAE," added Ramin.
Alka and Vipul Yadav
For almost two decades, Alka, the head of the Primary Section at a leading Indian school, has been getting up early in the morning and reporting to work by 7.30am. However in Ramadan, when school begins at 9am, she is able to find time in the mornings to wake up more leisurely, rustle up breakfast and enjoy it with her family. "I look forward to Ramadan because of the luxury of time it provides me. Reaching home earlier than usual from work gives me more time with my daughter Freya who is in Year 11 and together, we are able to enjoy many things such as shopping, stocking up on groceries, catching up on her studies etc," says Yadav whose husband Vipul too comes home earlier during Ramadan.
The Yadavs follow the Hindu faith, spend evenings with friends or watching television. "During Ramadan, I get to catch up on several sports programme especially the soccer series that has begun," says Vipul. Alka has found time to read up voraciously, she said. "The reduced working hours de-stresses us all, we finish our weekend chores during the week and have enough time on weekends to read, cook, socialise," adds Vipul who also makes it a point to observe the dawn-to-dusk fast on at least two or three days during Ramadan. "I love the spirit of sharing and caring during Ramadan and want to experience the teachings of Islam and keeping fast on some days helps me feel for my colleagues and appreciate their determination and discipline," he added.
John and Aubrey Mamangun
Ramadan gives John and Aubrey Mamangun time to pursue their passion for sports. John Mamangun works for a company dealing in industrial cranes in Jebel Ali while his wife Aubrey works at the Dry Docks. Office timings for both during Ramadan are 8am to 2pm as against 8.30am to 5.30pm on other days. "On other days, driving from Jebel Ali to my home in Deira is an ordeal but [in Ramadan] I am able to reach home by 3.30pm. My wife too arrives at almost the same time. This gives us more time with our nine-year old son Clarence John," says John.
The family loves playing badminton and basketball and in Ramadan, they get a chance to indulge in it. "I love to teach my boy a few badminton moves. So when we come home earlier, we have a bite, take rest and at about 6pm, we head for the basketball or badminton court," said John. Post the games, they still have time left to socialise with friends, he said.
Outside of Ramadan, the Mamanguns divide their household chores doing laundry, ironing, cooking on a rota. But with more hours at their disposal in Ramadan, the chores get done during the week. "I love to relax on the weekends and it seems easier to do that during Ramadan. If the weather permits, we are able to take Clarence to the beach or the park too in the evenings," adds Aubrey.
Published:
http://gulfnews.com/guides/life/ramadan/features/reduced-working-hours-means-quality-time-for-expats-1.1846445