A 'one-touch answer' to Filipino expats' queries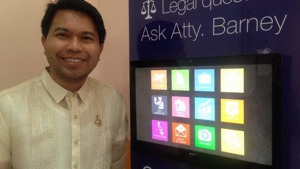 Interactive kiosks installed at consulate to give legal information regarding common issues.
Filipino expats can now get, with a touch of a button, practical information on their usual legal queries from the newly-installed interactive kiosks at the Philippine Consulate office in Dubai.
The kiosks contain digitised version of the "Essential OFW (overseas Filipino workers) Guide to UAE", a self-help book authored by licensed legal consultant Barney Almazar. The book and its digital version answer frequently-asked questions by Filipino expats ranging from visa and employment issues, credit card and debt problems, and police cases to family and marriage laws.
"Around 80,000 copies of the book were distributed for free last year," said Almazar. "And because we wanted to reach out to more of our kababayans (compatriots) who are seeking legal advice, we came up with this interactive legal portal."
Two digital portals were unveiled on Sunday by Almazar and Philippine consul-general Paul Raymund Cortes on the occasion of the 118th Philippine Independence Day.
Almazar told Khaleej Times that each kiosk costs around Dh12,000 to build, subsidised at the moment by Gulf Law Middle East, and they are planning to install 10 kiosks this year at the Philippine diplomatic posts in Dubai and Abu Dhabi and in a couple of Filipino restaurants.
"The digital portals are very user-friendly and we have made them a little bit more fun so people will be more interested to know their rights; and, when they know their rights, they are empowered," said Almazar.
"Usually when people go to the police, they already have a case. We can be proactive by providing them all the legal information."
He added: "With a touch of a button you will know your basic rights as an employee or you can compute your gratuity. If you have problems with your credit cards, you can check the pertinent bank laws and know the difference between a criminal case and a civil case."
"We have also answered usual questions on visa and immigration rules as well as marriage and family laws," added Almazar.
Aside from providing legal remedies, the digital portal is also useful to first-time UAE visitors as there is a comprehensive introduction to UAE culture and traditions. And those who have been here for a long time and are planning of returning to their native country, can also get practical guides on business and investments opportunities back home.
The kiosk also has a 'selfie booth' and visitors can email and share the legal information to themselves and their friends.
Almazar said a mobile app will soon be released but at the moment they are still waiting for feedbacks and fixing some technical glitches.
Published:
http://www.khaleejtimes.com/nation/general/an-one-touch-answer-to-filipino-expats-queries