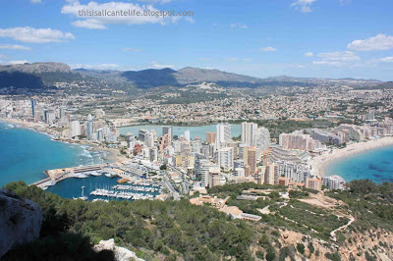 If you're thinking about visiting Alicante, living here already or are you just interested in seeing what it's like to live in another place, here is what I come across while living in the Spanish city of Alicante on the Mediterranean coast.
Climbing Calpe
We took a visiting friend to Calpe at the weekend to climb up the Parque Natural del Peñón de Ifach (Parc Natural del Penyal d'Ifac in the local Valencian language) as we have done so many times. It's not too hot to do an energetic walk and scramble up the rocks at the moment and we wanted to show him the lovely views.
The Peñón is a huge limestone rock jutting out in the sea and linking the land by some rock debris forming two bays on either side. It's a natural park and a trail has been created to take you up to the rock all the way to a lookout point (mirador) at the farthest end, or you can hike up to the highest tip at some 330mt above sea level, which is quite high considering you are kind of in the sea! However a word of warning, you should go with trainers on your feet at least if you want to reach the highest point. There are loose rocks and there are accidents every now and again, one of which I witnessed on a previous visit. If you are careful step by step you will enjoy it and be rewarded with the satisfaction of conquering Calpe.
It is free to access but at some times of the year its closed so check before you start your ascent. On this trip we got to the tunnel and out the other side, but we couldn't proceed any further because the seagulls are currently nesting and rearing their young and recently hatched. There are also peregrine falcons and some semi-domesticated cats living on the rock. It's also home to some rare plant species which have flourished in this micro habitat.
As you go up and look back to Calpe you can appreciate the lagoon that is separated by the sea from the sandy beaches either side of the Peñon. It's what remains of a more extensive wetlands area called the Marina Alta.
If you go at a different time of the year and can get to the top or the mirador then on a clear day (and with some excellent binoculars) you can see the island of Ibiza, so I'm told.
It's funny but when I downloaded the photos I realised that I hadn't took a photo of the impressive 'Peñón' itself from down there in Calpe. I suppose its because I have seen it so many times and didn't think about the post when I was walking towards it. If you google 'Calpe' you will see a photo of the huge rock. If any of you have been to Gibraltar you can imagine what its like... just smaller and without the monkeys. Apparently the Phoenicians called it North rock and Gibraltar was South rock, guiding them along the Iberian coastline.
Published:
http://thisisalicantelife.blogspot.com/