Ringgit improves against British pound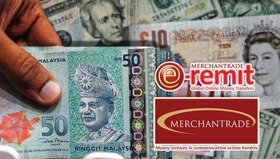 KUALA LUMPUR: The ringgit opened lower against the US dollar (USD), Singapore dollar (SGD), Japanese Yen and Euro as trading commenced at 9.02am today.
With the USD, most Asian currencies suffered the same fate with the increased expectation that there will be a US interest rate hike soon.
The lack of buying interest in the ringgit brought it down to 4.1480 against the USD from 4.1410 at 5pm on Wednesday.
It also did not help to put the ringgit back below the RM3 mark against the SGD, opening at 3.0123 from Wednesday's close of 3.0040
The ringgit slipped to 4.6404 against the euro, from 4.6185, and slid against the yen to 3.7895 from 3.7683 yesterday.
Only parents with children in the UK will be pleased to know that the ringgit improved against the British pound to 5.9810 from 5.9871 on Wednesday.
Now, picture the convenience of being able to just whip out your smartphone, and immediately transfer money overseas to loved ones.
This is the service provided by Merchantrade Asia's e-Remit app.
With e-Remit, money transfers can be a quick process that takes only a few minutes.
"Right now our customers comprise Malaysians who need to send money overseas. We also have a large number of expatriates who are using the app regularly.
"They can remit money to any part of the world as this service is available in 200 countries," said
Merchantrade's executive vice-president Sarveswaran Raja Gopal.
There are plenty of positives to this app, but one that stood out was the fact that the recipients do not need to have a bank account overseas. They can opt to pick up cash at Merchantrade Asia's partnering banks instead.
"Our fees are much cheaper, ranging from only RM10 to RM15 per remittance. And with our favourable foreign exchange rates, the customer benefits by paying less for the transaction than the alternative modes of remittance.
"Our delivery time is also much faster. The recipient can collect the money within 10 minutes after you have sent it via the app," Sarveswaran explained.
Published:
http://www.freemalaysiatoday.com/category/nation/2016/06/02/ringgits-improves-against-british-pound/