Expat Tales: 'A wealth of opportunities' in Hong Kong
2016-06-04
« Back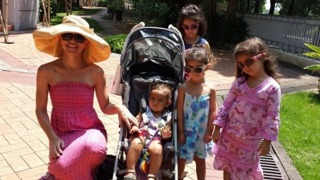 Liz Alam is able to balance a career and family life - while still fitting in plenty of adventures - in Hong Kong.
What inspired your move, and how long have you been there?
I always knew that I wanted to live outside of Australasia. I successfully applied for a Hong Kong-based job with a British recruitment company. The company focused on the investment banking and technology industries which were booming due to the advent of the dotcom era. In October 2000, I relocated to Hong Kong - with one suitcase, about $1500 total and the number for a friend of a friend.
What do you do there?
I am the Asia Pacific Regional Head of Talent Development for a US-headquartered custodian bank.
What are the greatest advantages to living there?
It's a vibrant city with a wealth of opportunities. It is a "can-do" place where people are creative, driven and make things happen. Many of my friends and family have taken full advantage of this by learning new skills or even starting their own businesses. It is possible to move your career at a much faster pace here. I doubt I would be given the same opportunities - professional or personal - that I have had here in any other location.
As mother of four little girls, I have been able to continue my career due to several factors including acceptance of flexible working arrangements and being able to affordably hire nannies.
As Hong Kong is also a hub to the rest of the region and a pit-stop to Europe, travelling is easy. It has one of the most efficient and busiest airports in the world.
Disadvantages?
Sometimes the concrete jungle and occasional smoggy day can get you down. But there are ways around this. In recent years, adventure groups have taken advantage of the wonderful country parks around the outskirts of the city. We try to make full use of the hiking trails and surfing "mini tours" on offer.
How expensive is it compared to New Zealand? How much is a beer/wine?
It's one of the most expensive cities in the world. Compared to New Zealand, it averages around 21 per cent higher in overall costs. However, with a max 15 per cent sliding tax and higher wages, the cost of living equalises. A glass of wine can range from about NZ$10 to $40 depending on the type of wine (import taxes shoot up prices) and the drinking location. The price of a beer can also range dependant on location, from $7 to $15.
What do you do in your spare time?
We do a lot of family things like go to Ryze Trampoline Park, swim, the giant fun parks (Disneyland, Ocean Park) or hike through the mountains on Lantau Island.
What's the local delicacy and would you recommend eating it?
Hong Kong is justifiably famous for its restaurants and cuisine, but it's the variety of food that is mind-boggling. There is a strong Cantonese influence Chinese mainland delicacies are also everywhere from street vendors to expensive restaurants. There is also a Portuguese influence via Macau. My favourite dishes are egg tarts (Portuguese), Peking Duck and just about any dumpling.
Easiest way to get around?
The cheapest and easiest way to get around is the Mass Transit Railway (MTR). However, there are locations which don't link with the MTR. It's cheap and easy to take a bus or a fairly cheap taxi. The length of Hong Kong Island in a taxi will cost about HK$250 ($50).
What's the shopping like?
One of the greatest shopping havens in the world. Some of the best mega-malls are: International Finance Centre (IFC), Pacific Place and Festival Walk. There are also the night markets, ladies market, jade and flower markets. Not to mention the boutique areas in Soho, Stanley and Causeway Bay.
Best after-dark activity?
Hong Kong never sleeps.Restaurants catering to all tastes that are open well into the evening. For night clubbing, there are some fabulous hotspots from Lan Kwai Fong to Wyndham Street to Wanchai and Causeway Bay on Hong Kong Island. On the Kowloon side, there is the super fun Knutsford Terrace. All of these locations are safe for anyone travelling alone and particularly for women. If dining and clubbing isn't your thing, another option is the night markets. These markets cater to every imaginable need - handbags and children's clothes to palmists and fortune tellers.
Best time of year to visit?
May to August are extremely hot with temperatures around 35 degrees at 100 per cent humidity. The most comfortable time of year climate-wise is September to December, with temperatures in the moderate 20s and mid to low humidity. There are 17 public holidays per annum, the majority of which align with a Chinese festival. During these periods there is an influx of tourists.
However, as Hong Kong is effectively set up for tourists, fluctuations have little impact on the infrastructure of the city. So, basically any time is a great time to visit.
What are the top three things you recommend for visitors?
1. The Peak, take the tram up the hill and walk around the lookout with a 360 view of the Hong Kong skyline. Afterwards, have lunch at Cafe Deco or The Peak Lookout Cafe - which supposedly has a resident ghost.
2. The Big Buddha – take the steps to the Buddha and then a cable car.
3. Stanley Markets – it's worth taking a bus or taxi to Stanley via Repulse Bay and checking out this old settlement. There are great restaurants and it provides another perspective of Hong Kong.
Besides family and friends, what do you miss most about home?
I used to miss Kiwi delicacies like Pineapple Lumps, Twisties, Jaffas and Vogel's bread. Also, Vegemite – which costs about $10 a jar here. I miss (and dream about) the Kiwi summer – a really good barbecue, great beaches and going to bed tired after being outside all day. I also miss a good winter storm that lasts for a few days. Mostly and a little bizarrely, I miss my mum's cheesecake which had a base made from Girl Guide biscuits…
How easy is it for you to get back to NZ?
It's very easy from Hong Kong with several flights a day via Cathay Pacific, Emirates, Air New Zealand and several other major airlines. I am also very lucky as my husband is a pilot for one of the major airlines, so I can travel home fairly easily.
For Kiwis looking to move there, which industries are seeking fresh talent?
There has been a shift away from the finance industry in recent years. But the industry still hires good international talent and will support a working visa. Of late, manufacturing and logistics have been booming. Tourism, entertainment and hospitality industries continue to boom and are unlikely to ever quieten down. Having said that, Hong Kong is still very much a place that you can turn your hand to anything.
If you know an expat who wants to share inside knowledge of their home away from home, email escape@star-times.co.nz with Expat in the subject line.
- Stuff
Published:
http://www.stuff.co.nz/travel/kiwi-traveller/79694323/Expat-Tales-A-wealth-of-opportunities-in-Hong-Kong