EU Referendum: The View from Britons In Spain
2016-06-04
« Back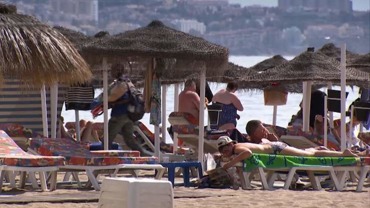 More than 800,000 Britons have made Spain their home and may have a lot to lose if the UK votes to leave the European Union.
By Mark Stone, Europe Correspondent, in Spain
Halfway between Malaga and Marbella in the heart of Spain's Costa del Sol is the town of Fuengirola.
The seaside resort is 1,300 miles from the shores of Britain but it's the centre of an energetic debate about the UK's future in the European Union.
With the sea, sand and sangria, it's not hard to see why more than 800,000 Britons have made Spain their home.
It's also easy to see why so many are taking a particular interest in the referendum - Britain's Spanish expats have, potentially, a lot to lose.
There is a little bit of Britain on almost every corner here. After just minutes in the town, we stumble on Spainsbury's.
Inside, we find Natalie Carter. She's been selling British staples from Marmite to Tetley Tea to British expats for 13 years.
With almost every sale now, there's talk with customers of the referendum.
If there is a Brexit, exporting her baked beans, marmalade and crumpets from the UK could become harder and more expensive. She doesn't know if it would put her out of business.
"Some of my family members back at home are possibly not voting the way I will be voting but they all have their own reasons for not doing it and I have got my reasons," she says.
"I am just worried that it will make things more difficult; more expensive, which won't be good for business obviously but until it happens we really don't know; whether the Spanish make it more difficult for us, we just don't know."
Across the street is a rack of British newspapers. They are printed out here daily and add to the debate and to the confusion.
"I just haven't decided yet," says one elderly lady reading the Daily Express. She is preparing to move out here to be with her expat daughter who runs the local newsagent.
There are plenty of British tourists here too. It's clear quickly that there is an awkward clash between their Brexit views and those of most expats.
"Out. Out now," says one tourist. "No question."
"The quicker the better. Out," says another.
"We are going to be inundated with immigrants and we won't be able to take them all in."
"I haven't really made my mind up yet. I am still listening to all the lies," says a female tourist from Scotland.
We do find one or two holidaymakers who want to remain.
"I say 'in'. I'm a David Cameron fan. And I am a Conservative to the hilt. And I am from Northern Ireland as well!" says one tourist, laughing.
And there are one or two expats who'd rather leave.
One man, a Briton who lives in Spain, said: "I believe we'd be better on our own. I believe we pay too much into Europe for the return we get."
Most expats though very adamantly class themselves as "remainers" - there's too much at at stake.
Ann Kolita works at the local restaurant. She's been here in Spain for longer than 15 years. That means she can't vote, but she does have a view.
"I think a lot are scared because they don't know what's going to change for them." she says.
"They get the health card, they get the reciprocal medical treatment, they get their pensions paid into the bank and they don't know what's going to happen to the exchange rate or how much money they are going to have available. There's lots to think about."
It's the number of unknowns attached to a Brexit that are striking.
The "what ifs" haven't been discussed. European countries haven't said what status they would give to British expats in the event of a Brexit.
Would those who live here still get access to Spanish healthcare under the EU's reciprocal agreements? What would happen to their pensions? How would they cope with the changing euro/pound rate? Would cheap flights back to the UK continue? What about property taxes?
The answer is no one knows yet. The negotiations will come only in the event of a Brexit and could differ from country to country.
But the anxiety isn't just among the expats on the beach.
We travel north out of the Costas to Barcelona, 600 miles up the coast.
Along the high speed line, partly funded by EU money, it's easy to find a Spaniard with an opinion.
One woman said: "I think it will be a problem for the rest of Europe."
A man added: "They want to leave the European Union but I don't know why - economic risk?"
Barcelona is home to plenty of British businesses and Spanish firms with a stake in the UK.
The British Chamber of Commerce is also based here. They have organised a breakfast meeting for business leaders in an attempt to explain what they think a Brexit will mean.
"Whenever you speak to Spanish businesses, the first thing they ask you is: 'why on Earth is the UK thinking of leaving the European Union?'. There is a sense of frustration and confusion," says Christopher Dottie, President of the British Chamber of Commerce.
"We had a poll of all our member companies here which is a mixture of British companies and Spanish companies with investments in the UK. We asked them if they wanted Britain to leave the European Union and the answer was 97% 'no'."
Eduard Laffitte, the local director for BT, was in the audience.
"We are worried, yes," he tells me. "Not an easy question. It will affect so much and we are worried about the result," the BT boss says.
"I know a lot of people are talking about the immigration situation but there has been immigration for centuries," says Natalie Carter from Spainsbury's on the Costa del Sol.
"I can understand why people back home are saying: 'oh we should leave, we should leave, there are problems (with the EU)' but there are problems with every country."
Published:
http://news.sky.com/story/1698484/eu-referendum-the-view-from-britons-in-spain