1o Small (But Mighty) Tips for Dublin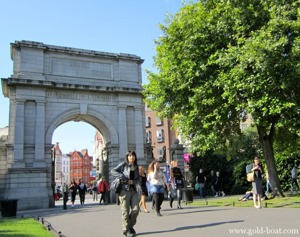 Like most voyages to Ireland, my solo writing trip to the West Cork Literary Festival began and ended in Dublin. As a woman on my own, I wasn't comfortable spending as much time in pubs as many tourists. Because I was free to follow my own whims and interests, I walked for miles, enjoying the city's extroverted hubbub as an introverted outsider: eavesdropping on the accents and conversations, focusing on cultural and literary landmarks such as theaters and museums, and exploring its wild outskirts, from the mudflats near Howth to the glacier-carved valleys of Wicklow. Through my camera lens, I captured the city's small details. Here are some miscellaneous tips:
Crowds: Dublin is popular, especially in summer. To beat the crowds, get up early and walk to your first destination of the day right after breakfast. Crowds are thickest on Grafton Street and in the Temple Bar area.
Transportation: If you get tired of walking, you can always take a city bus (just ask a local which one) or rent a bike. Buy a return fare on the Airlift 747 bus at the airport for the reduced rate of 10 E to cover your way there and back. To do a self-drive tour before or after Dublin, you can arrange to pick up and drop off your car there.
Architecture: Known for its Georgian architecture, the city is a photographer's delight. You'll find unique decorative flourishes on streetlamps, doorknobs and cornices, especially in the Merion Square neighborhood (where Oscar Wilde spent much of his youth), near the National Museum.
Neon: I also discovered some interesting neon signs scattered all over. Check out the vintage Happy Ring House for McDowell's Jewelry Store at 3 O'Connell Street or the Why Go Bald sign at 3 Great Georges Street (said to be Bono's favorite Dublin landmark).
Escape: The Dart provides rapid and cheap transportation from downtown to the outskirts of Dublin. Howth, with its eclectic dockside assortment of restaurants, colorful harbor with an array of working fishing boats and view to the protected island, Ireland's Eye, makes a great evening destination to watch boats come in, see the sun go down and enjoy a seafood dinner.
Open-Air Pub: Friday night's big in the pubs, and if you're wondering why everyone's out in the street, it's because smoking isn't allowed inside. If you don't mind the smoke, it's perfectly legal to enjoy your pint there.
New Food: After the Celtic Tiger years, some of the immigrants (mainly Polish) who came to work in Ireland stayed on. You'll find many good, casual ethnic restaurants around town. Yum Thai is a quick place to grab a bite right across from the Duke Pub before the literary pub crawl. You'll also find many self-serve cafeteria-style restaurants in the city center that serve fresh, locally sourced food. Many restaurants offer early bird specials. Google for hours and deals.
Film: The Lighthouse Theater in Smithfield Market is a hip place to see independent movies in a beautifully restored and updated historic area. (It's right near the Why Go Bald sign, too.)
Parks: As most people know, the sun comes and goes in Ireland. When it's out, people flock to Dublin's beautiful public parks. St. Stephen's Green, with its swan pond and statues of writers and political heroes, is a good place to relax and people watch.
Gifts: If you're buying gifts, I recommend the Trinity College Bookstore, the Abbey Theater and Butler's Chocolate (make sure you get the Irish whiskey truffles) on Grafton Street.
Published:
http://www.gold-boat.com/archives/8191