Meet the women behind the first Australian gallery in Singapore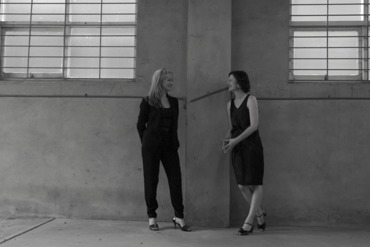 We caught up with the duo before the grand opening.
The latest in a string of Australians doing notable things overseas, meet Ursula Sullivan and Joanna Strumpf, founders of the first permanent gallery run by Australians in Asia.
Their eponymous gallery, Sullivan + Strumpf Singapore, is set to open on June 10th to a exhibition aptly named 'Arrival', featuring artists including Tony Albert, Sydney Ball, eX de Medici, Tim Silver and Hiromi Tango.
Also in the works is a solo exhibit from Archibald Prize winner Sam Leach, and showings from acclaimed artists Joanna Lamb and Alex Seton. Watch this space.
How did you two meet, and when did this working relationship begin?
Joanna Strumpf: I met Ursula almost exactly 20 years ago on my third day in Sydney. I had just landed a job working for a secondary market dealer, Eva Breuer Art Dealer in leafy Woollahra. Ursula was also working there on the weekends while finishing uni. From the moment we met, we got on. We went on to work in most aspects of the industry, auction houses, contemporary galleries, learning from the bottom up. Over time and with slightly better pay, with our ear to the ground we manage to accumulate a valuable collection of contemporary art which would be the basis for our own gallery.
When did you come up with the idea to open a gallery in Singapore?
Ursula Sullivan: It certainly wasn't overnight. We've been coming to Singapore for years for the art fair called Art Stage Singapore but the right location never came up. Then it did, and we've taken the plunge!
Amygdala (Fireworks) / (Scissors) by Hiromi Tango. Image courtesy the artist.
What is the space like?
US: The space is very white, shiny and new, like walking in a futuristic cloud! Whereas our Sydney space is a two story converted warehouse with some great old features and lots of sunlight, the Singapore space is a great size, not too small, not too big. Lots of potential.
What has the reaction been from Australians in Singapore?
JS: Everyone is extremely supportive, artists, clients, arts industry... both at home and in Singapore. It's a pretty big thing that we are doing, we will be the first gallery with a permanent space in Asia. Of course, there are a lot of Australians in Singapore, but also expats from other parts of Asia are really excited at the prospect of us opening up. More excited are our loyal South East Asian clients who will have access to our exhibitions all year round now and not just at art fairs.
Which exhibition are you most excited for in 2016?
JS: The first launch, as that will be the biggest and there will be a lot of artists and collectors there. I know that Alex Seton is planning something rather spectacular as it will be the launch of a completely new series for him.
US: All of our artists are very different and tackle completely different ideas, so its hard to favour one over the other. Sam Leach will be our first solo show, so that will be a beautiful and interesting show. His conceptual painting is intriguing and exquisite at the same time.
What's the vision for Sullivan + Strumpf Singapore, and what will we see in the future?
JS: I'd like to think that it's a space where new ideas can be given a platform, and where pioneers can be venerated. Where an emerging artist might have their first exhibition in a gallery, or where older established artists might add Singapore to their extensive exhibition history.
Sullivan + Strumpf will open on the 10th of June and is located at 5 Lock Road #01–06 Gillman Barracks, SINGAPORE
Published:
http://www.vogue.com.au/vogue+living/arts/meet+the+women+behind+the+first+australian+gallery+in+singapore,39319