The Cost of Living in Madrid – Rental Prices for Apartments Expats Like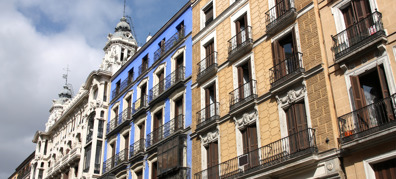 One of the first relocation question we get from people moving to Madrid is: "How much renting an appartment with 1/2/3/4 bedroom(s) cost ?"

For apartments expats like in neighborhoods they feel comfortable living in, the rental prices are usually the following:
Room in Shared Flat: 400 – 550 € per month
Studio, 30 to 50 m2: 700 – 900 € per month
1 Bedroom Apartment, 55-100 m2: 900 – 1500 € per month, up to 2000 € for premium properties (like the one of the photo),
2 Bedroom Apartment, 80-120 m2:1200 – 2000 € per month, up to 3000 € for premium properties,
3 Bedroom apartment, 100-180 m2: 1500 – 2500 € per month, up to 4000 € for premium properties,
To put it simply, the bottom of the range would give you a standard apartment for international standards, the middle a nice property, the top total "wow" effect with outdoor space in most cases.
Remember, also that for shorter terms than 12 months, the monthly rental price will be increased by 20 to 50 % compared to its yearly equivalent.
If you want more of a specific estimate for your case, and like our clients this year, get the best flat for your budget, save in average 2000 € and 2 weeks in temporary accomodation and search
The apartments Madrid expats like to live in
Yes, expats and foreigners usually prefer better-than-average apartments for their relocation. And these appartments have higher-than-average prices. As I explained in "The typical Madrid apartment vs your expat quality expectations":
"Madrid is a great place to live, but you have to know that the typical Madrid flat does not comply with the expectations of most newly arrived expats."
In a nutshell, you will need to pay more than the market average for a an apartment you like.
Relocation reality checks
Of course, depending on the neighborhood, the distance to the city centre and the size of the apartment (the smaller the apartment, the higher), prices will vary. See my interactive map of neighborhoods of Madrid, and read the description to get a feel of the most expensive and cheapest neighborhoods.
This first estimate will enable you to see what you can afford for your relocation. A good reality check is to ensure your total net revenues are 3 to 4 times superior to rent. If the rental prices are higher than what you had in your budget, feel free to send me an e-mail. I will give you some key tips based on local knowledge of Madrid and its real estate market.
In any case, for your relocation, I recommend you do the following:
Be aware of the conditions for renting in Madrid,
Try to choose your target neighborhoods,
Decide if you will need help to find a rental.
Published
http://moving2madrid.com/rental-prices/