TORREVIEJA – HOTSPOT FOR RELOCATING EXPATS
2016-04-17
« Back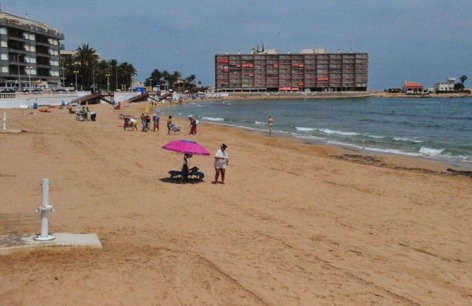 Torrevieja and its salt lake has become one of the most popular tourist cities on the Costa Blanca, and today has more foreign inhabitants than Spanish. Earlier the salt lakes were the main industry in the town, but today tourism and real estate has become the major source of income for this once so idyllic small coastal town.

In Spain houses for sale are abundant, so what is it that makes so many people from all over Europe and other parts of the world want to move to Torrevieja? Many people are relocating from the UK to Spain every year, so what does Torrevieja have that other Spanish coastal towns do not? Read on, and I will give you a few answers, and possibly also a few more questions:

The Beaches
The Beaches of Torrevieja are probably the number one reason for people to visit the town. Torrevieja has several beautiful beaches and almost all of them have been given the Blue Flag; a quality stamp from the European Union.

La Mata
La Mata is probably the most famous of the Torrevieja Beaches: Lying just on the outskirts, to the north of the city; La Mata with is fine sand and beautiful setting is among the best beaches in all of Spain.

Los Locos
The Playa Los Locos is situated just outside the city centre and is a busy beach in the high season. On Los Locos you will also find several restaurants and bars.

Playa Del Cura
Playa del Cura is situated in the City Centreand is very busy in the summer months. All services, shops, bars and restaurants are close by: In July and August Playa del Cura can be too crowded, but if you like people this is the place for you.

Acequion
A very nice beach just south of the City centre: Also many restaurant, bars and shops close by.

Torrevieja is by WHO (World Health Organisation) ranked as one of the healthiest places in the world to live, because of its micro climate. The salt lakes and the sea, together with one of the most stable climates in the world, more than 300 days of sun, and very little rain; makes Torrevieja a true paradise.

Even in the last few years, when in winter it has been snowing in places like Guardamar (10km), San Miguel de Salinas (10 km) and Orihuela; there has been no snow in Torrevieja. The temperature in Torrevieja is on average higher during the winter than other places, both further south on Costa Blanca, and even as far south as Costa del Sol. In the summer Torrevieja enjoys a warm and pleasant temperature, even though it can get a bit too warm in August for some.

Torreviejas situation is perfect for holiday makers as well as resident expats from the UK and other parts of Europe. Only 30 minutes from both Alicante International Airport and the airport in Murcia, means Torrevieja is easy to reach. The 4.5 hour drive to Madrid on the new highways means Spain's Capital is also within reach.

If you wish to travel by train you can do so from Alicante, Orihuela, or Murcia, and in a short while the new High-speed train will have a station centrally located in Vega Baja, just outside Torrevieja.

Within a one hour drive from Torrevieja you can also reach; Benidorm, Crevillente, Alicante, Cartagena, Orihuela, Murcia, La Manga and now also Mazarron and Puerto de Mazarron with the completion of the new highway going on to Almeria.

There are several Golf Courses within less than 30 minutes' drive and you can also enjoy theme parks like Aqualandia, Terra Mitica, Mundo Mar, Terra Natura and other amusements.

More than 150 nationalities are represented in Torrevieja, making it one of the most "international" cities in Spain. The largest foreign colonies are British, German, Dutch and Scandinavian. But also Eastern European countries are well represented, as well as people from many other countries.

The immigration has in the past created a few problems for Torrevieja; such as slow mail service, horrible traffic conditions, and in some areas unstable electricity and phone connections. The last couple of years many of these problems are improving and it is easy to see that most of the problems that the huge immigration has created now will be solved with time.

Torrevieja has today officially about 100,000 inhabitants, but it is believed that the numbers are realistically closer to 200,000 and in the high season some 500,000 – 700,000. The problem with people not registering as inhabitants is one of the biggest challenges for the town and is among one of the reasons that the city first got its own Hospital as late as 2007.

Nightlife
Torrevieja's Nightlife is famous: There are hundreds of bars, restaurants, pubs and clubs. Downtown you find the famousBar District that "boils" at night in the high season. Also the urbanisations have many bars and restaurants that are both busy and good.

For the really late-nighters you will find discos like Pacha and Revival (Los Montesinos) and many other similar clubs closing at 10 in the morning. (Some don't close all weekend).

Eating Out
If you want to have a meal in Torrevieja you can choose from a wide variety of restaurants, fast food bars and othereating establishments; offering typical Spanish cuisine as well as that of many different cultures.

Real Estate
Torrevieja has been one of the "boom towns" in Spain, and tens of thousands of new properties have been built over the last couple of decades.

It is still possible to make some remarkable property investments in Torrevieja, and the vacation rental market is also very good.